Great Men Cross the Aisle, Global Province Letter, 24 July 2013
Is He Really a Great Man? Is She Really a Great Woman? We remember that Jock Elliott, the second chairman of the once-great advertising firm Ogilvy and Mather, said, "You can tell a great man if he is big enough to fill the room. Not physically. Just that he has a certain presence that radiates and lights up every corner. You just know when you are with one of the greats." Jock was one of the great ones, incidentally.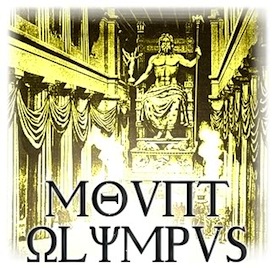 We're a little blind and often miss men and women of stature. But there is yet another way to tell if they have the goods. Listening. Listening to see if they have egos big enough so that egotism does not get in the way. Big enough that they seek out other greats in order to at least pretend they are gods together atop Mount Olympus. The people we esteem don't traffic with mini-men but mingle with the gods.
Eternal Harmonies. As a salute to Summer 2013, we bring you here some great performers who have stood taller by making music with other giants. We begin with several rounds of Luciano Pavarotti, whom we miss terribly, and end with the positively beatific Stephane Grappelli, who, if anything, could stylistically adjust to almost anything. The great violinist Yehudi Menuhin was even aware that his grasp was not as wide as Grappelli's. Grappelli, in remembering the bumps and grinds at the start of his career, even comically tells us of performing nude one night at a party given by a rather eccentric French patron. Pavarotti and the Three Tenors, of course, made operatic moments part of the popular vernacular in the late 20th century.
Pavarotti and the Three Tenors. Nessun Dorma. http://www.youtube.com/watch?v=zm9u5_hYsV0
Pavarotti and James Brown. It's a Man's World http://www.youtube.com/watch?v=Febr_t_qa9U
Pavarotti and Bryan Adams. O Sole Mio http://www.youtube.com/watch?v=EyWX5EKg1Cw
Fats Domino, Ray Charles, and Jerry Lee Lewis Together in New Orleans http://www.wat.tv/video/ray-charles-jerry-lee-lewis-oaa8_2flcz_.html
Roger Ridley. Stand by Me. (One of the Playing for Change Uplifters) http://www.youtube.com/watch?v=Us-TVg40ExM
Johnny Cash and Bob Dylan. Girl from the North Country Fair http://www.youtube.com/watch?v=9n83VFE83kM
Puttin' on the Ritz (in Moskovy) http://www.youtube.com/watch?v=KgoapkOo4vg
Etta James and Chuck Berry. Rock and Roll Music http://www.youtube.com/watch?hl=en&feature=related&v=QZoclbefgak&gl=IL
Nat King Cole and Johnny Mercer. Save the Bones for Henry Jones http://www.youtube.com/watch?v=f2eusOFmOg8
Red Army Chorus and the Leningrad Cowboys http://www.youtube.com/watch?v=0UuFJoexdlU
Alicia Keys and Jay-Z. Empire State of Mind http://www.youtube.com/watch?v=xb-sxbSlcEkhtt
Mose Allison and Friends. Tell Me Something http://www.youtube.com/watch?v=vOH8WEqWSHI
Grappelli and Yehudi Menuhin Jealousy http://www.youtube.com/watch?v=xV0IcFyXUWs
Grappelli and our own Frankie Gavin. Sweet Georgia Brown http://www.youtube.com/watch?v=31-8MLA5kdU
Grappelli and Frankie Gavin. On the Days of the Kerry Dances http://www.youtube.com/watch?v=7QZiFmOe4Mo
I Put Down My Phone. Ha. Perhaps an embolism in our head or a strange wind chased us into the Verizon Cellphone Store on Saturday where we picked up an iPhone. It's a terrible product. Too expensive. Invasive of privacy at every turn. Cluttered. Designed around the fingers of miniature people. Poorly engineered. Encumbered with all sorts of unnecessary extras gleefully peddled by the Verizon counter clerks. Clearly this is an industry crying for regulation, now dominated by two unregulated monopolies.
We returned our phone on Sunday and feel like a burden is lifted. Clearly, by the way, great men are not glued to their cellphones, which only block out the charm of a summer day. They are singing or listening to great music, looking upwards to buttermilk skies.