Finding Fire in the Ashes, Global Province Letter, 12 December 2012
"Even in the week of his death Wilder was describing himself as temperamentally undiscourageable"---Steve King in Today in Literature
Fire in the Ashes. Theodore White is best remembered for his series of books on presidential elections entitled The Making of the President. We think his others, less well known, are much more significant. Fire in the Ashescaptures Europe at mid-twentieth-century, retelling of its reconstruction from utter ruin, fully picturing America's very full role in its recovery.
It has resonance now, because not just Europe but the world is in splinters. An occasional vast tsunami here or there, and very often a war almost everywhere, have put nations in tatters, leaving us with images that hurt the eyes. Worse still is the cynicism, hopelessness, and spiritual emptiness that seem to flourish in every part of the globe. We are ready for things to be right again, but how?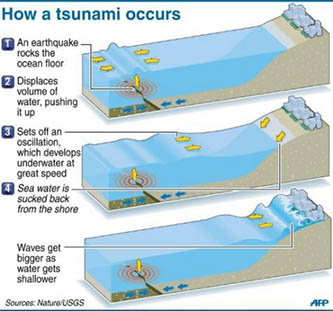 Gone are the copious resources of the United States which once could be used to put a patch on everything here and abroad. We cannot shower ourselves or the world with extravagance. Recovery this time round will have to come out of a different closet, not only because the cupboard is bare, but because it is not even clear that all the riches of Arabia could do much for our more pernicious worldly afflictions.
Along Chapel Street. The refurbishment of Yale's art complex in New Haven may give us a hint. Charles McGrath's "A King with the Midas Touch" lightly explores the refitting of Yale's various galleries and waxes poetic about Josh Reynolds, current head of the Yale Art Gallery, who has had the knack of picking the pockets of the rich in order to fund the makeover.
"The price tag for the renovation was $135 million, an immense sum in this economy, but Mr. Reynolds seems to have raised it effortlessly, along with additional funds for the art acquisitions. Mr. Reynolds is, or used to be, a sculptor and a designer of installations for institutions like M.I.T. and the University of Washington in Seattle, but lately he has mastered a rare and difficult form of performance art: raising money. He has caused hundreds of millions of dollars, sums that would be the envy even of the Met or the Getty, to pour into Yale's coffers. He makes money rain on the place."  
It is jolly that Mr. Reynolds has put the place to rights again. But more importantly, it reminds us that Yale historically is the most important university in the country when it comes to the arts. One need only read of John Trumbull's intimate relationship with Yale (as well of that of several other early painters) to begin to understand that art and architecture are encoded forever in Yale's DNA. Or to read of the Art School's first dean who forever put Yale and art in a special place in the nation's esthetic galaxy.
The Griswold Era. But art at Yale is not just a historical footnote. We have essayed elsewhere on one of Yale's most important presidents—A. Whitney Griswold. He is singularly responsible for a campus that is peopled by buildings designed by the foremost architects of his time, surrounding students with an unparalleled architectural experience. His was an exciting era at Yale for those who opened their eyes. Still today, Saarinen's ice hockey rink, affectionately known as The Whale, is a lovable, humorous surprise: it is a lovely reminder that Finnish architects have a talent for showing up their peers in the major European countries.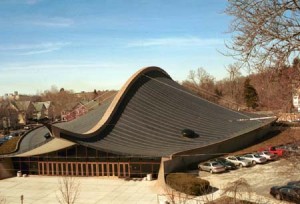 All this said, he and his colleagues did not do much for New Haven, a declining New England city with a surfeit of problems. Not that they did not try. A Yale staffer, Richard Lee, went on to become mayor of the city and did a host of good things for it during his mayoralty, launching prodigious urban renewal initiatives. But still today, the town is beat up, ugly, and problem-ridden.
Town and Gown. Fact is, universities in the United States historically don't do much for their own backyards. Crummy commercial strips border colleges and universities across the nation. Some high tech oases surround many of them, but even these incubators do not positively affect the general citizenry.
In some instances, we can say with certainty that the Ivy towers even contribute to the decline of a region. Shockingly, Boston is one worrying example. Cumulatively, the region's universities and colleges have not constructed enough housing to take care of their faculties and students. The Boston housing stock is quite poor. The rentier class owns lots of substandard housing that can be let out to students at astonishingly high prices. Some buildings we have seen are firetraps and are easily burgled, not fit for man or beast. Higher education in Boston has had a raft of other similar unintended consequences. Gown ain't doin' for town what it should.
A New Mission for the University. We have discussed elsewhere that universities are at sea in our society. They charge too much for too little to their students. One need only read undergraduate essays or look at grade inflation to know that learning is too low—and that the curriculum is often irrelevant. Many of the schools seem to have become banks or businesses without a higher calling. Our universities are or should be in search of a new real mission.
Is it not possible that a Yale could promulgate beauty?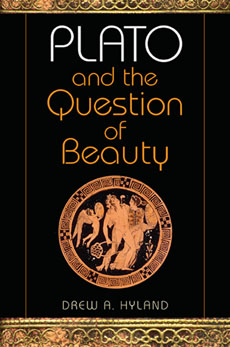 Quest for the Beautiful. Many of our cities radiate greatness, but not a one, or so we think, is beautiful. San Francisco manages to rise to the level of charming, but that's about as far as it goes. If Yale would try to spread beauty from its galleries into the streets of New Haven: Chapel Street just outside Yale's art mastodons will do for a start. Yale, right along Chapel Street, is host to not one, but two great Louis Kahn buildings—one of this nation's greatest architects who was largely snubbed by his home city Philadelphia. His museums at Yale (1953 and 1974) are the bookends of his career. Surely, it can learn how to get the concept of beauty out of the academic tower into the marketplace.
Today only a few of our small towns can lay any claim to beauty. And they are beginning to quiver under the developers' sledgehammers. The most ugly of skyscrapers and strip malls are shooting up like weeds in the most unlikely locations.
Art to the Rescue. We have ample examples of where art has been the knight on a white horse who rides in to resurrect a blighted community, as if one of the seven samurai, while men of commerce are inert, sitting on their hands. Many forget that today's SoHo in New York City was a desolate community of deserted warehouses when artists and their kin slipped in and redid spaces in violation of New York building codes, making over lofts into galleries, shops, apartments, studio spaces, and more way back in the 70s. We attended one Thanksgiving there: everyone brought a dish, with wooden pallets serving as the dining table, the floors papered with thick brown packing paper to provide some seating. After a few years of such Bohemia, the money and the chain stores began to move in. But it was the painters and the potters who paved the way to revival, in spite of, not because of the powers-that-be.
In the present day, young Dublin artists have moved into neighborhoods like Temple Bar, to make lemonade out of a lemon. The real estate speculators (Ireland has sunk low with their debt-ridden schemes) did fix ups in several parts of Dublin, but could not rent the space, for love nor money The artists are making something out of nothing.
The Healing Game. The Irish songsmith and songster Van Morrison reminds us of the task at hand. In the "Healing Game," he speaks to Belfast gangs that are out on the Street singing in the direst of circumstance. We are likewise in an era of deep wounds between man and man who course through pitted streets and countries that are cratered by bombs. It is out there that we must do some healing and make over things even though our only tools are hope and a prayer—and song of course:
Here I am again
Back on the corner again
Back where I belong
Where I've always been
Everything the same
It don't ever change
I'm back on the corner again
In the healing game

Down those ancient streets
Down those ancient roads
Where nobody knows
Where nobody goes
I'm back on the corner again
Where I've always been
Never been away
From the healing game

Where the choirboys sing
Where I've always been
Sing the song with soul
Baby don't you know
We can let it roll
On the saxophone
Back street jelly roll
In the healing game

Where the homeboys sing
Sing their songs of praise
bout their golden days
In the healing game

Sing it out loud
Sing it in your name
Sing it like you're proud
Sing the healing game
Sing it out loud
Sing it in your name
Sing it like you're proud
Sing the healing game

Sing the healing game
Sing the healing game
Sing it in your name
Sing the healing game....

P.S. Lest we forget, it's Christmas and several other holidays, depending on where you sit in the world. If you want to get away from the suburban and the humdrum, here are a few gifts you can give yourself and others.
P.P.S. In Paraguay they've figured out how to turn landfills into music. Landfill Harmonic inspires.
P.P.P.S. The times call for a far different philosophy than that which propelled America through so much of its existence. Consciously and unconsciously, we have taken on our world in piecemeal fashion, doing a patch, working out a small fix to get us through tomorrow. We try to avoid the big picture. This means we even deal with systems, in which all the parts are inextricably linked, in patchwork fashion. So our systems break down. Everything has been driving us to deal with smaller and smaller parts of the whole, at our peril. Pragmatism, our sole and wonderful contribution to the philosophy cosmos, has worn out its welcome.
P.P.P.P.S. As we have said in prior weeks, we have been inclined to blame all our woes on government, reserving special ire for the Feds. But it is other institutions in our society that are really more troubled—big business, religion, higher education, etc. Additionally they are not controlled democratically by our citizenry, and they will be harder to change than we can imagine.
P.P.P.P.P.S. America is no longer grinding out enough inventions or ginning up the gigantic innovations that change the world. We think it arguable that creativity depends on a culture of beauty, a harmonic stimulus that provokes the best in people. The renowned skunkworks of the West Coast probably are not designed with soaring thoughts in mind.
P.P.P.P.P.P.S. Crime of the violent sort strikes New Haven residents all too frequently. Yale's Police Chief has been warning Yalies of the dangers at their door, most recently on December 10th:
"I write to let you know that this evening at around 6:00 PM a graduate student and an undergraduate student were assaulted in two separate incidents.
In the first incident, a graduate student was assaulted by a group of teenaged males riding bicycles in the area of Wall and High Streets. Shortly thereafter, an undergraduate student reported being assaulted by a group of teenaged males in the area of Wall and Temple Streets. It appears that these incidents were perpetrated by the same group of males. There were no weapons displayed and no injuries reported in either incident."
P.P.P.P.P.P.P.S. Curiously, the most renowned public health schools in the country generally have not been able to do much for the states in which they are headquartered. We reported on this irony in "Lost Treasures." The excuses abound.