Miss Otis Regrets, Global Province Letter, 14 November 2012
The quality, those of high rank or station, as distinguished from the masses, or common people; the nobility; the gentry. [1913 Webster]
Miss Otis Regrets (She's Unable to Lunch Today). When we learned of Letitia Baldrige's passing, somehow Cole Porter's wonderful song Ms. Otis Regrets came to mind. For Ms. Baldrige will be unable to make our next lunch, of which we had many, and we are certain that she will somehow be sending her regrets. She was indefatigable, large spirited, uncomplaining, and so embodied the good manners which she espoused in her writings and her talks.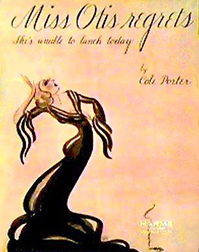 She could have complained. At our first meeting, twenty or thirty or forty years ago, she mentioned in passing that she had done a little duel with cancer. But as we learned then and can testify ever since, she never bemoaned the tough times and always came back to light up the world once again. Like her brother, Mac Baldrige, she took quite a few falls from horseriding, but bore up under the resulting arthritis that set in as the years passed. Her sheer grit and happy warrior disposition would earn her a place in anybody's history books, even if she had done no more.
Jackie's Social Secretary and Mistress of Manners. But of course there was much more. When Mrs. Kennedy was in the White House, Tish Baldrige, a longtime friend from days at Ms. Porter's, worked tirelessly as her social secretary. Leaving the official political stage, she became a mother and the nation's doyenne of business manners. Her associations were innumerable, her list of publications endless, and her biography broad.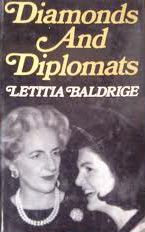 The daughter of a Republican, she happily navigated between both sides of the aisle. And she was a quick help to a friend in need. One time in San Francisco, we were pressed as to how to correctly address a Roman Catholic prelate. We were on the phone to her in a flash, and she quickly got us on the right track. Yet she could happily relax at a 2-hour meal (such long meals and martini lunches are gone forever) in a very amiable hotel dining room quite near her digs in Washington.
Gifting. We were particularly appreciative of the help she gave to us on the Art of Giving. For she made clear that a gift is not a gift, unless the spirit is there, unless good feeling is created.
The Quality. We have always found it so appropriate that Malcolm Baldrige, chairman of Scovill Corporation, horse wrangler, and Reagan Secretary of Commerce, was the sponsor of the Baldrige Awards, the premier accolade for American business which salute firms achieving exemplary quality. Or that his sister Tish has made us so aware that commonsense manners and good feeling can make life less of an endurance test. The Baldriges did what they did, because they were quality.
P.S. We were much taken with a praise note from Ms. Jennifer Gavin at the Library of Congress, who, like the Baldriges, hails from Colorado. "I ran right out and bought my own copy of 'Letitia Baldrige's Complete Guide to Executive Manners.' It saved me then, and has on several occasions since. Yes, I've committed any number of solecisms since then, but I like to think there have been fewer since I got Tish on my team.
So let me propose a toast: to Letitia Baldrige, who has helped me move through life with a minimum of justified muttering. Remember, when you toast, raise your glass and move it through the air a bit, but don't clink it against someone else's.