Finding Christmas, Global Province Letter, 21 December 2011
God Rest Ye Merry, Gentlemen—18th century Christmas carol
Invisible Christmas. It becomes a bit harder to find Christmas each year, even if we turn on our spiritual GPS. The clatter of Republican debates and Congressional posturing, sales assaults that began even before Black Friday and still pepper every moment on TV, and the rather spartan civic efforts at merriment which usually add up to some decorative sprigs on ungainly lampposts have hidden Christmas from our view.
The sales of Christmas trees, the very symbol of Christmas enthusiasm, have declined dramatically for years. "While about 40% of U.S. households, or about 37 million of 94 million homes, bought live Christmas trees in 1991, that percentage declined to 23%, or 27 million of 118 million homes, last year." We and our friends are now buying two Douglas firs to hold back the night. For in this season, Christmas should not be a side event sandwiched between crises, but instead should occupy center stage from mid December to mid January.
That said, it really never quite comes out of hiding until Santa starts his swift journey our way on December 24. It's then that the holiday is truly manifest. Fortunately our command center at NORAD is ever alert for his presence and will be mapping the course of his sleigh for Santa's followers once again this year. But all our preparations til then are vital, for we must cheer on a Santa who is occasionally subject to arthritic pain and who might stay at the Pole if we fail to put out the welcome mat for him. We do not want him to throw in the towel.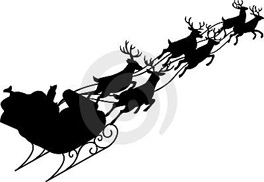 Hallellujah in Philadelphia. Here and there the celebration rings loud and clear. Last year for instance 650 citizens of Philadelphia gathered downtown to belt out the Hallellujah Chorus on October 30. The singers burst into Hallelujah from Handel's Messiah in the middle of a downtown Macy's. The world's largest pipe organ – with 28,000 pipes – accompanied them. Such a chorus of the people was an appropriate outpouring for the city of brotherly love. We hardly think of Philadelphia as a musical town, but Ben Franklin, its most famous son, invented the glass armonica, and he brought a little democracy to music. This only reminds us that prior to December 25 it is the warming sounds of song and cheer which raise our hearts and ready us for eggnog, conjuring up as they do the memories of all Christmases past.
White Christmas. It is a bit warm so far this year, with nary a flake on the ground when we visited Boston last week. A Yuletide without snow has happened before. Years ago we would imagine the storms to come by listening to Ted Husing on WMGM radio. As the night wore on, he would play Bing Crosby's very singular version of White Christmas whereupon we became sure in our dreams that Christmas loot, sled rides down the street, and the late evening purchase of a Christmas tree could not be far behind. The right sound, the right song, can help us see snow, and elves, and angels where none seem to exist.
Andre Rieu's Stradivarius. The Dutch performer Andre Rieu and his assemblage have brought Christmas song to much of the world. A wonder, he speaks "Dutch, English, German, French, Italian and Spanish."  No wonder he performs to crowds everywhere:  he's a cosmopolitan. Many critics pooh pooh him as well as his love for waltzes. Indeed, he is known as the waltz king. But, as he performs his Christmas Medley, his ancient Stradivarius kindles hearts from Austria to Tokyo.
We can be confident now that the finest violins we now hear do summon up the perfect sounds of times past, for scientists, using CT scans, can ensure that copycat instruments exactly capture the range and tone of ancient instruments. It's wonderful that Rieu has a Strad that is more than 275 years old. But it is as heartening to realize that technology can be used to authentically capture the past, even though the players, their concert halls, and their strings are only a few decades old. We have heard much in recent times, for instance, how digital recording has degraded music. But if man puts his heart in the past, he can recover the best sounds of yesteryear and put the lie to the many noises in the present that masquerade as music. Technology need not be the handmaiden of alienation.
The Sounds of Notre Dame.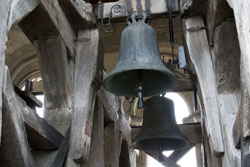 Nothing like a church bell to make us feel like the gods are in their heavens and all is right with the world. As we have previously remarked, some of the bells in the north tower at Notre Dame Cathedral in Paris are now being replaced, and the new castings are better than those to be taken down. That is, the new bells will sound very much like the originals in the tower, not like the 19th century stand-ins which were very much lacking. Hear what the new bells will be like.
Rich Authenticity. It's hard to have a rich present if we shut out the past. Christmas is like that: it is all about bringing the past into the moment and putting it on our dinner table. That's a challenge of course because both technology and our spinmeisters would have us forget last year, or even last month. Yet it is hard for them to vaporize Notre Dame, or a Stradivarius, or Bing Crosby. When we can invoke the great sounds of the past, we are much less likely to be consumed by the present. Christmas is not real if it does not capture Christmases past. If it does not capture YouTunes and cast aside iTunes.
P.S. Read about our own Father Christmas, Jock Elliott, on the Global Province.
P.P.S. Naturally we're hoping to put the spice back in Christmas. Our colleague at Spicelines has done this literally.
P.P.P.S. Christmas and Santa Claus are pagan phenomena with Christian red bows around them. Something so old, so inchoate, must go right to the roots of our being.
P.P.P.P.S. Enduring songs are the connective tissue of the Christmas spirit. According to Wikipedia, "White Christmas" is an Irving Berlin song reminiscing about an old-fashioned Christmas setting. According to the Guinness Book of World Records, the version sung by Bing Crosby is the best-selling single of all time, with estimated sales in excess of 50 million copies worldwide.[1][2][3][4] "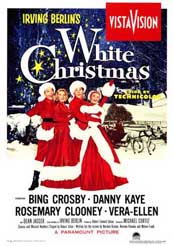 P.P.P.P.P.S. History and the past are more popular subjects amongst all Americans than we might imagine. For instance, the History Channel has now risen to the top 5 amongst cable channels. And it shares the podium with sports as a drawing card amongst adult males. Even though we are inundated with trivia about the present, somehow our past, near and long past, appeals to some instinctive part of our consciousness.
P.P.P.P.P.P.S. It's hard for some to realize just how great a hold Bing Crosby had on America. The morning host Regis Philbin, just retired, now talks about how deeply he admired Crosby as a youth, even attributing his foray into show business to the Bingo. Imagine his delight when he once shared the stage much later in life with Crosby. Crosby sang "Tura-Lura-Lural." Philbin sang "Pennies from Heaven," another Crosby hit.