Escondido Argentina, Part II: Global Province Letter, 25 May 2011
It does not matter in what language one writes.
All language is foreign, incomprehensible.
Every word, as soon as pronounced,
flees far away, where nothing or nobody can reach it.
It does not matter how much is known.
Nobody can read.
Nobody knows what a lightning is
and even less when it is reflected
in the polished metal of a knife.
Now, night seems a sea.
On that sea we row,
dispersed, in silence ---Carlos Barbarita
Underground Restaurants. Entering Argentina, one immediately feels the long arm of a rapacious government which has led a nation ranked among the top 5 or 10 nations of the world at the beginning of the 20th century right into the lower depths, snatching defeat from the jaws of victory. We are charged $140 a head for entering the country, surely a way to unnerve tourists, now so vital to the economy. Later, on leaving the country, we experience the Kafka-esque hand of bureaucracy once again, standing in no less than 6 lines at Ezeiza Airport before we reach our departure gate.
There's a temptation for citizen and visitor alike to keep one's head low and wrap oneself in anonymity within the borders of Argentina. Indeed, Argentinean friends will advise one to dress down and wear everyday clothing when walking the streets of Buenos Aires. Although nowhere near as perilous as parts of Rio, there's enough street crime to matter. 'Don't stand out' is the mantra, so as to avoid harm to one's person or one's pocket. Things are not ominous, but one has to be a trifle guarded vis-à-vis the government and other forces unknown.
It seemed to us that Portenos wrap themselves in a protective spiritual web anyway. Slowly it occurred to us that most are covered from head to foot with a surplus of clothing, the flesh not showing even on very sun-drenched days. This is extraordinary in a way, because the Argentines are a magnificently warm and engaging people, and yet some sort of mental veils envelop them, perhaps as protection, perhaps to hide the wounds of a hundred years, creating a psychic space between one and all despite all the ritual embraces and close conversations.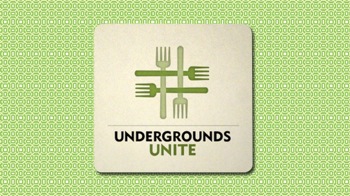 Economic trials have driven chefs to offer food in their homes, with quite a degree of success. Surely there must be better than 100 so-called underground restaurants in Buenos Aires, featuring all manner of cuisine and, more importantly, all sorts of atmospheres. The less known, the more underground if you like, prove to be more interesting. One such is Colectivo Felix, situated behind impassive doors, a long cab ride out from the central city, in Charcarita, the district of the famed national cemetery where Argentina's famed composers, writers, actors, to include the wonderful Gardel, are buried.
Who would know that inside the doors, to the right in a courtyard, at perhaps 9:30 or 10:00 PM, a mix of nationalities as well as a cluster of Buenos Aires damsels, are dining on rarified vegetable dishes, the entrée concealing hints of octopus? Miraculously many of the vegetables and herbs are grown in the tiny garden adjoining the household. The food is delicious but not infinitely memorable. Though the dishes are simple, one somehow consumes three hours in the serving and eating. A member of the staff is a poet. Chef Diego Felix successfully collaborates with his wife Sanra Ritten, who seems to watch the business side. She is as well a photographer from the North who is probably the force behind their frequent cooking tours in the United States. All this is sandwiched and secreted behind their walls, in an area of town that does not look remotely grand or artistic. One wonders if all the best of Argentina is underground, hidden from our eyes.
All through Argentina there are plain facades behind which one finds secret gardens. There are stirrings in the interior, even if the outside seems to signify nothing. We have visited one artist of note in the Palermo sector whose small quarters conceal large, strident canvases, marine-like statues in a protected enclosure by a spare garden, and a carefully chosen wine cellar that a thief would surely overlook. Recesses within a cavern.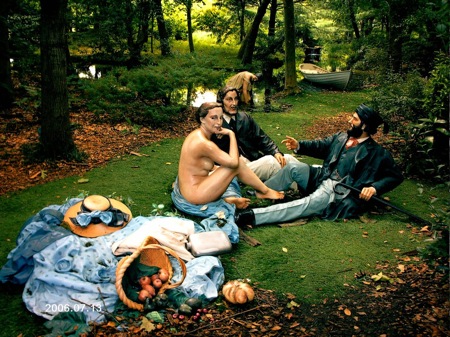 Other Small Places. Curiously, the best restaurants rarely make it into the travel guides, so one needs to find them through conversation or on a run through the streets. A ways out from Mendoza at the edges of Valle de Uco one will find Rincon Atamisque, whose outdoor lunch features trout just out of the tank and perhaps a torrontes white, a bit rude but thoroughly pleasant. The road besides is beautifully lined by handsome trees, there perhaps to shield Atamisque from prying eyes. Of an afternoon there might be 15 or 20 diners, at tables randomly placed on the grass, a buxom Buenos Aires soap opera star, in a respite from a shoot for a TV ad, thankfully sedate in this restful scenario. Heaven knows why, but Manet's Le Déjeuner sur l'Herbe comes to mind.
Closer to Mendoza is Clos de Chacras, an old small winery, more distinguished today by its beautiful and attentive restaurant where one might have pumpkin ravioli or trout and sun dried tomatoes. As with many things in Chacras, it lies back in the shadows, waiting but not begging to be tried. You could easily miss it. Afterwards, perhaps, one repairs to Nuss, a blessed bakery, if one has not already visited Via Civit that morning in downtown Mendoza.
Chacras. It is all too easy to miss Chacras itself. A little community in the ambit of Mendoza, it was once a place to get away from the rigors (if they can be called that) of Mendoza into comfortable well-heeled surroundings, a sort of blissful suburb within the boundaries of Mendoza. The foreign visitor easily skips by Chacras, bound for Salentein, O. Fournier, and the other wine showboats that attract so much attention. Little does he know that he has missed the best.
We think it better to stick closer to Mendoza where experiences smaller and finer await one's attention. In Chacras we were particularly attracted to Alta Vista winery where (a) things were just very pretty, (b) the guide knew what she was talking about and talked in clear English, and (c) the wines were very, very much worth adding to one's store. Available there were some single vineyard wines which were clear standouts and which are simply not available outside Argentina. A cult of wine sippers is particularly devoted to its Serenade.
Also in Chacras, and much neglected, is Casa Fader, once the home of and now home to the works of Fernando Fader, a much honored and charming Argentinean painter who hailed from France. One is struck by the warmth of the house and of his paintings and amazed at the same time that it has all fallen into such neglect and that an Argentine will pass it by unless prompted by a visitor to pay it heed. Like many an Argentine artist, Fader focuses on people and portraiture, even when doing a landscape. Some of the most successful museums in Latin countries such as Spain, Portugal, and Argentina are simply conversions of artists' residences: one can feel how the artists lived and sense what lay behind their art.
We are European. So far away from the Continent, yet Buenos Aires does seem tied to memories of the Old World. Argentina fashions itself European, and, indeed it avoids the American condo feeling that has seeped into Chile and Montevideo. It takes itself to be a mix of Spanish and Italian and French. But the artist David Byrne points out in his Bicycle Diaries, that it, like its neighbors, has strong African strands, a DNA composite even flaunted in a Brazil, but concealed in an Argentina. Likewise one encounters a host of interesting people whose features announce that they are Indian, not immigrants in any sense. In thinking of itself only as an amalgam of European identities, Argentina passes over part of the rich tapestry that makes it interesting.
Argentina is known for its tango. While the dance was re-imported from Europe before it achieved popularity with the upper classes, its Argentine roots do include strong linkages to Africa. It seems fair to say that the Argentinean, for complex psychological reasons, feels compelled to hide from himself several facets of his make-up.. Hence, you will encounter more than one Argentine who confesses that "we have no clear identity."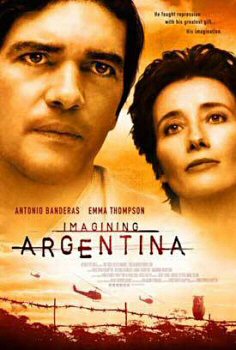 The Argentine in Hiding. The Argentinean under cover who hides from himself and who denies parts of his consciousness and history creates a lot of fodder for the surplus of psychoanalysts in his midst to which we have referred earlier in "Sitting Around in Buenos Aires." Here, more than in Spain, one runs in to a host of women who have stolen parts from the Spanish director Pedro Almodar's hilarious movie Women on the Edge of a Nervous Breakdown. Seemingly subdued, the Argentinean can become quite theatrical, a two-pronged person who is simultaneously introverted and publicly extroverted.
In other words, all the suppressed ideas and emotions, all the secrets, create a people whose daily life is an art form and a nation that generates interesting art, the best expression of Argentina domestically and abroad. Visible Argentina is not that remarkable; hidden Argentina is. This is a nation that deals richly with the imagination, but has a much harder time with reality. One is ever alert for the touch of fantasy that surrounds everything.
The Artist Abroad. We would find the musician and composer Guillermo Klein to be a vivid exemplar of Argentina at its best. His band is called Guillermo Klein Y Los Guachos. One must examine the band as much as Klein to get a feel for its presentation and magic. They are a study in informality, ambling onto the stage dressed ever so casually, for they are all about the music, studiously avoiding the glitz of ordinary stage personalities. Guachos, one learns after a little semiotic detective work, means bastards, an ironic statement of their rejection of ordinary pop culture. As one listens, one understands that this is very much a collection of extremely talented soloists, each with something different to express, who are simply knit together by fellowship and a desire to collaborate. They are not one sound, but many working together. The instruments each speak to each other: the music is a conversation. This can be heard in Klein's The Snake where one hears a creature slithering and undulating through the grass.
As Ben Ratcliff suggested in the Times, in Klein's performances, one hears many individuals, not one:
"He had such trust in the musicians," the singer Luciana Souza remembers of those nights. "He would bring in a sketch, and sometimes the musicians would write their own parts, in the moment. Guillermo had an amazing pool of musicians, all soloists. Everyone was already a bandleader, and some of them already had record deals. But they were still in the spirit of this collective thing. It was like a troupe, a tribe."
While we are inclined to think of Argentina as bringing up the rear, it is altogether possible that artistically it is every much in the vanguard, championing an artistry that is not as homogenized as our own, not as comformist as that running through most of the developed nations on earth. Since advanced economies now must make the transition from mass marketing and mass culture to boutique products and services, the Argentine voice may have some pointers for us.
Argentina in Austin. The Blanton Museum in Austin just staged an interesting retrospective of '90s painting in Buenos Aires called Recovering Beauty: The 1990's in Argentina. The organizers of the show saw it as an effort by artists of that era to recover from the oppression of the years just past.
We would see this delightful and little remarked on exhibition in quite a different way. Eduardo Mallea, Argentinean essayist and diplomat, thought there were two Argentinas, the material denatured beast and the country of values. Perhaps as its material fortunes have come unglued, an artistic nation is asserting its hidden, culture-laden self. That would be heartening.
P.S. Desaparecidos. Of course, the darkest hidden chapter in Argentina is the sudden, secret extermination of huge numbers of Argentine citizens by the military dictatorship from 1976 to 1983 known as "The Dirty War." The "desaparecidos" are remembered in film and in the vigils of Argentine mothers and grandmothers. This war on citizens was a coordinated effort in several rightwing countries known as Operation Condor. It seems as if the savagery was more thoroughgoing in Argentina than elsewhere, and even today the Argentine military and government officials have kept a wrap around what happened and to whom. Even Chile next door has been more forthcoming about its imprisonments and killings.
P.P.S. Special surcharges for tourists and even long-term visitors abound. Recently we uncovered some terribly cheap fares on LAN airways from Buenos Aires to Mendoza. But it turns out those fares are only available to Argentine citizens, and the foreign born have to pay twice as much.
P.P.P.S. One comes upon amazingly gifted, somewhat driven women in Argentina, at once careerists but also dreamers. Laura Catena heads up her family's renowned winery, is a sometime writer, but manages to work as an emergency room doctor in San Francisco. We came upon a woman out of Italy but now of Argentina who has a fine singing voice which could have given her a career on the stage, but became a doctor along side her medical research husband, and yet managed to patch in as well a rather active role as a sculptress until arthritis took hold of her. Renaissance women, one would say.
P.P.P.P.S. One night in the Cotswolds we drank and chatted the evening away with some local landed gentry. They referred to one establishment a few miles away as very "grand." "Grand" was to be avoided at all costs. Neither Argentina nor Buenos Aires is really "grand," but, once again, "grand" is to be strictly avoided.