Sitting Around in Buenos Aires: Part I, Global Province Letter, 27 April 2011
Life itself is a quotation.-----Jorge Luis Borges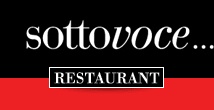 Sottovoce. We were just a half hour into our lunch with Suzette and finally remembered to work our way through the wine list. The previous night we'd had a gut wrenching meal at an over-sized famous beef restaurant, and the only redeeming taste in that endurance test had been a Mendoza Ruca Malen all four of us had enjoyed. Recounting all this to our guest, we knew she understood why a handsome Ruca cabernet on the menu took our fancy. As it happens, Sottovoce is an excellent restaurant, a rare surprise in a torpid food scene. One had best get the wine right on most occasions, since it may be the only real treat on the bill of fare.
But the food probably is not the point in Argentina in any event. We had been warned 10,000 miles earlier not to put our hopes on this cuisine. It's the conversation that counts. You will find large parties and family gatherings at many eateries. And if you are just a twosome, you may soon be four or six. That's what happened to us at Sottovoce. A celebrated industrialist was at lunch beside us, overheard our remarks on the wine, and allowed that he was closely related to the owner of Ruca Malen. In his company was a onetime Santiago de Chile ambassador to Washington who had to assure us that Chilean vintages really hold the upper hand. Soon the conversation leapt to the other side of us, and we were then a party of six.
La Biela. Quickly one learns that to grasp the heart of Argentina one must become expert at doing nothing. Quite near the Alvear, the finest hotel in Buenos Aires, one can wile away the hours at La Biela. We felt it our civic duty to undertake several rounds of people watching and meandering chats there daily, shouting perfecto at the waiter, imbibing a café con leche or Biela's own special cappuccino, eating maybe a few thin migas. One sits out under a sumptuous broad-branched tree and peeks across the turf to Recoleta Cemetery where Eva Peron is buried. In and about the café is a myriad of activity, a clown playing an accordion, perhaps a couple doing the tango on the pavement, a chap dutifully peddling lavish feather dusters. It dawns on one that this is a society devoted to and deeply involved in an unending conversation that has no conclusion.
The Buenos Aires 54. The municipal government has come to realize that its bars and cafes, especially the ones with a bit of history, are a treasure and it has taken steps to preserve and celebrate them. Sometime it lists the best, 54 in one count. At others it makes a video to capture their spirit. The best archive we think is Café Notables de Buenos Aires, a handsome publication also put out by the government whose text comes from Horacio J. Spinetto. This book is a little hard to come by, but it appears from time to time in a few local bookstores.
Antiquarian Bookshops. With the sole exception of the very new Dain Cultural Usina in BA's Palermo Soho section, the bookstores with the newest works do not excite a lot of interest. This elegant store, with a relaxing café on top, also presents conversations with contemporary writers of note. Beautifully designed, the store is a thing apart from its sometimes tattered surroundings, and the rooftop café in particular is a delight that transports one away from the madding crowd.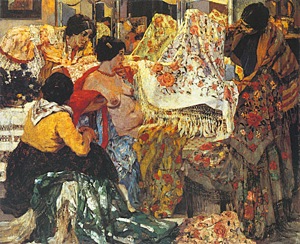 But in an archival nation that relishes its past, it's the surviving antiquarian bookstores that really stoke the imagination. Many have good collections of old photographs and a few letters from renowned authors that capture conversations past. There are, for instance, a few Borges tidbits at Mr. Diran Sirinian's Libreria Anticuaria Poema 20. While Argentina is a nation of émigrés, heavily from Italy and Spain, its citizens also cherish its cultural native sons such as Borges, who is revered and after whom a street is named, or Casa Fader in Chacras-Mendoza in which house is now a regional museum where one can find paintings and a marvelous tiled room that memorialize Fernando Fader's domestic life and comfortable imagery. This shared cultural heritage provides colorful memories to people nattering on in the cafes.
Wonderfully, the municipal government is trying to weave books back into café life. It has arranged for collections of important authors to be spotted on the shelves of cafes. In a literate society, most of the education takes place outside the schools and colleges anyway, and this is a clever strategy for a society trying to revive itself. We dawdled at Clasica y Moderna one day where we found a book often out of print and passed through a very attractive café. There are other notable bookshop cafes and book stops worthy of notice.
Villa Freud. In yet another way, Porteños archive themselves. Captured infinitem are their fears, neuroses, and dreams. As we have noted on the Global Province, they are the most analyzed nation on earth, with more shrinks per capita than anywhere, to include Manhattan and Beverly Hills. The therapeutic cluster in Buenos Aires has even been called Villa Freud. A movie by the same name tries to establish some sort of nebulous connection between the tango and psychoanalysis.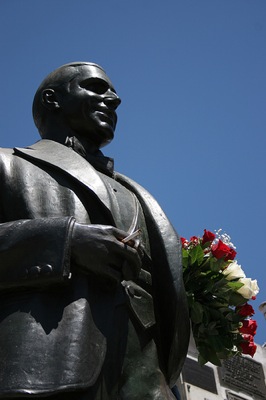 The Graves of Recoleta and La Chacarita. Given the extended conversation and archival penchant, no memory is allowed to die, and the dead continue to speak to us in Argentina. Eva Peron is buried in Recoleta Cemetery in a family mausoleum that is plastered with flowers and visitors every day. More importantly, the great performer Carlos Gardel, interred at La Chacarita, stands tall above his grave, his statue, decked out each day with a new smoking cigarette in one hand and perhaps some flowers in the other, even now stirring us with his consummate style.
The English dandy Quentin Crisp used to spill out his insights about life in solo performances downtown in Manhattan's Greenwich Village. He loved to go on about Eva Peron. "Eva," he would say. "Who else could come out on the balcony, stretch out long arms bedecked with multi carat jewelry to the crowd, and blithely announce to the thousands, 'Me, I am one of you.' " Similarly Argentines are engaged with each other, calling out even from the grave. Self-inflated grandees like to think of themselves as of, and by, and with the people, a classless delusion in a caste society.
Oral History. An incisive lady of our acquaintance even today remembers her trip to Argentina of 20 years ago. She claims that she would have moved to Buenos Aires if only she were 30 years younger. What, we asked, did she so like about Argentina. She did not remember the museums, the landscape, the food, the theater, the wine, the gauchos, or the polo. That had all dimmed away. It was the people, she said. They engage with each other and with visitors such that man's alienation from man can evaporate.
That is why the history of Argentina in the modern age is not about politics, or economics, or science. It's an oral history that re-enacts a society where neighbor is engaged with one's neighbor.
P.S. If the Argentine cuisine is heavy and challenging, one can still have moments of unique satisfaction. First off, the beef, which the locals cherish or gorge upon, is a surprise. We gather it is grass fed, so it is a little tough. And all the local chefs don't cook the meat, but kill it, such that it is more than well done. This is even true for celebrity chef Francis Mallman who has outposts in both Buenos Aires and Mendoza and who takes particular pride in his grilling. As well, the red wine, particularly the malbecs, may be much too fulsome, such that one wants to drift to blends or other reds that are a bit lighter.
And yet, in restaurant after restaurant, the salads are delicious, the greens being first rate, and the dressing usually superb. Offal—kidneys, brains, sweetbreads, and such—is a specialty that is well prepared. Empanadas, particularly as one gets out into the countryside, are distinctive, each region putting its own special imprint on this treat. More often than not, fish dishes are prepared with finesse.
P.P.S. Somebody needs to do a finicky guide to the restaurants. Sottovoce, previously mentioned, is excellent. Cluny, in BA's Palermo, not only is a fine restaurant, with a wonderful black ravioli, but also sports excellent service and an elegance not offered in many venues. El Mirasol is a terribly fun steak house, not to be missed: the oldsters there, who are wide of girth and blessed with the most interesting of faces, overcome any hints of banality. Dinner begins perhaps at 9:30PM and wanders on past midnight, so a rest before is indicated.
P.P.P.S. A fun very bright head surgeon of our acquaintance has a couple of Argentines on his staff. They are fine doctors he notes. But what they're best at, he quips, is extended conversations over coffee.