GP 14 November 2007: All About Bird Dogs: Knowing What We're Here For
$99 Margarita. Rising of a chilly morning in early November, we hankered a bit for a warm Southern clime, especially as we heard the honking laughter of Canadian geese overhead who were on their way to milder parts. Just like Woody Allen in one of his movies, they were saying, "So long, sucker." In our imagination we chased after them as if we were a dog, then sprinted on Thursday last into Key West.
That brought us (in our mind's eye) to the doorstep of the Roof Top Café, where we chatted a while with Norman and Wednesday Vogel, managers and the leads in an investment group that has taken the café up market quite a few notches. We're told that locals really bite into their shrimp-and-crab-cakes as well as the key lime pie. Right now the Vogels are trying to save an 80-foot Chinese mahogany next door that flaky real estate developers want to lay low.
We'd heard about the $99 margarita called Gran Grand Margarita, consisting of Patron Gran Platinum Tequila, Grand Marnier Cinquentennair 150 year anniversary, and ample fresh squeezed orange, lemon, and lime juice. It's not that much bigger than a normal drink, but it provides comic relief from the flotsam and jetsam of Mallory Square, the tourist packed mecca next door. Norman tells us they don't sell a bushel load of this magnamarga, but that its presence on the menu brings the right sort of notoriety to their fun restaurant. Well, in fact we have never been to Key West, but we can tell we're intended to give it a gander someday. Maybe we'll even have a margarita.
Fort Mill Field Trial Club. Dr. Sam Martin, one of our senior partners and a very shrewd Carolinian, struck out on a different kind of expedition last week which took him to the banks of the Catawba in South Carolina. There, some champion bird dogs—English pointers and setters—performed to a tee. They and their accompanists—the horses, trainers, and gallery—staged a perfect outdoor ballet in absolute harmony. Sam has trained quail dogs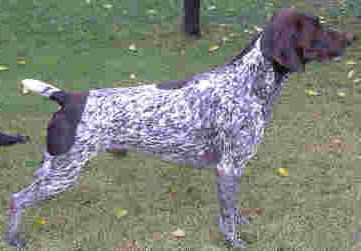 for hunting, but not for show, and he was delighted to take in this beautiful, lithesome, civilized celebration far from the cry of the city. Renowned trainer John Ray Kimbrell was in evidence, bringing the best out in his dogs.

As Sam says, these dogs were "unencumbered by ambiguity." They knew what they were there to do, which was not to pursue some selfish end, but to give their all to their trainers and to the drama in which they were participating. This, finds Sam, is the moral quandary for mankind now: Can we fully understand the larger purpose we are here to fulfill on earth, or are we just putting in time? It is the acid test for our political, business, and institutional leaders: When we give them the stare, do their eyes radiate intention?

Apparently Havilah Babcock best tells the stories that get us into the thick of bird dog culture. Heavily recommended is his My Health Is Better in November. We are charmed to learn that Babcock complained that his academic duties as chair of South Carolina's English department got in the way of fishing and hunting, which were his first loves.

Finding Customers. But bird dogs are a metaphor for more than graceful birding and an escape from the daily grind. Joe Girard, the world's greatest salesman, worshipped another kind of dog. Joe was a car salesman in the Detroit area who simply sold more cars than anyone else. He gave an awful lot of the credit to his kind of bird dog, a friend or acquaintance who might be a customer, but, more importantly, recommended Joe to lots of people who then bought their cars from the great Girard. With the Internet and with all the grinding direct mail schemes that companies employ to flog their merchandise, we can forget that the best way to get and hold customers is to have a bevy of recommenders out there who tell their friends and relatives to buy from us. As the saying goes, these bird dogs can find a lot of 'new pigeons' for us.

Harvesting Ideas. We make a great deal out of intellectual capital these days, and yet most of the ideas being thrown at us are not much worth having. The more things change the more things are the same: the new ideas we hear every day are mostly retreads of old ideas. But there are a few people who can look over the horizon and say something worth hearing. They're yet another kind of bird dog.

Ray DeVoe at Jesup and Lamont forecasts early what's up in investments and in the corridors of our financial capitals. He spotted the stock market and real estate bubbles, the policy failures of the Federal Reserve, the phony numbers spewed out by the federal government, the flawed and fraudulent instruments being peddled by Wall Street. His is simply the best Wall Street newsletter around, not only because it is trenchant and right, but also because it is so eminently readable. His DeVoe Report now comes from Jesup, instead of Legg Mason, but it is still very much spot on. It is always pointed in the right direction.

The Perfect Martini. For some reason that has been eluding us, we have been chasing the perfect martini for the last couple of years. There are some old warhorses that insist oldtime gins and oldtime vermouths are just dandy, but they are wrong. Better ingredients do make a better martini. We have had much fun getting the gins straight. Spicelines, our companion site, has even concocted a better garnish—pickled green cherry tomatoes.

But discovering a champion vermouth has been more of a challenge. The better vermouths are simply not to be found on most shelves. At last, though, we have been able to have a taste off. We are now in possession of Boissiere Dry, long recommended to us by an esteemed tippler from Washington, D.C. And, in the West, we came into Dolin Dry from Chambery. The competition between the two was won by Dolin, though there are several situations—say when using a strong gin or vodka—where we would put the Boissiere to work. As in all pursuits, there's been a ton of fun in the chase.

Our bird dog for Dolin was one Darrell Corti, proprietor of Corti Brothers, fine grocers in Sacramento. Corti's an interesting fellow. He really knows food. Not only does he frequent the main olive oil producers, but he can recite chapter and verse of the history and technology of olive oil: he can explain to you why virgins—virgin olive oils, that is—have really only come into their own in the last 30 years. He has also created a little stir in the wine trade, because he refuses to have wines with more than 14% alcohol content in his store. In short, he knows his mind and makes a beeline for the best. Dolin, as it turns out, is still made in Chambery, the reliable Vermouth district of France.

In this age, we all need lots of bird dogs. There's simply too much we need to know for any one of us to keep track of it all.

P.S. We're happy to report that our Annual Report on Annual Reports 2006-2007, "The Beast in the Jungle" has been reprinted in yet another publication, The Conference Board Review, November-December 2007. Clearly the editors there used a smart title—"Forecast: Not So Good." Though this report always focuses on long-term trends, its theme and tone also predict what's going to happen over the next year. When it is downbeat, both the economy and the stock market fall apart. That's what's happening now, the subprime tsunami shockwave continuing to roll through each financial sector. The absence of strategy and intention in our major companies is showing through. About twice a year we revise our Investment Outlook.

P.P.S. The subprime crisis is a disgrace that should be an embarrassment to our Fed, to our Treasury policy makers, and to the financial chanceries throughout Europe. Happily some English comics have exposed this flimflam for what it is. Take in John Bird and John Fortune in Sub Prime. While we suffer through this, we can at least have a good laugh with them.

P.P.P.S. Just now we're learning that our artists, particularly novelists, are bird dogs who separate the wheat from the chaff, pulling vital ideas out of the underbrush. Proust Was a Neuroscientist shows how artists anticipate scientific insights, pointing us down a new path decades before the scientific community. "In his new book, Proust Was a Neuroscientist, Lehrer argues that many artists have foretold the scientific future — Proust revealed the inaccuracy of memory, chef Auguste Escoffier anticipated the fifth taste sensation we now call umami, and post-impressionist Paul Cézanne proved that the brain fills in what a painting doesn't show" (Wired Magazine).

P.P.P.P.S. Finding the right ingredients is one devil of a problem. Years ago, for a Christmas party honoring New Orleans, we determined to serve sazeracs. What a chore to get hold of the right bitters, honorable ryes, and herbsaint. Our occasion was rescued by the Sazerac Company in New Orleans.

P.P.P.P.P.S. When we are doing what we're here for, we can be said to have a vocation. As Wikipedia says, "Vocations can be seen as fulfilling a psychological or spiritual need for the worker, and the term can also be used to describe any occupation for which a person is specifically gifted, and usually implies that the worker has a form of 'calling' for the task."