GP 12 September 2007: A Noble & Thrifty Tree
"Under a spreading chestnut-tree
The village smithy stands;
The smith, a mighty man is he,
With large and sinewy hands;
And the muscles of his brawny arms
Are strong as iron bands."
- Henry Wadsworth Longfellow, "The Village Blacksmith"
The Wye Oak. At age 460, Maryland's Wye Oak gave up the ghost in 2002, figuring it had seen enough. But it still burns a hole in our memory, since we never failed to stop for a visit in the days when we were up and down the Eastern Seaboard. Once upon a time, trees were at the heart of every town's identity, as one can glean from Longfellow's poem. The "spreading chestnut" is as much a part of the vitality and strength of the community as the brawny blacksmith. No culture anywhere can reach for the heavens without a lofty tree.
The New South. About fifteen years ago we learned the difference between the Old South and the New South. It's trees. The New South cuts them down, so that developers can crowd too many houses on too little land, so that homeowners may show that their houses are pretty much cookie-cutter versions of what everybody else has. We're not sure Al Gore from Tennessee has railed against this clear cutting, but he should. It has a lot to do with global warming, erosion, flooding, excess use of energy, and everything else that makes a hash of the environment. Roots hold water and inhibit soil loss; trees provide shade that lower air conditioning bills and permit less lawn sprinkling. Trees near the shore can even help break up hurricanes and other storms.
Not that the rest of the country is doing much about its trees; it is just a little more obvious in the South that tree slaughter amounts to environmental and economic suicide. The chop-chop is pretty bad elsewhere, too. With exceptions. There were probably more trees in Westchester County (and certainly more deer) at the end of the 20th century than at the beginning. So many farms have gone back to nature.
And there are some amazing tales worldwide of unlikely attempts to put trees back on the land. Stalin and his geneticist Lysenko pushed vast replanting of tree clusters, some of which have survived today, to reverse drought and other irksome conditions in parts of the Soviet Union. As in all matters Soviet, there was a touch of the grandiose: he had a Plan for the Transformation of Nature. There is no way, however, that the land use laws throughout the South and much of the rest of the country can masquerade as planning: they should be called locust legislation since they are destined to leave the landscape barren.
Tree Men. But the greenery may come back. We see no reason at all why the nature of the gods cannot win out against human nature. In any battle, all we need is a few good men. And they exist. The tree men are a doughty bunch, and they do not lack for will or spirit. For instance, our friend Roger Holloway of Riveredge Farms down in Georgia is trying to bring the elm back to all America: he's a Johnny Appleseed in his own right. He's managed to get his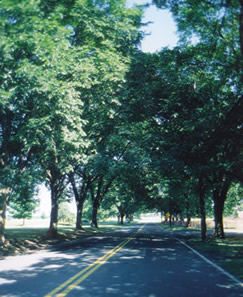 Princeton Elms planted next to the White House and everywhere else you can imagine. If you get in the planting mood, the gang at his Riveredge will sell you one direct, even though it is largely a wholesale nursery. This hardy elm, never felled by the Dutch Elm disease, is about the best thing to come out of Princeton, New Jersey, even if Yale just acquired a new Dean of Engineering, T. Kyle Vanderlick from there, for whom we have very high hopes.
Olaf Ribeiro, with whom we have discoursed on tree diseases, is the doctor of choice for foresters and grove owners whose trees have hit hard times. While we did not follow his prescription for some faltering Nellie Stevens hollies, we were able to act on his insights and concoct a home-grown brew that put vigor back in our trees.
Bernard Maybeck, America's best regional architect, was a tree lover. He said he knew he had built the right house for a client if the owner then went on to complete the landscaping in a manner that was in harmony with the house. He once appeared before the City of Berkeley in defense of a tree that somebody wanted to cut down. He pled for it to be spared, calling it "a noble and thrifty tree." It was in the middle of a street, Le Conte, as we remember, and we are happy to say he prevailed. Last time we looked it was still there.
Generally county extension agents are good tree people as well. But the chaps at forestry schools and academia aren't. They, oft as not, do not meet with citizens and are secreted away in their offices. They are too self-important, too busy chasing grants, to meet with tree devotees or to do much else to keep their states thick with trees.
Tree Love. Aphorism makers are fond of saying, "We couldn't see the forests for the trees." People in the consulting trade generally object that their clients can see neither, claiming that "They're down in the weeds." Tree men, good and true, are happy to see just one proud tree anytime anywhere.
Back when matronly ladies taught English to unwilling students, they revered Joyce Kilmer's "Trees," a poem detested by college English professors. It's a bit too Dick and Jane for them, but probably just what we need to put trees back in the center of our lives:
I think that I shall never see
a poem as lovely as a tree.
That's right.
P.S. Other great trees, besides the Wye, can be found in Tom Pakenham's books.
P.P.S. Sources. It's hard to find articles about deforestation where the authors don't have an axe to grind. Nonetheless, they are about. In "The Economy Booms, the Trees Vanish," May 19, 2005, the Economist observes we are cutting into Amazonia even faster than we thought. The World Bank has tried to explore the economic complexities of forest management in "At Loggerheads? Agricultural Expansion, Poverty Reduction and Environment in the Tropical Forests." Everybody is writing about the ubiquitous Roger Holloway: in USA Today, we hear about the slow return of the American Elm. "From a Sturdier Survivor, Hardier Elms Grow," New York Times, May 7, 2004 points out that his stock comes from Princeton. We have tried other varieties from Pennsylvania championed by plant biologists in Washington, D.C: they do not grow as well.
P.P.P.S. Longfellow was an immensely popular poet, very loved in his age, a time when poems as well as trees were more central to society.
P.P.P.P.S. Not all developers are tree killers. Trammell Crow of Dallas, a huge force in office development across America, has always been passionate about trees. Along the way, he even set up a huge tree farm operation. The first President Bush wanted to plant a billion trees, a campaign wags called his "Thousand Points of Shade." Named as a pioneer in this green effort, Crow urged the President to reforest the borders and median strips of America's highways, a companion piece to Lady Bird Johnson's drive to plant flowers beside highways.
P.P.P.P.P.S. America's most dynamic president, Teddy Roosevelt, was nuts about trees, forests, and conservation. He worked hand-in-glove with Gifford Pinchot. Brought into the federal government by Grover Cleveland, Pinchot headed the Forest Service under Roosevelt, and gained control over national preserves. And just like Roosevelt, he had a falling out with Taft. He was founder, too, of the Yale School of Forestry and was later Governor of Pennsylvania. It is probably fair to say that we have never had a conservation president after the first Roosevelt, despite the environmental breast-beating of all our candidates.
P.P.P.P.P.P.S. Our sportscaster Dr. Lundquist writes to advise that the Rangers will retire Brian Leetch's No. 2 jersey in January in what promises to be a steller season, since they've added some aggressive players to the roster. He joins Rod Gilbert, the team's all-time scoring leader and 3 other greats. The New York Yankees are baseball's best team since the All-Star Game, and now have pushed well ahead of Detroit in the Wild Card race.
P.P.P.P.P.P.P.S.
Our companion site Spicelines reports that its tropical jungle now rivals the Amazon with 37 tropicals wrestling there for a place in the sun as summer comes to a blistering end.