One in a Million, Global Province Letter, 6 September 2017
End of the Sears Roebuck Era. The mass market that was the backbone of economies worldwide has disintegrated. Bricks and mortar retailers have been superseded by internet mass retailers (such as Amazon), but they, too, will get their comeuppance. What has happened is that the retail experience has ceased to be pleasurable and fulfilling, supplanted instead by self service and mediocre products. Buying is a sterile affair where you and 2 billion people buy the very same knockoff product tailored not for you but for the millions, sold by clerks or computers that neither understand you nor the products they are peddling.
The Berlin Watchmaker. On the very last day of a recent sojourn in Berlin, we uncovered a watchmaker who did it right. The business dated to the 1850's, and reached 10,000 workers just before World War II, though the war cut it to smithereens. Now it has less than a 1,000 worthies, but its shop says it still knows its customers want a one of a kind experience. We bought there a watch named after Germany's all time woman flying ace—Elly Beinhorn. A member of the proprietors took us in hand, instructed us about the business and the founding family, and turned the transaction into a genial party. The company's craftsmen still make the innards for its mechanical watches, though it batches out the manufacturing of its digital works. All of us—the owner, a retired airline purser now part of his business, and we— sat together to chat about the purchase and Berlin and luxury. We were served espresso and sparkling water. Then as the purchase was completed, we all celebrated with glasses of champagne. Not only were the watches one of a kind, the whole interchange was a special experience on a September day, never to be repeated. We are sure our dear old friend Stanley Marcus would have beamed at this event.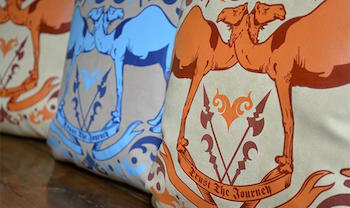 Spicelines: One of a Kind. One of our associates is running an online store to see how retailing should be done in this age. Already we know that unique product selection is a must. Our goods are exotic. Our Japanese indigo bag is not for your run-of-the-mill shopper, for instance. We have not yet figured out how to humanize the shopper's interchange with us since the very impersonal internet today largely operates like an online Wal-Mart, treating the customer like a robot consumer. But our motto is laisser les bons temps rouler, so we will subdue the rudeness of computerdom and Jeff Bezos as well. Do have a good time with our fanciful objects.
Please visit at https://spicelines.myshopify.com.