Venerable Philadelphia in a Crypt, Global Province Letter, 30 November 2016
In Boston they ask, how much does he know? In New York, how much is he worth? In Philadelphia, who were his parents? -- Mark Twain
Out of Sight. In Philadelphia, we might ask about your parents, or the parents of your parents, because its best times were so far in the past, and we would want to know if you or yours had something to do with the town in its heyday. It is all past: its future, amidst an endless stream of faltering attempts at revival, is all about erosion.
Two years ago, if you raced in the Philadelphia Marathon, you might have stayed in the Four Seasons at Logan Square to be very near the race course. It then had Fountain, one of the town's leading restaurants, where you might even try some only-in-Philadelphia specialties for breakfast such as scrapple, or chipped beef or the like. It was a decorous place with a sense of pride. Today, on race day November 20, 2016, you would have found yourself in a very Formica Hilton clotted with abysmal food, a shopping mall décor, microwaved room service offerings served in brown grocery bags filled with plastic un-silverware, blaring music geared to the staff in the dining area morning and night, bacon or other pungent smells at dawn if you are in the wrong guest rooms on the second floor, and other similar abrasive amenities that distinguish Hiltons throughout America. In other words, yesterday's great pleasures are still slipping away and disappearing in America's fifth largest metropolis, block by block.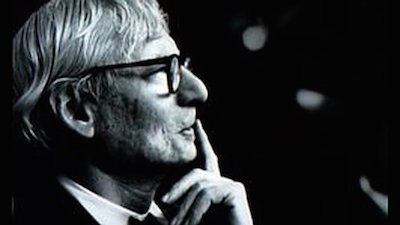 Look for Gold in Forgotten Places. In our Philadelphia Story, we essayed on its considerable number of hidden treasures, creations of the past, which lend character to the city. After all it was home to Louis Kahn, perhaps America's all time greatest architect, though Philadelphia largely ignored him and commissioned only bits of work from him. Instead he designed two great museums in New Haven, Connecticut and did the wonderful National Assembly Building in Dhaka, Bangladesh. His Kimbell Art Museum is certainly the best building in Fort Worth, and he considered it his finest work. There is some suspicion that the truly creative people from Philly go elsewhere to work their magic.
There's art aplenty in Philadelphia. The civic boosters today make the most of the newly minted Barnes Foundation that houses a huge collection of impressionists stolen in unseemly legal moves from their revered site at the Barnes house in the suburbs, directly contravening the letter and spirit of the will of Albert C. Barnes. We know of other Society Hill estate lawyers who enjoy pulling off similar shenanigans. The collection is poorly displayed now in a warren of rooms that makes for bad gazing in a poorly designed building that has garnered ill-deserved praise. Should one want to truly examine a painting, you step over forbidding black lines on the floor, running the risk of admonition from the guards to step back behind the line. Even great art can be made paltry in the modern Philadelphia.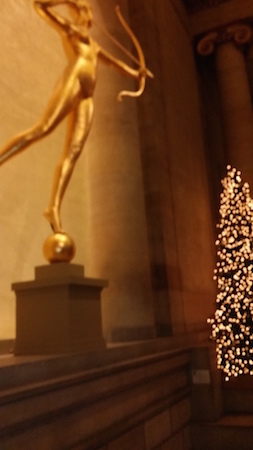 The visitor is better served to walk over to the Philadelphia Museum of Art. A local we encountered had not heard of it, but gave us directions on how to reach it once we said it was the building where Rocky ran up the steps. It is a handsome, comfortable edifice often neglected by the crowds. At the moment it is home to a fantastic show of modern Mexican painting put together in Philadelphia called "Paint the Revolution." The assemblage is a stunner: we were particularly taken with the many self portraits of the artists, especially of the younger Frida Kahlo, Rivera's wife and a tremendous talent in her own right. The offerings in the museum shop outside the exhibition are tremendously well chosen, and put most of the museum shops in the United States to shame. Mexico in Philadelphia suggests the global, cosmopolitan aura a healthier Philadelphia would embrace. Quelle surprise!
Green Under the Grey. When you set out about the town, even in sunshine, even in the better districts, feelings of doom and gloom arise. There's a moodiness. This is best relieved if you chance to ask a local for directions to the Liberty Bell, Independence Hall, or Rittenhouse Square. Average folks are very, very nice and try to be very, very helpful. They are plain dressed and plain spoken (perhaps this stems from the town's Quaker heritage), often not knowing where to find the town's gems, but at pains to be of service. They can bring a smile, even in a city where the party was over and the lights were dimmed a century or two ago, reminding us that this is the city of brotherly love. The Philadelphian has to take his pleasure, as John Greenleaf Whittier once said, by being "Permitted…To cheer and aid, in some ennobling cause, his fellow-men," not from heroic strokes or assertions of individuality. He helps out.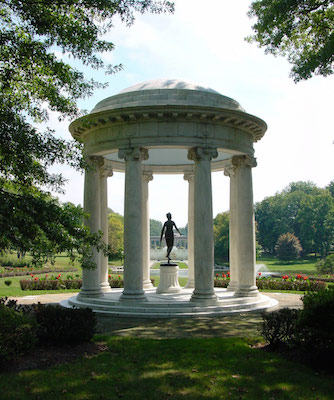 The paradox, of course, is that this bleak metropolis has a lot of green underneath the tarnish. Just outside town (36 miles), Pierre DuPont created Longwood Gardens. Philadelphia and its environs are home to an enviable string of gardens that outshine the offerings of other American cities. The Philadelphia Flower Show is perhaps the most notable public event the town stages each year. Andrea Wulf's Founding Gardeners will convince any reader that Philadelphia was not only a prime mover in creating our Republic but that it was also seminal in America's passion for gardening. Odd it is that a visitor can come to Philadelphia, wander about its neighborhoods, yet never know that great fertility and verdant blossoms brighten some of its precincts.
Is Life Worth Living? There's a lovely new book out by a University of Massachusetts professor whose life had hit the skids in 2008. A lot of lives plummeted then with the decline of our economy into semi-depression, a downward plunge that has not ended in the present day. In John Kaag's American Philosophy: A Love Story, we learn how Mr. Kaag found his way back from the lower depths through his discovery of and complete exploration of West Wind, the library of philosopher William Ernest Hocking. Secreted away in backwoods New Hampshire, very down at the seams, this library housed many of the giants of philosophy to include American greats such as William James and Charles Peirce. Here, out of the way, Kaag discovered with love and philosophy that life is worth living. Just like Philadelphia, West Wind was a crypt that housed riches that could convince a lost soul that life had purpose.
Probably the greatest of the American philosophers William James ordered us to look to the future, not the past, for vitality and hope. The future, he found, was plastic, moldable, full of possibilities. The American pragmatists such as James offered us optimism, because they sensed that great things could happen, that all the rules had not been written, that we could shape lives of value.
Deprived of Destiny. The people of Philadelphia do not have that certainty. Its story seems to have been written two centuries ago, and citizens now, loving and lovely as they may be, seem to lack a future, since what is bankable was deposited long ago. This city is not giving them new certainties. It desperately needs a leadership that is not interested in revival, but is dedicated to invention.
P.S. We come from age of yore when there was a Bookbinder's, a timeless seafood restaurant, in Philadelphia. Best we know that is gone, to Richmond, Virginia no less. There's a whole new constellation of restaurants, but it's a very mixed bunch and the traveler would do well to proceed with caution. For instance, the locals and even national food critics make a great deal out of Zahav, an Israeli restaurant which leaves very much to be desired: the staff there does not even seem to know about a much more distinguished Israeli cook in London called Ottolenghi. A Washington reporter for the New York Times has just written glowingly of Philadelphia cuisine. We just visited a very respectable, competent new bistro a little off the beaten path not on his list, but it still managed to slaughter a quail appetizer and its barkeep simply had no notion of how to prepare an Old Fashioned.
P.P.S. Hotels are fast killing off their high end eateries. Four Seasons, Mandarin, and other 5-star chains now have hefty priced middlebrow menus, often in pedestrian surroundings. The loss of the Fountain at the Four Seasons is doubly sad, because it was one of the few remaining decent Four Seasons restaurants, though Yew at the Four Seasons in Vancouver is rather pleasing.
P.P.P.S. We will follow with interest a Whole Foods experiment right in Philadelphia's center city. As is apparent to all, Whole Foods is floundering: its products, its revenues, and its profits are suffering. It is trying all sorts of bad experiments to see if it can revive itself: this involves more self branded goods, hopeless beer sections, big stores, and little stores. For starters, this new store is huge, 62,000 square feet. Prepared foods abound more than ever, and sit-down-to-eat space is more than ample. Several of its products are priced more cheaply and are fresher than in its other stores around the country. Can a mega store work in the center city? Can Whole Foods achieve a dominance inside secondary cities where food at retail is spotty?