Hotel California: The Luxe Life, Global Province Letter, 22 April 2015
Welcome to the Hotel California
Such a lovely place (Such a lovely place)
Such a lovely face
Plenty of room at the Hotel California
Any time of year (Any time of year)
You can find it here
From Hotel California by the Eagles
Looking for the Hotel California. We've been dreaming about moving into the Hotel California for at least 25 years but just never have found the entrance.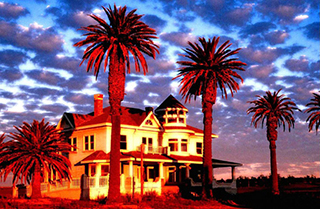 This is the magical hotel that has been serenaded gallantly by the Eagles, an incantation devoutly listened to by youngsters ages 9 to 90. We notice that digital freaks have played it on their computers more the 15 million times, all on the hunt for a hideaway in which to sound and picture all their fantasies. It is about reckless hedonism, which excites the fears of any Puritan.
Alas, as we have moved about the globe we have mostly found knockoffs of Fawlty Towers, an insanely funny series (there were 12 episodes) put on by Cleese and company that memorializes a daft, gleefully hopeless establishment they actually stayed at in Torquay on the "English Riviera". Fact is, the last time we were in London we stayed at just such a hotel where the elevator was on the fritz, the room was half what we booked, and the help went about in a total daze.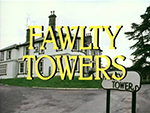 These days no hotel has it right. The room does not get made up. Some extra services one did not request creep on to the bill. The food is cold, whether one picks room service or eats in the café (dining rooms have more or less been abolished). Staff members are taught that they are our friends, not our servants, and they natter away about nothing.
The Exceptions are Exceptional. Should you travel often enough and far enough, bits of excellence will show up, and they are worth cherishing. Here are a few we have found:
Best Hotelier. Bill Taylor at the Four Seasons in Boston is the best hotelier we've struck here or aboard. He is visible. He checks to make sure the little things get done. He builds very solid rapport amongst his staff, and he keeps a better list than most of the secret desires and special yens of his guests.
Best View from the Top. We were the first guest at the Mandarin Oriental in San Francisco and always have found it exhilarating. The hotel is located in a skyscraper and its guest rooms are on floors 38-48. That means one gets a whopping view of the Bay Area. On more than one occasion we have rested in the tub with a glass of champagne in hand, enjoying the afternoon sun and taking in a 270 degree sweep of San Francisco's surroundings. There is no better way to become king or queen of the universe. The hotel has just been sold to Loew's, and we are fearful for it.
We are sure that Ms. Candice Bergen, now old enough to be free of guilt, has camped there. Even at the risk of fat and a few wrinkles, she now perfumes herself with over-indulgence, so she is in need of just such a room. As she brags in A Fine Romance, "I feel a skewed sense of moral superiority to the women who are self-disciplined ... At a recent dinner party I shared bread and olive oil followed by chocolate ice cream with my husband. A woman near me looked at me, appalled, and I thought, I don't care." At any rate, this is a hotel where one's eyes walk on the clouds.
Best Shoeshine. The Ritz Carlton Dorado Beach. Most hotels do a lick and a promise. But shoes here, at least on our visits, have had a special gleam.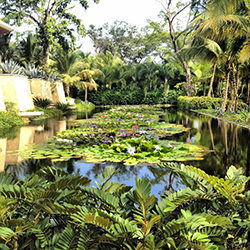 Best Garden. The actual owners of the Ritz Carlton Dorado Beach property have spent a pretty penny on the gardens. Once a Rockefeller resort, there are plantings that have survived from former days. But the new proprietors have plowed even more funds and care into the property. The beauty of this facility makes one ignore service that is sometimes rather spotty.
A Fine Dining Room. The food in hotels has never been superb and now at best it is average to worse. Many have shut down their principal dining rooms and retain shoddy cafes with tired offerings. Those few with dining rooms usually pack in too many chairs with too many over-sauced dishes cooked by 2d line cooks, and offer an unimaginative short menu. Look for a small hotel that caters to a good trade. We think of the Adler in Madrid, which has a good menu, a quiet room, and a tasteful staff. It is attractive to boot and is not staffed with a so-called name chef who owns a chain of restaurants and neglects them all. Surprisingly few people know about this elegant hotel. The grand old hotels in Madrid are less than grand and sell their souls to cut-rate tour groups.
We are reminded that one of the best dining rooms ever was quartered in a nondescript Springfield, Massachusetts hotel. The manager gave us a tour of the meat locker where thick sides hung from the ceiling, covered with mold, getting ever more tender. We have never had better beef. In days of yore Springfield hosted agricultural exhibitions: we think some of the hotel's guests at that time knew something about the difference between good meat and tired beef.
Best Service. Generally the Mandarin chain offers pedestrian service. Bangkok is an exception. And we found that the Mandarin in Tokyo, if one can capture the attention of management, offers perhaps the best hotel service in the world. One of its staffers even toured the banks with us to find a machine that would deal successfully with our cash card; many of the machines in Japan do not work for American debit cards.
Best Dining Experience. Strangely, the famous old Mandarin in Bangkok does not have particularly fine restaurants. But breakfast in the room is the nicest we have had anywhere. We had one Thai plate and one Japanese breakfast. The morning light was perfect and we watched the boats work their way up and down the river from our suite near the top of the hotel. After some dialogue we taught the staff how to do proper toast, as they brought the toaster to the room. There was a notable assortment of teas.
Best Location. The Alvear Palace in Buenos Aires is not only a fine hotel in all regards (literally our only complaint was that the bathroom in our suite was a bit tight) and it seems to be near everything that counts. For instance, it is just a hop, skip, and a jump away from Café Biela where the expresso is fine and the people watching is better. Buenos Aires is suppose to be Latin America's most European city, and the Alvear has Continental flair. They do serve their Fernet-Branca with Coca Cola, but we will not hold it against them, since this strange mixture is, like bad government, an Argentine disease.
Best Hotel Spa. The Siam Hotel, upriver from the Mandarin, is good if not excellent, but it is home to the best spa in the world—the Opium. Yes, the quarters are very ample, more sumptuous than most. But that is not the point. Both male and female masseurs are terribly well trained, such that we had rubdowns on four successive days, each massage a brand new experience. We did not look for opium; the handiwork of the staff was quite enough.
Relaxing Hotel Swimming Pool. Try the Hotel Berkeley in Knightsbridge—on top. It will not be filled with noisy kids. You may be the only one in the pool. The roof pulls back on sunny days so that you can look at Hyde Park and more. But those who want a little more glitz can look at this video to see other pools worth a dip. Central London is always jammed and a swim is a way to escape.
Guest's Checklist. We have attached a list of things to ask about when you are making a reservation at a hotel. Some things cannot be repaired—the food is what it is; old hotel systems will only pump out so much hot water. But you can make sure that the room gets made up in a timely manner, that you have regular ice, and that national papers are hanging on the door when you wake up. Always have a checklist and let the hotel know what you most want.
Hotels Need a Rethink. Even the best hotels today are not good enough. Hotels need a rethink to offer real value to global travelers in the 21st century. Right now even the best shortchange their guests. Food needs a lot of reworking: since hotel cookery is so bad that meals should be brought in from the outside, and more meals should be well designed for those watching their waistlines. Vegetables in paticular need to be better done. Better databases should become the sine qua non for all concierge staffs, so that they can get a handle on the best in several categories, not just food. Getting about in central cities is painful, and hotels can do something about that. Air circulation is generally poor, especially during the late hours when the customer is sleeping in his or her room. This needs to be improved. Since hotel staffs only have average insight into the wants of its guests, computer chat boxes are needed where guests can exchange information about everything under the sun. It is a surprising that hotels, like the airlines, charge a pretty penny and hold their customers captive for long periods, but offer so little of value to merit customer loyalty. Imagination, rather than vast expenditures, is what is needed.
Hotels once merely supplied a bed for the night. Now the smarter hostelry must try to ease the traveler's experience from the moment he leaves his home till the moment he returns to it. The world is a tangle and travel is gritty: the hotel impresario must help the guest forget the world out there.
P.S.&nbsp We refer the reader to Best Hotels on the Global Province. There he will find hotels and inns we have enjoyed.
P.P.S.&nbsp More Shortcuts: Ways to Get Things Done in a Hurry. We have added yet more short cuts to the Global Province. You will find them here. And thank you, readers, for the plethora of good ideas you sent.