Japan: In Toto, Global Province Letter, 23 December 2014
"However, the big thinking in general of a spherical Earth and celestial navigation was retained exclusively by the Great Pirates, in contradistinction to a four-cornered, flat world concept, with empire and kingdom circumscribed knowledge, constricted to only that which could be learned through localized preoccupations. Knowledge of the world and its resources was enjoyed exclusively by the Great Pirates, as were also the arts of navigation, shipbuilding and handling, and of grand logistical strategies and of nationally-undetectable, therefore effectively deceptive, international exchange media and trade balancing tricks by which the top pirate, as (in gambler's parlance) 'the house,' always won."—Buckminster Fuller on winning the geopolitical race
In Toto. We last did an extensive tour of Japan in July of 1976. Now, so much is the same but so much is different. Gone is the free and easy Hotel Pacific in Tokyo where we stayed back then. The so-called ryokans (or country inns) in Kyoto, once magical and well maintained escapes from the hubbub of the city, now seem tired, less private, and not very accommodating to the whims and desires of the guests. Kyoto, even then, retained some of the magic that Donald Keene invoked in his memoirs, but today it is just another city with a shamble of buildings and what not. Fact is, the great cities of Japan generally are not very beautiful, and don't become enticing until one gets deep into the details. Like Japan, they don't offer a sweeping vision: the interest is at a micro level, the imagination shining through in the small touches.
A trendy and somewhat comical change from '76 is heated toilets: they're everywhere, no matter how modest the establishment. We are reminded of the Saki restaurant in London, now closed, which probably created more of a stir because of its ultra toilet than its sashimi, the contraption being "paperless" and known as a "Washlet"—probably the first paperless bathroom affair in London. In Japan they're heated and also will wash off your backside, and you cannot escape them even in dingy establishments.
A goodly number are made by Toto, a bathroom fixtures house that seems to dominate all aspects of Japanese toilet life. The company is a metaphor for all of Japanese life; it offers hidden surprises that come at your backside. In Japan today none of the remarkable things are that self evident, and city life on the surface is even banal. But turn a corner, open a bathroom door, or go to an outlying district, and something remarkable will rear its head.
The world really does not need heated toilets. They are an outgrowth of the well-known Japanese obsession with personal hygiene. But they also suggest what has happened to all the highly developed economies of the world. They are stagnant, and the captains of commerce have to invent unneeded gadgets and geegaws to keep their heads above water. With revenues and profits flat, they go for low cost add-ons, which allows them to avoid anything costly, earthshaking, or truly innovative.
We did not feel obliged to bring home a high-powered Toto. But we were seduced by the Tokyo version of the Panasonic Nanotech quad-blade electric razor which affords a very close shave and has a compact self-cleaning apparatus. The nation retains a genius for producing effective and durable personal electronic devices that can reckon with everyday problems. This razor has made us come clean.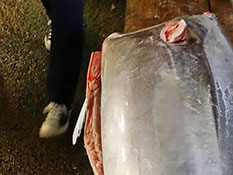 Tokyo is Service. A guide, a college graduate, took us behind the scenes in the Tokyo Fish Market to see a tuna, brought the night before into a large arena full of distributors, expertly sliced by four workers, to be sent off later to various buyers. Our colleague on Spicelines describes this visit to Tsukiji much more vividly in a recent post. We were yet in for a further treat on our market day in October 2014.
Not a half hour later the tuna's spine reached a local restaurant. As we walked in, the remaining bits of fish on the bones were sliced off for us. They were fresh and extraordinarily tasty. Our wonderful repast, the follow-on of our visit to the market, came about because the people of Edo frequently render unmatched service. The owner thought nothing of whipping these delicious remains from the cutting board inside the buzzing market shed to our sushi plate at the fringes of Tsukiji.
This same dedication to service beyond the call showed up smartly for us in top tier hotels such as the Mandarin Oriental and the Four Seasons Maranouchi. The Mandarin concierge staff was particularly helpful at navigating some of the complications of Tokyo, while the management at the Four Seasons under GM Kishi set out for us precisely how and what to do in several regions outside Tokyo proper. The Four Seasons, conveniently, is right next to Tokyo Station, the launching pad for any exploration of Japan.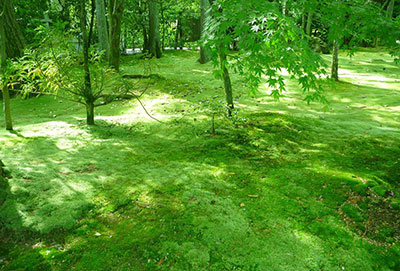 Kyoto is Old Memories. Even with the rash of development, Kyoto still is the home of 1600 Buddhist temples and 400 Shinto shrines. It once was Japan's imperial capital and it still provides the setting for traditional crafts. We saw gold leaf application, highly striking lacquer ware, and some eye-bending indigo hangings fashioned by ancient techniques a ways out from the center of town. Most remarkable was the Moss Garden (4 acres covered by moss), the setting for a Rinzai Zen Buddhist Temple amidst waves of moss greenery. Right in the heart of its central grocery market is Aritsugu, a knife maker (and once a sword maker) led by a knowledgeable branch manager named Noboru Takeda, that some take to be the best in Japan, Be it a knife or a gold leaf creation, any fine purchase is a double treat because the beautiful paper wrapping is both exquisite and complex, as nice to contemplate as whatever is inside. Kyoto is where Japanese go, we think, to reclaim everything that no longer exists.
Kanazawa Originality. Along with Kyoto, Kanazawa ("marsh of gold") was spared bombing during World War II. Usually ignored by foreign tourists, we find it to be Japan's very original city. Its treats are not as stagey as those found in Tokyo or Kyoto, but seem to be more in tune with its people, to grow out of the energy of its current residents rather than from its impressive history. If one were to found a business in Japan, Kanazawa might provide a fertile climate. The vitality is there.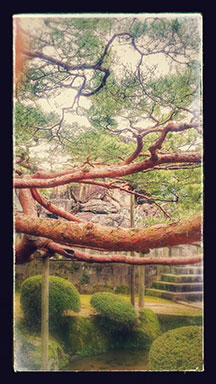 It is most famed for the 25-acre Kenroku-en Garden, with almost 9000 trees and 183 species of plants. Right now one can see the yukitsuri, ropes attached in a conical fashion to support tree branches and protect the trees from the weight inflicted by deep winter snows. We found that the sculptural twirls of branches on some of the older trees nicely break up the rigid symmetry that encases Japanese parks, suggesting that human engineering can never subdue the freshness that is inherent in the greenery.
We did visit the 21st Century Museum of Contemporary Art and found it to be a bust. Escaping from it through a boisterous shower, we went around the corner to Patisserie Ofuku whose offerings were the equal of those to be found in Parisian bakeries. The pastries were monumental. What a happy accident! Had the museum been better or the rainstorm less insistent, we would have missed out on this little gem. The Japanese it seems have long had a fondness for certain things French, which continues into the present day.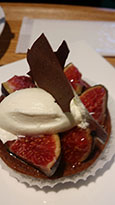 Yet another piece of good fortune came our way on this same National Culture Day, a national holiday in Japan where one is dodging flocks of children and a rush of cars. Our excellent concierge at the Hotel Nikko Kanazawa found that most of the top restaurants were either closed or booked when we sought out a place for dinner. Finally she discovered seats for us at the bar of the unprepossessing but totally wonderful Yoshimura. Kanazawa is renowned for its fish, and we had already partaken of sashimi that was fresher and tastier than that we had come upon in Tokyo and Kyoto.
But Yoshimura took us to new heights. We had there noroguro, a delicately rich white fish, the likes of which we had never tasted. It was splayed and gently grilled on very low flame coals. It is a great favorite in the whole region, but is a fish we had never heard of. Of course this island nation gets to enjoy a seemingly infinite variety of fishes.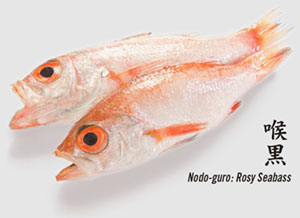 It is within Kanazawa, we suspect, that the national government could find hints and ideas as to what might take Japan out of its continuing doldrums. The nation has been continuously in recession, seemingly for all this current century, maybe even back as far as 1985
Getting All the Small Things Right. Japan is a place of rules where managers and bureaucrats get all the small things right. But in this obsession with the head of the pin, the big picture gets lost.
Sitting high about the array of streets, waiting for some Japanese business executives to emerge from their offices, one looks out at a Tokyo that could be a city anywhere. Modernity has robbed Tokyo of its individuality. Even if one's vision is corrected by magic Japanese glasses, one only sees clearly a few miles in any direction, taking in just a blur of anonymous buildings. The renowned Mount Fuji is obscured by mist and clouds and pollution. We have been told it is only visible from downtown during short periods of the year.
And that is the Japanese predicament. The eyes of Japan can catch hold of ultra microscopic details, but they cannot see far, and wide, and deep. In every sense the Japanese at heart are nanotechnologists, but not jolly pirates ready to manage the unexpected we always encounter just over that horizon called tomorrow.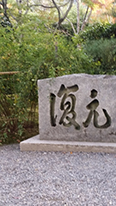 Restoration. It is remarkable to sit in a bar high above Tokyo Station and to contemplate the rash of trains, particularly the high-speed Shinkansen lines, pouring in and out of the terminal. Some 3000 trains a day make their way in and out of the station. It is spellbinding to see it all run so smoothly. Precise engineering and very clear rules make it all run like clockwork.
Rules govern everything in this culture and things work rather well. Except now, when big changes are necessary. Locked into systems at every level, the Japanese are having a tough time changing their governance and their economy where something brand new is called for.
They must give up their very useful nearsightedness that permits them to manipulate the infinitesimal and gain enough vision to merge their practices with the future.
In one beautiful park along our way we found a piece of statuary telling us to restore or, in fact, to heal ourselves. All the bits and pieces work fairly well in this country. But can its rulers rekindle the largeness of spirit that will put its university graduates to work at serious things or remake its export economy into a harmonious business force worldwide? For that they and their country's atrophied spirit must be revived and move from the tiny to the cosmic.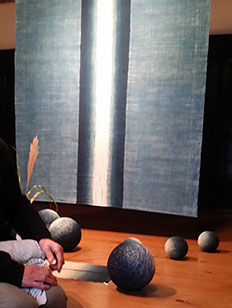 P.S. One has to go the far reaches of Japan to see indigo dyeing. However, just a car ride from Kyoto one will find the small and charming thatched roof town of Miyama. There resides Master Hiroyuki Shindo, who produces exquisite fabric and designs. Upstairs he maintains a small but fun Little Indigo Museum.
P.P.S. It was in an undistinguished tourist spot in the Japanese Alps, Takayama, where we had the best meal perhaps of all our journeys to Japan. The restaurant was Le Midi, an unexpected French-Japanese gem put forward to us by a wonderful local hotel manager called Ken Nakamura. There holds forth the amusing and immensely talented owner chef named Tagami Katsunori. He beautifully prepares the local renowned Hida Beef, putting to shame many steak houses in East and West. He has some other small bistros in town we have not tried. In addition, he is an exporter of the local beef, which ensures that he has good suppliers for his own establishments. Katsunori learned his trade for 3 years in France, working at restaurants in Paris, Lyon, Avignon, and Strasbourg. He's an original. This was one of two unexpected fine restaurants we visited in this non-foodie town.