Massaging the Spirit in Bhutan, Global Province Letter, 11 December 2013
Massage in Asia: With our last letter, Thank You for a Million Blessings, we included in the contents section a huzzah for Opium, the spa at the Siam Hotel in Bangkok. There we had 4 or 5 massages, each with a different slant, all of which left us lackadaisical and lazily optimistic. This is the only arena where the Siam outdoes the Mandarin Oriental—which is downriver—though the spa there is much admired and very accessible. Two of the Aman lodges in Bhutan—also give great massages, the best being Gangtey, but Paro is not far behind.
In fact, very good massage can be had in a host of resorts and emporiums throughout Asia, and the staffs, especially at the hotels, often have received very useful training. The very best, who may or may not have had training, usually are rural folk of extraordinary strength—practitioners who are equipped with an intuitive sensitivity that no amount of schooling can supplant. Massage at its best is an art form, not a mere routine.
Spiritual Massage. But Bhutan, as well as some other agricultural countries, have cornered the market on spiritual massage, which is uncommon in East or West. A Thailand, a Japan, a South Korea, or a China don't do very well at putting the head and heart in order. We have just been in Bangkok, which is at once a fascinating yet hellacious city. The traffic is humongous, the natives rush about with no grace in their gait, daily protests foment against the political regime of the moment, and servants and shopkeepers jump ahead on a customer's request before they understand what he wants. Even late at night the wonderful flower market (from whence many of our U.S. orchids come) is a morass to navigate. The city seems a revolution waiting to happen, not an oasis ready to caress the soul.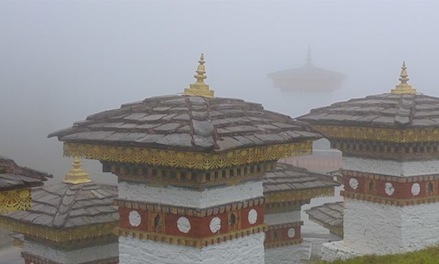 Just a short ride on Drukair north (a fine Bhutan government owned airline with well trained pilots who can handle the vagaries of the Himalayas) is a more measured life with forests aplenty and a society permeated by Buddhism. There's meaningful silence to be had at every turn. This is Bhutan, Land of the Thunder Dragon. A host of low key encounters convince the visitor that this land wants to bathe him in contentment. Perhaps 50% of the country is covered with forests; the population is said to range between 700,000 and 1,000,000. Quietness is abundant since one is more likely to bump into a tree than a fellow human being. Bhutan is the leading conservation country is South Asia. Bhutan is still a country at rest.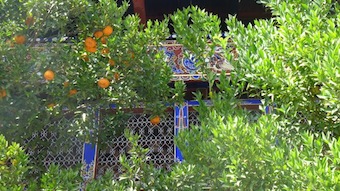 Dochula Pass. Not far from the capital Thimphu is Dochula Pass, some 3150 meters above sea level, which not only pokes well into the clouds, but is surrounded with mystery. It is populated with 108 chortens or stupas that tell the traveler passing from western to central Bhutan that the country—from high to low—is dominated by Buddhist imagery, meditation, and prayer.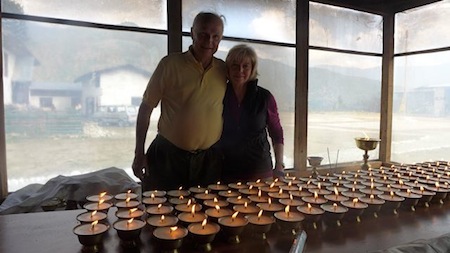 On a foggy day one feels as if one has been transported away from the planet earth to some secret world. But emblems of the spirit are just as prevalent away from main thoroughfares: just outside Paro one comes upon Lakhang Kyichu Lhakhang where one can prayerfully light 108 butter lamps, view a very small temple but certainly one of the most lovely in Bhutan, or just contemplate an orange tree which completes this peaceful spot. One encounters 108 everywhere in Bhutan, be it lamps or chortens or prayer beads, and the number is laden with spiritual significance.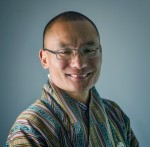 High without the Mighty. Encounters with the Bhutanese are simple and direct. We were invited into dwellings where the families easily told us about their lives and shared food from their larders. As interesting was our meetings with dignitaries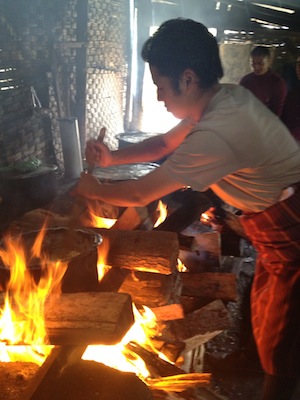 who were equally accessible. Over a long lunch with the new bright prime minister Tshering Topgay, we learned not only of his ambitious educational and industrial plans for the country but also his recipe for making his favorite kind of cheese, all laden with lots of his laughter. A leading monk in the country named Mynak Tulku, a force behind national museums and libraries, not only taught us that the good Buddhist does not foist his problems on the world but tries to bless it with goodness. But he also sat with us to instruct us in the rudiments ofmeditation.
Participating in the Buddhist Life. At every turn, but without outsized zeal, the visitor is invited to participate in the Buddhist way of things. At the Gangtey Shedra (college for monks) we not only purchased the fixings for a lunch for the students but we helped do the cooking, which was accomplished in a very hot open fire in a shack just outside the temple walls. Later we were part of a flag raising at Chorten Nyeabu, such prayer flags being found at every turn throughout the countryside. Two large yellow flags were posted in our honor.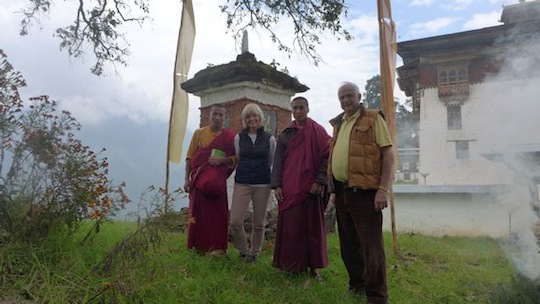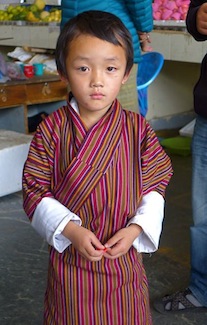 Handsome Because of the Good Life? The Bhutanese are an extraordinarily good-looking people, and one wonders if the good life, where one is touched by greenery and spiritual happenings, doesn't enhance them. Modern evils are creeping in: the crime rate is slowly rising; the incidence of diabetes is very problematic. Yet there is something in the measured pace of the people and the sedate atmosphere in which they are enveloped that anoints them and is soothing to the visitor.
At the vegetable market in Thimphu one can see a handsome little boy so striking that one knows there is something special in the air that makes for a different kind of person.
P.S. Our guide in Bhutan, who was quite proud of his country, never tired of telling us that the Bhutanese are a very superstitious people. This was not necessarily meant as a negative. It suggests a society that is not tainted by disbelief, that has the power to believe in many things. We had occasion to visit Pangri Zampa Monastery which today houses an astrology college where some 100 monks study. An astrologer, hearing our birthdates, gave us guidance on how we should conduct ourselves going forward in order to do well and to prepare ourselves for the next life. Just outside is a huge cypress of tremendous circumference, well known throughout the country, revered in its way almost as much as the shrine. The cypress is the official national tree of Bhutan.