How to Celebrate the Fourth: Good for What Ails Ya, Global Province Letter, 4 July 2012
"La dolce far niente"---The sweet life is to do nothing.
Beyond the Pops: A dear friend in Boston is doing the Pops on July 4th in absolutely the right way. A flock of her acquaintances plan to light on the Esplanade early that day, picnicking and lazing about until nightfall when the Pops gets going. Not her. She is welcoming those who are coming and going about town (some 35 celebrants) to her apartment for beers and snacks all day long. When the fireworks get going, she will migrate to her rooftop with 4 close friends to see Boston do its meteoric best. Not for her the sardine jam of bodies, the mean prongs of heat, the irritations of a mongrel mass run amuck.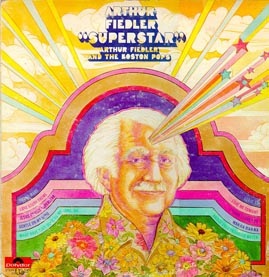 We are remembering years ago in Nantucket that the way to do the Fourth and the Pops was to stuff oneself with lobster and sweet corn as daylight faded, then go out on the second floor balcony to behold the fireworks breaking out all over the town, then finally to retreat to a bedroom, cocktails in hand, to take in Mr. Fiedler and the Pops and the cannons and the 1812 Overture over the rickety TV. All that is gone now. And it behooves us to very much remake our Fourth in a very different fashion.
In fact, the Pops in Boston is a little over the hill, out of tune with the times, more of a TV event than anything. It is best, we think, to migrate, however one can, to a smaller town where the skies are split asunder by fireworks mercifully free of so much vacuous oratory and where the music has a more American ring to it. We like it that Bellevue, Washington and many other locales stage fireworks set to Aaron Copland's "Fanfare for the Common Man". Copland, in all his music, manages to give us a tankard of Americana and to remind us of things that make us proud—from hoedowns to our strivings in World War II.
Yes, it takes some inventiveness to make the Fourth seem like the Fourth. It takes stubbornness to get well beyond the reach of our cellphones and our automobiles and our lemming-like instincts to achieve a patriotic air and spiritual uplift. It requires a summer devotion in our heart to step beyond the compulsions of daily existence in order to achieve rest and find a rhythm that is natural to us but alien to the daily machinery that turns our lives into a grind.
The Fourth of July is all about liberty. Perhaps this year it is most about liberating ourselves from the rut in which we find ourselves. Can we think about new things and go to new places? Can we put routines aside? Can we be conspicuously lazy this summer? In the face of the limitless complications that populate our media, can we enjoy ourselves?
Putting Work Aside. We don't know how it happened, but many of us are working and slaving 24/7. Now the computer companies whose infernal machines drive our behavior are beginning to give us a way out. They're failing and that means we have an excuse for idleness. To wit, the New York Times just rambled on about a Hewlett Packard notebook user whose machine has been out of commission for 3-4 months. Hewlett even seems to have lot the computer for a while.
Then again, Dell Computer, not to be outdone, has managed to keep one of its notebook users in purgatory for 8 months, with no end in sight. Dell has tried 2 repairs at the factory, then 2 at the home of the poor abused customer, then has sent a replacement that does not work, then has done countless time-wasting phone calls, but, withal, cannot get the machine working. Apparently some Dell customers have found their costly 5-year warranties to be absolutely worthless. As near as we can tell, the computer companies are commanding us all to give up any thought of work and to go on a permanent vacation.
Booking a Trip. In other words, go somewhere. That is a little difficult. Airlines have cut down on flights and seats, even dropping some cities from their schedules, while raising prices into the stratosphere. But we learn from articles that you can at least do something about the prices. Most carriers post sales on Monday nights, which means one should book on Tuesdays and Wednesdays. For long flights overseas, it pays to search out flights about 2 months ahead (not sooner, not later), when one stands a better chance of finding a good, cheap flight. Naturally prices vary from airline to airline: a friend reports that the best site to use to compare prices is Hipmunk.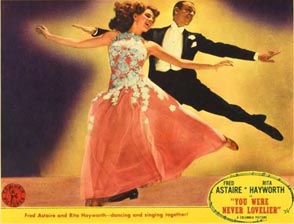 Stayin' Alive. Of course, fireworks, or idleness, or a long trip are all for naught, unless one can get in a lighthearted frame of mind. Perhaps this is done by watching Rita Hayworth and Fred Astaire dance to Bee Gee music in Stayin' Alive. Then again, we have long thought that yoga sessions might help our mood, although the rigor and discipline involved might turn us into marionettes. We think, however, that Alec Baldwin has figured out how to take up yoga in the right way: he has married Hilaria Thomas, a comely yoga instructor, and we are on the lookout for an equally promising road to inner contentment.
Watch the Comeback Kids. Ever since the banks and financial institutions sent us into an economic depression in 2008, we have heard how everything is coming apart at the seams and that more troubles lie ahead. But hither and thither, turnarounds are happening and the heavy gloom has lifted to at least 1000 feet. Tiger Woods, in a tailspin for at least 4 years, appears to have turned the corner, just having surpassed Jack Nicklaus with his 74th major win, and he is on his way to catching up with Sam Snead. For sure his difficulties date back to the unstable Bush years. The recovery of the U.S. economy and his own resurgence have taken about as long. Now finally we are seeing some strength in the housing market. Some other milestones hint that more turnarounds are in the works, and that modest rejoicing is in order.
Philosopher's Holiday. This last Sunday, Anthony Gottlieb authored a rather dumb review of Carlin Romano's America the Philosophical. Indeed, we suspect that the Romano book, which Gottlieb pans, is not very good, but it is probably pretty useful. Reading between the lines, we think Romano tells us that Americans have a philosophical cast of mind and that practicality is embedded in their thinking. Gottlieb analyzes:
"The French are wittier than the Spanish, and the English know more than the Danes. The ancient Athenians were ingenious and polite, but modern Greeks are stupid and indolent. Jews are noted for fraud, of course, and Armenians for probity. Or so it seemed in 1742 to David Hume when he wrote an essay, not his best, on national characters.
What about Americans? Hume, a Scottish philosopher and historian, never said what he made of the colonists, though he later supported their cause. He would surely have been startled by Carlin Romano's claim in this ambitious new book that Americans are outstandingly philosophical. Romano was a literary critic with The Philadelphia Inquirer for a quarter of a century and has also been a professor of philosophy. He presumably enjoyed this latter job, because he writes that today's America is the best place to do philosophy that there has ever been, surpassing even the Athens of those ingenious and polite men Socrates, Plato and Aristotle."
"Isocrates (A Man, Not a Typo, as Romano headlines him) wrote that it is far superior to have decent judgments about useful matters than to have precise knowledge about useless things. For him, philosophy was the imprecise art of public deliberation about important matters, not a logic-chopping attempt to excavate objective truths. Isocrates, Romano says, incarnates the contradictions, pragmatism, ambition, bent for problem solving and getting things done that mark Americans, and his conception of philosophy jibes with American pragmatism and philosophical practice far more than Socrates view."
Along the way the snippy Gottlieb dumps on pragmatism which, zounds, is America's sole great contribution to philosophy and, as it happens, the useful philosophy that underwrote our existence throughout the 20th century. Pragmatism is no longer adequate for an America inextricably linked to the rest of the globe and beset by systematic complications that will no longer allow it to tackle problems in the piecemeal fashion embraced by the James, Dewey, and the like. But it served us so well, well past its prime.

Surely this impasse is something Americans, beginning on the Fourth, can reflect upon, if they can escape some of the spiritual shackles that confine their lives. They can have a philosopher's holiday, figuring out how to take on the whole world and the whole of their society so as to work out a way of going forward. Pragmatism served us well when land was cheap, people were few, and the world was something that was an ocean away, be it the Atlantic or the Pacific. Now it is not enough to tinker with our own lives or our society. Too many things, not just computers and airplanes, are simply not working. We must address the whole, a challenge that's a bit foreign to us, but which we must make our own.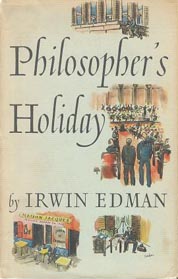 P.S. We find it pleasing that Irwin Edman, a onetime head of the Columbia University philosophy department, authored Philosopher's Holiday in 1938 for an America still mired in the Great Depression. He was rather famous for enjoying himself. He lectured widely and was renowned for reaching out to a popular audience. In other words, he carried on well during bad times. And his was the sort of thinking that helped lead us out of a dark chapter. Therein is a lesson in character. Can one raise from eyes to the sky when it is raining cats and dogs?

P.P.S. Summer reading. We recommend Inspector Montalbano and you won't need much more. Andrea Camilleri, a philosopher, has authored the Montalbano series about a Sicilian detective who always takes care of his stomach with fine Sicilian fare and, despite strong smatterings of blood and guts, manages to endlessly amuse us. Read about "Sicily's Most Exquisitely Tormented Detective." To get properly in the mood for Montalbano, we would recommend a visit with Darrell Corti who will introduce one and all to the delights of Sicilian delicacies.

P.P.P.S. Even today Boston is as much a village as a city. It shuts down early, a tendency that dates back to colonial times. Despite its grand educational institutions, the conversations revolve around small matters. Arthur Fiedler understands this very well, putting humor and a light touch into symphonic presentations. That local, down to earth feel has been lost at the Pops and in much of Boston life. It has strayed from its core.