GP 6 May 2009: Spain 2009: Tilting at Windmills
"In Spain, the dead are more alive than the dead of any other country in the world."
—Federico Garcia Lorca
Donna Leon: Donna Leon, an American who has made her life on other continents, especially in Italy, is one of a handful of Anglo writers who has used the mystery form to paint a well-wrought picture of life in other nations. And she reminds us that crime writers of the highest order come from all over the world—Italy and France and Russia and Asia. They provide us with yet another very successful modality for grasping the whys and wherefores of other nations—the secret shades of grey that elude us when we travel abroad but become crystal clear through the glass of literature, painting, movies, and music. Such 'Who–Done-Its' can strip naked whole nations for us while chasing down criminals.
In Dressed for Death, Ms. Leononce again takes us to beautiful Venice thick with summer heat, lacquered with corruption at every turn in the germ-filled canals and around all the corridors of power. Commisssario Guido Brunetti lays bare for us the brutality, greed, vanity, and other deadly sins that lay as a miasma across the city. A horrid murder springs up, the tortured body dumped near an abattoir, and he is assigned the case. He sends his wife and children off for a vacation without him, compelled as he is to pursue the nest of characters involved with the crime.
No matter how blissful the getaway is, his wife Paola, rather than going for walks with the children, reads The Sacred Fount by Henry James without stop. This is not one of the author's revered novels, and it was panned when first published. Only a literary enthusiast of the highest order would use up her days in the country sitting in a corner, glued to this book. Equally surprising is Brunetti. After a hard day chasing criminals in cloying humidity for a dreadful stretch of hours, he picks up Tacitus, the Roman senator and historian, to leaven his evenings. There's 'death in Venice,' as Thomas Mann was wont to say, driving this couple to escape it by a flight in to the arts. On the one hand, they are escapist, but, on the other, they are reinventing their lives through the insights that culture provides. There's a lot of Europe that's dying, but it is the prism of culture that is putting fire back in some of the ashes. We discover that in Spain.
El milagro español. Like a host of countries in Europe, Spain had its own economic miracle from roughly 1959 to 1973, which took it out of its long impoverishment and political wasteland. Even today one sees the fruit of that effort which had at its core a vast investment in infrastructure that resulted in a dramatic expansion in electrification and transportation. One cannot escape the building of new highways throughout the countryside which goes on unabated in 2009, even as the cranes fall silent in the cities, proof that private building projects are at a standstill due to the current huge pullback in the world economy.
Even more dramatic for the visitor are the fast trains. The country has bullet trains that jet along at 150 mph or better and a local network of lines that is also very good. The trains arrive and leave on the dot—almost to the minute. We used to say that only dictators can make the trains run on time, but the Spanish have done it without Franco. One can make it from Madrid to Seville in 2½ hours. Certainly this is the right way to get from Madrid to Andalusia. Cleanliness, even a substantial indoor green garden, will greet the tourist waiting for his train in the central station at each of the major city centers. This is fortunate since encouraging tourism was a key underpinning of the aforementioned Spanish miracle, though even today the government does a sometime haphazard job of welcoming and guiding visitors from other lands.
But the larger miracle of modern Spain is that the country is so variously stamped by culture which has had such an impact on its quality of life, on the very becoming comity and civility amongst Spaniards, and upon its often successful relationships with Latin America and even North Africa. It is this same richness of culture that suggests that Spain may adapt to the kinds of changes it must make going forward, especially since it has shown some historical ability to blend together the inclinations and intellects of several nationalities and beliefs. In general Spain is seeking to differentiate its products from the run of the mill by a cultural dimension. Branding, in Spain, is all about putting some special intelligence into a product, service, or institution, and, in this respect, it is ahead of America, Britain, France, and Germany where life is not so well knit together.
Seville. After a visit to the very handsome Alcazar in Seville, with its vast greenery and gardens adorned with mazes, one has a goodly selection of restaurants to choose from for lunch or dinner. But if the visitor will visit a good bookshop in Seville, he may discover that Enrique Becerra has authored very readable books on tapas which are very conversational and quite imaginative. Quickly enough this leads one to his eponymous restaurant, perhaps one of the best in Spain, illuminated by his copious knowledge of food. There you may even have one tapa made from figs and foie gras, which is Spanish, of course, so it is much less fatty than any French version. Many compliment Becerra on his oxtail and his lamb, but we migrate to his delectable baby eels. Three recipes on his website assure one that this is no ordinary restaurant. As far back as 1983, Johnny Apple of the New York Times took this to be the best restaurant in Andalusia, saying "Enrique Becerra is a bistro a couple of blocks from the cathedral that gave us, after the warmest of welcomes, our best meal in Andalusia: green olives cured in herbs and lemon peel accompanied the sherry, then tartly silky gazpacho, a glorious platter of tiny deep-fried fish, and chocolate mousse…." It is the best because Becerra has looked into tapas eating from every angle, knowing all that can be known about the tapas lifestyle and possibilities.
Granada Leads to the Olives. Finally assimilated into greater Spain by Ferdinand and Isabella in 1492, Granada was the longest lasting Moorish outpost in Spain, a curiosity because in many senses it was weak militarily, its strong suit being its culture. Beautiful Granada, a small city distinguished by its magnificent views, may be proof positive that a strong mind is a better defense against invaders than copious armor, sharpened spears, and potent explosives. Today it is very much a university town, its strong intellectual roots apparently lasting through the centuries.
Just a bit away (40 miles or so) is Jaén, the center of the olive trade, harboring an institute that studies olive oil and itself the center of a province that produces huge amounts (77%) of Spain's oil. Spain is the world's leading producer of olive oil, racking up as much as 40% of global output, and one cannot understand the country without embracing olive oil in all its several meanings. Today Italy, so renowned for its olive oil, often rebottles Spanish oil and sells it to the world as its own. In fact, the Italians have such an affinity for the counterfeit that it gave birth to an olive oil scandal that rocked through the food world. In the end probably Italy is a better peddler of oil, but Spain is we think the top quality producer. Olive oil accounts for almost 4% of Spain's GDP. One can see in the orchards of Jaén trees that date back 1,200 to 1,800 years.
Because of the kindnesses of Darryl Corti, a fine Sacramento grocer and sometime philosopher, we recently visited with principals of Aceites Campoliva, a very spirited, award-winning producer just outside Jaén. They control every aspect of their product known as Melgarejo. Their oil comes from perhaps 5,000 trees backed up against the hills, supplemented by oil from olives harvested from the groves of close associates. They then process the olives in their own nearby facility, unlike many other packagers who buy their oil, of whatever sort, from cooperatives. Much of its production is from the picual olive, a variety which accounts for the bulk of Spanish production and which is disparaged by many not in the know. For the picual, if processed with infinite care, results in a complex, delicate, very palatable oil that we found to be amongst the most distinguished in the several tastings we and our colleagues have done. Importantly Campoliva works very closely with a professor at a local university (i.e., Marino Uceda, head of the local research station) who assists the staff in working through the prodigious controls needed to garner a top oil. Modern processing equipment and technologies have allowed some quality producers to secure refinements not available in days of yore. Signally it is research in Jaén and elsewhere in Spain that is producing oil that goes well beyond "extra virgin." The Melgarejo family, owners of Campoliva, clearly acknowledges that the advances in its olive oil are tied to its close interaction with Uceda and other educators.
The Mezquita in Córdoba. As one comes out of the province of Jaén, and gets off the olive trail, the city of Córdoba comes into view, the outer ring populated by a endless string of undistinguished buildings and 20th century artifacts. But once there, at the old city core, one encounters remarkable structures, redolent with history, surprises that spring up as one finds one way through extra narrow streets, presenting themselves for hours of inspection. The Mezquita, once a church, then for so long a Moorish temple, and finally again a cathedral reclaimed by Inquisition Spanish,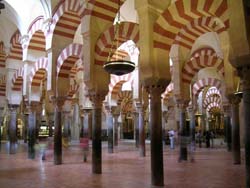 is said, by one of our associates, to be the most remarkable building in the world. Ultimately it is a magnificent mosque in which Roman capitals and Visigoth elements are incorporated into the 856 columns, the whole a grand but quiet space in which all sorts of contemplation can take place. At the center the Spanish then added a cathedral which is a pedestrian blasphemy that is simply a jarring add-on that subtracts totally from the viewer's or the worshipper's experience. Forgetting about all the bric-a-brac added from 1236 onwards, one finds in the mosque a remarkable distillation of the first thousand years A.D. when great works with simple lines could be engineered to convey grandness of spirit. Here best in Córdoba one senses the layers of history and peoples that make up Spain. One does not grasp the country without looking into the Mudéjar style that is integral to Spanish life and design.
But Córdoba, too, has a hotel that is imbued with a certain amount of greatness, the Palace del Bailío. Its current owner, the Hospes chain out of Barcelona, pursues a truly interesting proposition. What Hospes does is to secure truly historic buildings and then do sensitive, well designed upgrades of them to make them serviceable for a clientele, while preserving the esthetic and historical elements that make them so interesting. Some of the public spaces and some of the rooms at the Bailio are truly pleasing, blessed with frescoes that capture both the eye and the heart. Of course, the designers have been given too free a hand, so there are numerous aspects of the hotel that are either impractical or tedious. At least some of the junior suites and standard rooms are totally lackluster. Though the chief executive has long experience in the hotel trade, and previously had been chief financial officer at another relatively upscale chain, the staff is undertrained, and service is often uneven, sometimes soaring, sometimes insultingly bad. Brought to life by the previous owners, the Castejon family, this is a remarkable property. "The estate is composed of several buildings arranged around a total of five patios. On the main patio, the traditional paving has been replaced with a glass floor, revealing a dramatic perspective on the Roman ruins buried fifteen feet below. The designers also refurbished and re-hung original 19th century paintings." Architectural Record has partially captured some of its beauty in a slide show.
Madrid, the Green City. Madrid's very unexpected. Within Europe it is treated as a lesser capital. Around the world, everybody, especially the foodies and architectural buffs, rave on, instead, about Barcelona. In general, today, trendy tourists cannot wait to get to the north of Spain. This is all strange, because Madrid is an uncommonly civilized capital city. One encounters more politeness there, generally, then in the rest of Western Europe or even in the outlying provinces of Spain. The middle aged are conspicuously well dressed, have some breadth in their conversations, and often are strikingly handsome, with several men wearing well cut beards or mustaches. We might not rush to its museums, such as the Prado, which has an ample assortment of the Spanish masters, but is not itself terribly attractive. The many Goyas are interesting because they reveal a wider stylistic range to his work than is commonly assumed. But then there are small hidden boutique museums, such as the Sorolla, which houses the memory of one of Spain's interesting artists, celebrates his closeness to his own family, has a dining room where one knows the food and conversation had to be delectable, houses a good assortment of his heartening pictures, and sports a garden that lifts one out of the city.
The city has remarkable parklands. Right at its center is Parque del Retiro and to the west of the city is Casa de Campo, its largest green spot. According to Wikipedia, "Madrid is the city with the most trees in the world, with about 500,000." This only underlines a central truth about the country. Even with its water supply problems, it is a country of beautiful gardens, several of which map the Moorish concept of green interior courtyards with placid pools that are antidote to the dust and heat of the world. As one speeds in a fast train through the countryside, seeing field upon field of olive trees, one realizes that Spain, sometimes arid and usually sunburnt, is simply a country of trees, more than most.
Perhaps the capstone for all this is the Real Jardín Botánico, just a stone's throw from the Prado, Ritz, Palace Hotel, etc. It is blessed with wonderful roses and a welter of plants. But one might be even more struck by seeing its collection of all the varieties of olive, or huge European elms, gnarled enough to look wiser than their American cousins. Pervasive there are white (hippocastanum) and pink (carnea) buckeyes (aesculus) which send out beautiful flowers, yet are so common around Spain that the locals virtually ignore them. Right near the gate but much neglected by visitors are truly bodacious Rhodendron Purple Splendors, the like of which probably is not seen elsewhere in the world. Statues of some 18th century botanists, prominently displayed in the botanic garden, underline the seriousness with which the Spanish celebrate their plant life and the body of knowledge that surrounds it.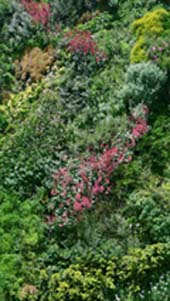 Right across the street—the Paseo del Prado—is the CaixaForum Madrid, one of many handsome museums underwritten by a Spanish bank, offering free admission. The visitor first sees a vertical wall garden by the Parisian Patrick Blanc that is quite spectacular—15,000 plants including some 250 species, making the museum complex an extension of the botanical garden. The wall is just opposite the museum, itself a onetime electrical plant—Central Eléctrica del Mediodía—dating back to 1899. All of this is nicely memorialized in a video about the sculptor Igor Mitoraj and the garden. At this installation la Caixa makes clear the profound connection Spaniards have with magnificent gardens, and the degree to which even the lives of its businessmen are interwoven with the arts. La Caixa, incidentally, is a non-profit financial institution that pursues a wide variety of charitable and social goals. "The bank controls the largest charitable foundation in Spain, and one of the largest in the world. This foundation makes major investments in such public welfare causes as care of the aged and infants, curing Alzheimer's, technologically advanced classrooms, old-age centers, and the like." (wikipedia).
To Party in Madrid. May Day passed in Madrid with barely a whimper. Really only a handful of people—perhaps 6,000—showed up for the ritual protests, not the 200,000 the Westin Palace warned its guests about on the schlocky hotel TV system. The Palace has seen better days, and the Westin people have brought it to a new low with cut-rate big tourist groups now roaming the corridors and sporadic service the order of the day. About the only advantage of this fallen giant now is that it offers an air conditioning system that really works, a rarity even in the better Spanish hotels. Westin (aka Starwood) is about as good running a venerable old hotel as the Christians are at dealing with a beautiful mosque, such as the Mesquiza.
But the placid protests this year, now mainly a small goodtime event with samba music in the background, is a sign of a city and a country that have found some measure of contentment. On May 4, the Wall Street Journal remarked "Spain Largely Avoids Unrest Even as Economy Slumps." At the moment England, or France, or Germany is more likely to see a riot than Spain. "Spain's unemployment rate has topped 17%....But Depression-era scenes don't dot its landscape." "'The family represents kind of a social-welfare network that allows the country to withstand a much higher rate of unemployment,' says Rafael Domenech, chief economist for Spain and Europe at the BBVA bank." Of course, about 1/5 of the Spanish economy is underground, with substantial earnings for many coming from the so-called black economy. In truth, strife could break out tomorrow and prove all the analysts wrong, but one does not detect acrimony and polarization as one goes about the country. As on every other night, goodly crowds out for a good time were on the street of Madrid on May Day, growing ever thicker as the night wore on.
We'd guess moreover that Spain has achieved a different kind of social contract that sets it apart from the rest of th developed world. Whether making a hotel in Córdoba, a tapa in Seville, or a museum in Madrid, more imagination, more culture, more types of people are often part of the process. In most modern societies, the individual has become atomized, and the nature of his work has become trivialized. But if a olive oil maker outside Jaén can suppose that the goal of his efforts is to create subtle complexity, not garish simplicity, then a country has a crack at becoming a civil society. A culture that admits and harmonizes differences, rather than abolishing them, not only has better prospects for surviving than monocultures fostered by mass production nations, but it also has a hope of thriving economically. The only strategy for high cost nations in the West competing with the cheap commodity products of the East is to devise ultra-high-quality products that are relentlessly differentiated. One cannot have successful businesses in the post-industrial global economy if caught in a nation plagued by spiritual and cultural decay. Like Don Quixote, Cervantes's hero, Spaniards may be seeming to tilt at windmills, but only seeming, for in their country, the shortest distance between two points is not a straight line, but a twisting path on which the seeker can gather up all the right ingredients in order to cook up a better stew.
P.S. The traveler is particularly warned against the Hospes restoration in Seville which is sort of a warmed over motel dressed up with a lot of rhetoric. Hospes Las Casas Del Rey De Baeza is billed as a four star, as opposed to the other five stars throughout the chain.
P.P.S. In the public gardens of Spain, one encounters many mazes. Certainly they're a metaphor for the whole country where layer is piled on layer—whether we are talking about buildings, or history, or everyday activities. It is unusual pairing or layerings, for instance, that make the better tapas so interesting. As well, one detects endless examples of visual wit in modern advertisements or ancient paintings where something whimsical, barely noticeable, adds a chuckle even to very serious works of art.
P.P.P.S. To get some idea of the breadth and depth of mystery writing that is immersed in so many subjects and so many lands, take a gander at Mystery Writers International.
P.P.P.P.S. Madrid's Airport is comfortable, stylish, and relatively unconfusing—another one of Spain's successful infrastructure investments. It is just the opposite of Heathrow in London—a torture which symbolizes the hopeless tangle of England's transportation system, or even O'Hare in Chicago, an example of that city's decaying transport system. The railroads through Chicago were originally the basis of its greatness.