GP 2 July 2008: Charleston's Better at Fiction Than Fact
Only Yesterday. Some decades back but it could have been yesterday, a Yankee interloper, living on Meeting Street, took up an invitation for early cocktails, put on a pastel blazer, and loped over to another comfortable but rather sultry house nearby where the conversation pivoted around Low Country matters. He opined to a Charleston eminence, whose shoulders were curled from arthritis but who was not one to miss a beat, "You know, the run-down strip malls are growing outside town. We will have to get some urban planning here if they are not to swamp us." "Erb-bon planin'," barked the Charlestonian, "Why yo'r a Communist!"
The Yankee, of course, was an ultra conservative whose forbears had signed the Constitution. The family manse in New Jersey had been built with bricks that had served as ballast on colonial ships. He joked for years afterward, "Why. My goodness. I had to go to Charleston to be called a Commie."
Those from Charleston—and those that come to visit or stay (and the tourist hordes are on the increase)—like to pretend that things in town are as they always have been and always will be. Naturally that's not at all true, and change aplenty seeps through the alleys. But "let's pretend" is a state of mind in Charleston, which makes it both charming and slightly fatuous. The rivers keep flowing, but the illusion is that they will reverse course.
Though a major port since colonial times, the Civil War took it off the map of major cities in the United States. With a population of about 120,000, it ranks 259th amongst U.S. cities, and is more properly, we think, called a town—a charming town. Our colleague at SpiceLines recently provided us with "13 Reasons Why I Love Charleston." Make no mistake about it: there is a lot to love. That it has a psyche that is out of touch with reality is part of what makes it so compelling. Because of this spirit, a certain elegance adheres to South Carolina, even amidst its grinding poverty, that has long since departed from the other states in the South. Charleston has some purchase on what the framers of the Constitution termed 'domestic tranquility.'"
Though South Carolina's cities do not amount to much, Columbia, the state capital, being the other one of note, they are where the action, the money, the future, and everything else is. 70% of everything is in the cities, but the poor countryside has enough power and votes to restrain their growth. For instance, it is hard for cities to annex outlying suburbs in order to build critical mass, a situation David Rusk addressed in "South Carolina's Cities: Hubs of Progress." In one way or another, this same inertia has captured much of the South, ever preventing the growth of great cities, with the possible exception of Atlanta.
Mayor Joseph P. Riley, first elected in 1975, has gotten a few things done. But, after 8 terms, adding up to a dynasty, we might argue that he is yet another sign that Charleston's citizens are ever trying to freeze it in time, hoping to keep it as it ever was and ever will be. Political inertia fostered by an intransigent oligarchy keeps the South from truly flourishing. The South has never achieved its manifest destiny.
Changing Horses. While busy thinking old thoughts, the people of Charleston are quite busy looking for new horses to ride, their old steeds long worn out. That is, they have changed jobs. Once upon a time the Ragsdales were in tobacco and cattle, but that's a thing of the past. The family name goes on in Finials by John Ragsdale, the descendants having gone from farming to domestic arts. One has made a bustling business out of Charleston's famed 7-layer cake, an import from Hungary apparently brought up to Charleston by the Huguenots, but she has hung her shingle out in a bigger city just north of the Confederacy.
Kerrison's Dry Goods just barely exists. Founded as a carriage trade department store in 1830, the Poulnots bought it in 1893. Today the owner Edwin Poulnot, as a hobby, sells Carolina rice cookers when he happens to be around the store: they're the only thing in the window. Called Kerrison Rice Steamers, they're more than worth the price tag of $34.95, especially since he includes cooking directions and a few stories (all untrue, according to Mr. Poulot) with them. These days he makes his real living from real estate, the fallback position of every Southerner. His buildings, which he owns free and clear, rent space to almost quality national clothing chains such as J. Crew and Victoria's Secret.
A New Yorker and a Carolinian at the same time, Steve Dowdney is as interesting as it gets, career-wise. After Trinity School in New York City, he went to The Citadel and then on to the military with terms of service both in Ethiopia for Haile Selassie and Vietnam. After he tired of military service while at Fort Lewis, Washington, he settled down to real estate, then boats, and then investment brokerage in Seattle. Finally drifting ashore with his son in Charleston, he started canning vegetables under the rubric Rockland Plantation Products and selling them at local green markets. In betwixt and in between, he's trying to write a novel. Most recently, he's out with Putting Up, a book on canning that captures the wisdom of his grandmother who taught him its secrets. In Charleston, there's an interesting dialogue between who you think you are and what you are doing to get by.
Getting Something Big Done. As near as we can tell, the biggest and best thing that's happened to Charleston in the last 50 years is the building of the Arthur Ravenel Jr. Bridge. It's very handsome and is as big as it gets in cable bridges and is built to withstand any quake that should come its way. The citizens are mighty proud of it, staging a one week celebration at its opening. It's the scene of a run every year.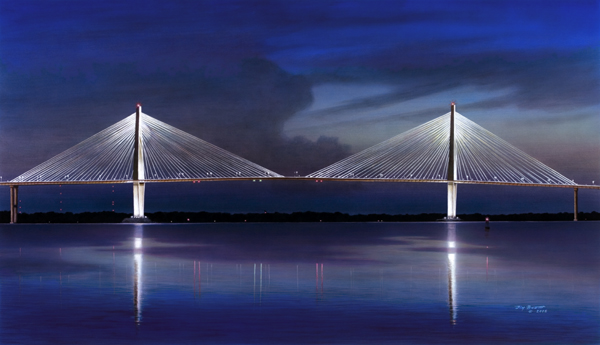 But what does it take to get something like this done? Arthur Ravenel Jr., a colorful fellow who comes amply equipped with all sorts of blemishes. Originally a Democrat, he converted to the GOP when it was time to change colors. A retired Congressman, he ran for his old State Senate Seat in 1996. He dickered well enough to get funding for the bridge, and that it is why it is named for him. But he has been less than distinguished in his remarks about Charleston's black citizens, who comprise about 1/3 of its populace: "Ravenel is a member of Moultrie Camp, Sons of Confederate Veterans, and is a supporter of the Confederate flag being flown at the South Carolina statehouse. He provoked controversy at a rally for the flag in 2000 when he referred to the NAACP as the 'National Association for Retarded People.'" Ravenel upset even more people after he apologized to mentally handicapped people for comparing them to the NAACP." For a while his son Thomas acted as State Treasurer, until he was suspended for buying and distributing cocaine, according to Wikipedia. People who get big things done in Charleston might not be endorsed by the League of Women Voters.
Confederacy Topped off with Calvin Klein. As David Byrne, the very innovative musician and photographer, says, Charleston has a Confederate mentality, but the cake is frosted over with Calvin Klein.
Birdies, bunnies and black people. Those are the 3 subjects of cute watercolors in a gallery in the historical district. This district seems to be about half shopping and half residential. Half of the historical district has become a sort of colonial-themed mall—with the occasional church or Confederate museum interspersed between the Gap, Banana Republic, Calvin Klein, shoe stores, candle shops and colonial-style furnishing shops. The other half of the center is mostly well-kept, beautiful mansions, and may be entirely inhabited by the gentry and by interior decorators. …

The Civil War started here. It seems it hasn't ended yet. There is a Daughters of the Confederacy neoclassic edifice, a Confederacy museum and numerous buildings housing fraternal and Masonic organizations.
The town is a standoff between a neo-Confederacy and Yankee interior decorators. It has all the ingredients for good stage design and a Spoleto Festival but not the makings of a global city. Even with its container port. Even with the flush of Brits and French and Asians who are coming by now that the cheap American dollar brings tourists to every one of America's featured attractions.

Stephen Colbert, Charleston's Leading Citizen. It should serve as no surprise that Stephen Tyrone Colbert hails from—but where else—Charleston. His family moved deeper into the heart of town at death of his father Dr. James Colbert, an official at the Medical University of South Carolina, when he was 10. Colbert apparently felt detached from his surroundings, indulging in a fair amount of fantasy and science fiction. We suspect many of the denizens live in similar cocoons. Every time we talk with a Charlestonian, we know we are dealing with a dreamer.

It is all too fitting that Colbert went to college at Hampden-Sydney, a small, distinguished school very much out in the agricultural boondocks of Virginia. It's named after revolutionaries—English not American—and it could well equip one with irony, since it is off the beaten path, and not commonly where one would get an education in philosophy.

Colbert, on his Comedy Central show, plays an unreconstructed revanchist. And so he pokes much fun at his stream of bright guests, all of whom take themselves much too seriously. They're full of prescriptions for the modern world, which his comedic persona finds to be totally irrelevant to anything he cares about. Much in the same manner, his hometown of Charlestown is repudiation to where America is headed. At its best the town is about art and style, particularly strong in the domestic arts, much less about business and politics. A wonderfully wrought bridge. Or a colonial Battery. A Seven Layer Cake. It is a stage full of players. More than any other town in America, it is best understood through its arts and its fictive sense of itself.

William Gilmore Simms. Though his work would not survive onslaughts from the politically correct today, William Gilmore Simms, poet, storyteller, historian, gives us better clues to Charleston's greatness. Edgar Allan Poe thought him America's greatest novelist. "Simms was one of the best, and most respected, historians of his day. His History of South Carolina (1842) served for several generations as the standard school textbook on the state's history. He also wrote enormously popular biographies of Revolutionary War heroes Francis Marion, Nathanael Greene, and John Laurens, as well as John Smith and the Chevalier Bayard." There's a large bust of him in Battery Park, with only the word "Simms" on it, since it was felt the citizenry knew him so well, no other verbiage was necessary. As might be expected, he was solidly anti-union, pro-slave, ardently states' rights.

DuBose Heyward. Charleston has had two great literary periods: the decades preceding the Civil War when Simms was active, and then, the twenties and thirties, a fruitful time in America's regions before World War II. DuBose Heyward achieved tremendous fame for his novel Porgy, which led to a stage play whose lyrics became part of Gershwin's Porgy and Bess. Significantly, we think, he was a descendant of Thomas Heyward, Jr., a signer of the Declaration of Independence, the Heywards having played an ongoing role in Charleston's history, with relatives there even in the present day. Porgy was based on an actual black Charlestonian, and uses the Gullah language. Heyward had finally gotten around to the 1/3 of the town that did not interest Simms. The Heyward family had fallen on hard times after the Civil War, and DuBose Heyward wrote of a tattered city in the 1920s. The Civil War condemned Charleston to be a vehicle of culture rather than a capital of finance.

P.S. Charleston's at the junction of the Ashley and Cooper Rivers. One is never that far from the water.

P.P.S. Charleston has the first livability court, established to curb sundry nuisances that may interfere with the quality of life. While that fits our proposition that the city likes to think about domestic matters, we have been assured by locals that one will not be bothered by a great deal of cleanliness.
P.P.P.S. Darla Moore and husband Richard Rainwater, who made a lot of money for the Basses, live in her birthplace Lake City and keep a house in Charleston. But they're big gifts have really gone to Columbia, the state capital. The bigwigs who live in and around Charleston like it a whole lot, but don't seem to put much into the place. Darling Darla was once a big-time New York City banker but got out when the getting was good.

P.P.P.P.S. "Summertime" is the most famous song from Gershwin's Porgy and Bess. "Summertime, and the livin' is easy." But the summer livin' ain't easy, with ease only a figment of the literary mind. Actually Charleston's summertimes are a bit brutal. One retiree with several houses throughout the Americas comes up from the Caribbean in mid-April and stays til the end of May. Then it is time to repair to his homes up North.

P.P.P.P.P.S. Mr. Poulnot is a world traveler, having been to Egypt 7 times. He goes down to Puerto Rico to get his favorite rum. His version of the Carolina Rice Cooker grows out of a trip to Rio. When he had the department stores, the Kerrison Rice Steamer was a big seller, but he sort of forgot about it when he exited retail. Then in Rio, out in the marketplace, he spied a pretty good rice cooker. Once he had found somebody who could talk Portugese with the Brazilians and after he enlarged and redesigned the cooker a bit, he was back in the steamer business. It does not sell that well outside the Charleston Low Country, but it should. The Poulnots are thrifty and that's how they've survived all the twists and turns of Charleston since they arrived in 1790 from Santa Domingo. His grandfather was so proud of his ability to squeeze the most value out of a dollar that he liked to say, "When we cut the Christmas turkey, a slice only has one side."

P.P.P.P.P.P.S. Even if it is slightly dated now, Johnny Apple's "A Southern Star Rises in the Lowcountry," March 15, 2006, deserves your attention, since it provides an overview of Charleston cooking, admits to the long drought in restaurant food, which lasted into this century, and then points out how things have come alive.