GP 4 October 2006: Le Déjeuner sur l'herb
Leave Your Cubicles Behind. Leave them behind and step outside the door. At every turn now, we meet people insanely busy doing nothing. Furiously busy. They can't say hello to friends but do construct schedules that leave their Blackberrys aghast, are old before their time, and act as if existence were a martyrdom. In several places on the Global Province, most notably "Use the Geese to Weed the Strawberries," we point out that hyperactivity has even invaded every aspect of our kids' lives. Yep, our children are running up the down escalator.
Mostly this frenzied behavior stems from the power bureaucrats have achieved in modern society, including our own. They have us frantically doing all the wrong things. If, as we said last week, deregulation has not worked out and our markets only parody Adam Smith's idea of a free and competitive society, it is because the bureaucrats have staged a coup. It used to be that our leaders took charge of government and other institutions, determining what the bureaucrats should do. Today the buristas are in charge, having clawed their way to the top, and are meddlesome in every crevice of our land. Now, for our health, we have to break free of the mindless mechanism in which we are caught that seems to have us running fast the wrong ways....
Le Dejeuner. Maybe that's what Manet had in mind when he set Impressionism on a roll. Breaking free. His Le Dejeuner sur l'herb, refused by the Paris Salon in 1863, and exhibited at the Salon des Refuses, scandalized all of officialdom and provoked volcanoes of public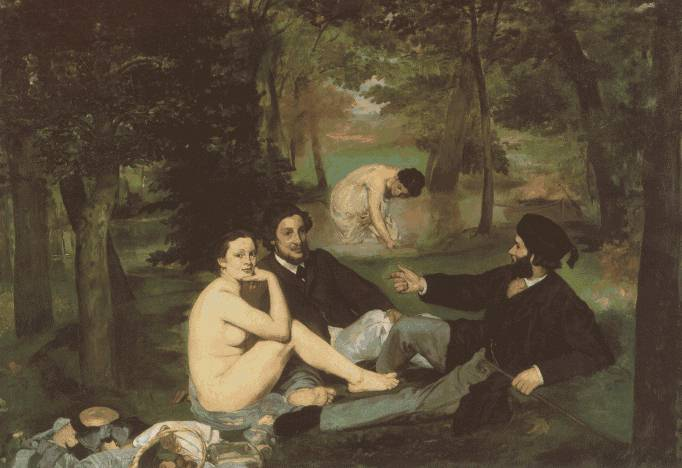 indignation. Here were portrayed a few bourgeois escapees, free of their desks, dining al fresco with some classic ladies who were nude as jaybirds. It was quite a lunch. Did the powers-that-be despise the lasciviousness—or did they resent the images of men who had broken out of imprisonment?
For us it can symbolize how we must deal with our present dilemma. It's not enough to take a week or two away in St. Bart's as our well-heeled, out-of-shape, mentally shattered friends now choose to do. There, of course, they have a chance to commiserate with similarly exhausted hypercrats.
No, the issue, we suggest to our clients, is to get out of orbit frequently every day of every week. We have long read about those executives who even have a couch in the office to take a nap. We're admirers, but can't say we have ever gone out and bought the divan. Or even had a picnic with some ladies deshabille, though we are mindful that Melville reputedly said, "Life is a picnic en costume."
For a few moments each day, for a few hours a week, we must escape from the ordinary. So, below, we consider a few magnetic attractions that will take us off the beaten path.
Richmond Pearson's House. Richmond Pearson, from North Carolina, distinguished himself as a Congressman and more particularly as an ambassador under Teddy Roosevelt in Genoa, Persia, and Greece and Montenegro. For the rest of his years, he enjoyed his splendid house at Richmond Hill in Asheville. Today it's the Richmond Hill Inn, which, wonderfully, has two compelling attractions of only occasional interest to the clientele. It offers "golf croquet," more of an English invention, which has taken hold here in some circles. It's the right form of croquet for beginners: you don't have to become obsessive-compulsive about it. And, if you are at Richmond Hill, you will find it's not over-used. In fact, when you call into the Inn, the staff won't know too much about it, and, ironically, will hurry you off the phone if you want to chat about it.
Similarly, you can get away from the madding crowd by investigating the marvelous gardens at the Inn designed by Chip Callaway. Golf croquet and garden watching—these are two divertissements which will allow you to leave yourself and to pull away from the anxious concerns of your fellow citizens. They're available, off the beaten path, at several venues.
Quinta de la Rosa. Wine-making and wine-drinking have become anxious, competitive, high-priced sports in the last 30 years. We can remember when we bought our first $100 bottle of wine, perhaps a Margaux, light years ago in a hostelry well up the Hudson River on a fireplace evening. That would be an irrelevant act today—the price would be 5 times higher—and the conspicuous consumption involved would thoroughly negate any pleasure. Part of the challenge now in getting free of a frenetic civilization is to avoid the excesses promoted by a society of too much.
Andrew Tanzer, a fine journalist just back in the United States after many years in the Far East, is finding re-entry into our world something of a shock. We asked him what good- value, therapeutic wine he might consume at the moment to forget about the furniture the movers have managed to break. "I'd definitely put this red on your list of best value wines," he replied, forwarding a review from his wine critic brother Stephen Tanzer:
Deep red with a bright rim. Spicy and cedary on the nose, with scents of fruitcake, dried cherry, red plum and pomegranate. This has striking energy and snap for a ripe vintage, with Old World vibrancy and a fruit/acid balance that holds promise for cellaring. Finishes juicy and long, with fine tannins.
A few sips of Quinta de la Rosa, not too dear, or perhaps a spicy gin is antidote enough to Bloomberg's New York City where cigars, and fatty-foods, and goodness knows what else are being made into illegal foreign objects. We are being surrounded by new regulations to make us all virtuous, but it is not at all clear that they are making us better.
Harira. An English management consultant of our acquaintance has become quite passionate about getting some more game on his table. For pheasant, hare, partridge, or grouse, he's gone to Scottish Gourmet. Now admittedly the term 'Scottish Gourmet' is an oxymoron that arouses even more laughter than our favorite 'Microsoft Works.' That said, our friend is correct: well-prepared game is a way to get away from the daily grind.
Now, however, that it is Ramadan an even more restorative regime might be to take up Harira, the soup enjoyed by worshippers after twelve hours of fasting and prayer. It is "a spicy-lemony lamb and vegetable soup that traditionally breaks the fast in Morocco." Our companion website SpiceLines will soon recreate the recipe we enjoyed of a September evening. Some version of this becomes daily ritual across the Moslem world during the Holy Days. Ceremony and spirit can set us apart from the trivia of our daily rounds.
Verse. Decades ago, we were out at a madcap week end party near Orient Point on Long Island. Despite quite a run of silliness and the endless flow of liquor, the event was mostly about good fellowship, with very little unseemly behavior. Right by the water, we could tip into the stream if the sun got too hot or we felt bloated from consumption.
On one side, we saw Peter T., a very fast track municipal investment banker, who was genial at every turn, but somewhat removed from the rest of us. We finally took in what he was reading during the course of the week end, which turned out to be a volume of Robert Graves poetry. Who would have thought it? But there he was poetically absorbed, spiritually distant from us, and a universe removed from the traders on Wall Street.
There is nothing like poetry to escape the prosaic. It is the anti-prose. Graves himself, in a speech to the Hungarians, claims that poetry gives a people freedom, freedom for sure from those who would dominate us, but as much, freedom from the emotional chains that can gain thrall over us:
Hungarian poets have, however, a quality unmatched by any other European race—their language and their myths being completely different from any other. Thus they cannot get lost under the domination of neighboring powers, few of whose citizens ever take the trouble to learn Magyar. Hungarians, like the ancient Irish and Welsh, realize that poetry is a means of storing power: notably the magical power of love.
A Different Drummer. Vacations no longer are enough. Our health and welfare now require that we get away every day, perhaps twice a day. But what we do and how we do it must be abstract and removed enough that it is not just one more burden in life's schedule. We are striving to achieve counter-rhythm, longing to be powerfully out of step with the times.
We know of a chap who took one book with him when he went off to the Army; twas Henry David Thoreau's Walden. Ralph Waldo Emerson, Henry's mentor, preached independence: Thoreau practiced it. Amidst crowds or out in the country, Walden provides solace. Towards the end of the book, Thoreau spells out his idea which should ever be a comfort to the world weary:
Why should we be in such desperate haste to succeed and in such desperate enterprises? If a man does not keep pace with his companions, perhaps it is because he hears a different drummer. Let him step to the music which he hears, however measured or far away. It is not important that he should mature as soon as an apple tree or an oak. Shall he turn his spring into summer? If the condition of things which we were made for is not yet, what were any reality which we can substitute? We will not be shipwrecked on a vain reality. Shall we with pains erect a heaven of blue glass over ourselves, though when it is done we shall be sure to gaze still at the true ethereal heaven far above, as if the former were not?
More than ever, our circumstances demand that we march to a different drummer. Come to think of it, we'd like to see our leaders get out of lockstep as well.
P.S. At every turn we see bureaucracy running amuck. Years ago, Hewlett-Packard, everybody's idea of an ideal company, began to come apart at the seams. We got a scent of this when we found that its executives were not terribly good listeners, since they were quite convinced that most things worth knowing were inside the four walls of the corporation. Nonetheless, we have long advised companies to hire talent out of Hewlett. The outflow will probably increase.
Ms. Patricia Dunn, most recently Chairwoman, but just shown the door, prided herself on bringing proper governance processes to the H-P board. But she bizarrely took up spying on fellow Board members, something you just don't do in a civilized society. Unless you are a bureaucrat. Hewlett-Packard, by the way, was much more important for the development of Silicon Valley than Stanford University, also rooted in Palo Alto, so its decay has profound meaning.
P.P.S. The great Buckminster Fuller thought that intellectual pirates, not specialists (i.e, bureaucrats), made for progress. We recommend to you his delightful, short "Operating Manual for Spaceship Earth," which is available online and which understands the difference between ceaseless activity and substantive results.
P.P.P.S. Tiger Woods, once again, is in the lead, with several eagles at the American Express Championship and another tournament in hand. Asked by one interviewer about what's next, he said he's had his fill of golf for the moment. He's looking forward to getting home, forgetting about what's next, and kicking back to watch pro football and the baseball pennant race.
P.P.P.P.S. Robert Wright, the GE vice chairman who heads up NBC, told late night Charley Rose on September 29 that the amount of TV viewing has remained remarkably stable for years, not only in the U.S. but throughout the developed world. That means we are piling on all the other junk, including the Internet and computer games, right on top of all that digital dross—not the best formula for mental health. It's TV plus games plus Internet plus IPOD plus egads. Wright is a pleasant fellow, but it's probably fair to say that the TV began to be a negative force in American life when GE acquired NBC in 1986. The Fairness Doctrine went down the tubes in 1987. We have been captured by the digital world. Network TV has, however, lost half its viewership, with cable channels taking up the slack.
P.P.P.P.P.S.
Bureaucracy, you will notice, has turned the customer-seller relationship on its end. You are now a supplicant—not the customer. If you are dealing with any utility, you have been held on the phone at length to get service or to pay a bill: then you are given instructions on the painful process you must follow to escape whatever morass confronts you. Computer and software companies charge you for help when you try to deal with the imperfections of their products. When the bureaucrats take over, they expect us to pay obeisance. The companies that are exceptions are wonderful and deserve more of your trade; L.L. Bean is an example of a firm that does the right thing—gracefully.