Click on a topic
Wine · Tea · Coffee · Beer · Sundry Other Spirits
The Yale Cocktail
We have shamelessly borrowed this cocktail from the Yale Alumni Magazine, September-October 2012. For those wanting a simpler, muscular cocktail, try the Yale or the Yale Fence from Embury's The Fine Art of Mixing Drinks. The recipe here is an update of the 1906 original, so be on guard. "Originally a mix of gin, bitters, and seltzer, the Yale cocktail evolved into a violet-colored drink in the 1890s with the addition of the French cordial Crème Yvette.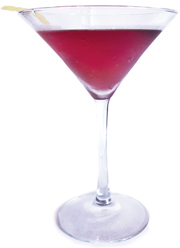 The (Nouveau) Yale Cocktail
2 oz. dry gin
¾ oz. Crème Yvette
¼ oz. Luxardo
¼ oz. dry vermouth
Dash of orange bitters
In glass half filled with ice, stir all ingredients for 20 seconds. Strain into cocktail glass and garnish with a sliver of lemon peel."
(09/19/12)
Cocktails for Gout
It is much more fun to read Britain's premier medical journal—Lancet- than the New England Journal of Medicine or our other medical publishing outlets. For instance, we have just been through a delightful historical tale that traces the birth of cocktails to an effort to rein in gout. The goutiest chap we ever have met had his delightful downfall many nights of the week at one of New York's fun steakhouses. They had the lobster and the booze waiting, both of which did him wrong.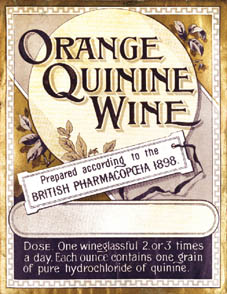 Of course, he should have picked up his Lancet where he could have perused "Bitter Medicine: Gout and the Birth of the Cocktail:"
"Sydenhams Treatise on the Gout, published in 1683, argued that gout was the result of ease, voluptuousness, high living, and too free an use of wine and other spirituous liquors. Bleeding and purging could, he thought, be counterproductive, driving
peccant humours further into the extremities. Instead he recommended a light diet, plenty of fluid, and regular doses of a digestive remedy he called bittersdistilled
alcohol infused with watercress, horseradish, wormwood, and angelica root.
Sydenhams bitters became a popular remedy for gout not least because they gave sufferers an excuse to take nips of strong spirit during attacks and other
practitioners sought to emulate their success."
"And in 1783 Nicholas Husson, an officer in the French army, began to sell bitters that included an extract of meadow saffron, Colchicum autumnaleone component of which, colchicine, is now known to block the metabolic pathways that cause gout."
"By the late 19th century, however, the most popular bitters were not home-brewed, but made by two companies: Peychaud and Angostura" (08/22/12)
Patriotic Punch—Fish House
Back in 2006 we told you all you ever needed to know about Fish House Punch. Finally, the Wall Street Journal (March 21-22, 2009, P. W8) and other publications have caught up with this concoction, which, we can attest, will truly put you under the table. A couple of fellows took a fall at one party we gave. The WSJ also notes that the club that is home to this drink has also been variously called the Schuylkill Fishing Company and the State in Schuylkill. The WSJ goes through some of the permutations the drink has taken. Its recipe for the drink is slightly sissified, so we suggest you take ours to heart. And, to be sure, it's a drink for summer, around some American holiday or another. (11-11-09)
Vin Jaune
We frankly did not know a lot about the Jura until we happened to start sipping vin jaune, as individual a wine taste as you are likely to encounter. It harbors a taste of sherry, and like sherry it is matured in a barrel under a film of yeast, but it is not fortified. To learn more about the wine and the region, we'd suggest a lovely article "Jura the Obscure," Gourmet, March 2008, pp.102-109. "If vin jaune tastes like no other wine, it is simply because it is like no other." The best come into their own after 20 years, and the wine is said to hold up for as much as 60. "Though politically divided between France and Switzerland, gastronomically the High Jura is one." The region produces remarkable cheeses. "A little over a century ago, absinthe was the major industry of the High Jura town of Pontarlier." "The cheese known variously as Vacherin du Haut-Doubs, Vacherin Mont D'Or, or, more simply, Mont D'Or, is in some ways the most distinctive product to have emerged from these mountains." Surely anyone who wanted to visit the gods of cheeses would go up Mont D'Or, bringing back to us the holy confections. One time to visit the Jura is during the The Percée du Vin Jaune, "A Festival to Celebrate A Fabled Wine," New York Times, January 20, 2008, a good way to shake off the rigors of winter. (11-11-09)
Benanti Wines
We have drunk their reds, whites, and everything else we can get our hands on. This is a very reliable very high quality wine producer on Etna, and one can trust everything they produce.Azienda Vinicola Benanti (www.vinicolabenanti.it) is one of the Etna producers to which one must pay attention. Giuseppe Benanti, as we remember, made his money in pharmaceuticals and has been able to hold steady, relentlessly producing high quality, tapping into the best onologist talent, learning a great deal from small producers whose families have produced wine around Etna for generations. www.vinicolabenanti.it/en. Via Garibaldi, 475. 95029 Viagrande. Catania Italy. +39 095 789 3399 or 78998878 (05-23-13)
Palari Faro 2005
We had a 2005, first in a restaurant near the Pantheon. Then we went over to Trimani in Rome (a wine merchant dating back to 1821) and got a bottle the size of a magnum. This wine seems to be a winner every year. Deep pleasure. The Faro region is very small and only has a few makers, bit Salvatore Geraci of Palari and Giovanni Scarfone of Bonavita do exceptional wines, full but not overwhelming. The Palari has won endless awards, and we over-consumed a 2005.
Jancis Robinson calls Geraci the saviour of the Faro region. (05-23-13)
The Best of the Wine Writers
We like Jancis Robinson because she is not a listmaker. She will sort out the good wines for you and tell you why they make the grade. But she writes literately about the whole world of wine, always spinning a good yarn, in the Financial Times. We run across her in FT Weekend, a fun section anyway, where the editors are occasionally smart enough to put her on the front page. You can also find columns and such at www.jancisrobinson.com. We have just read "Bordeaux 2006—How the Weather Screwed It All Up." One would think such a tale of woe would be boring, but she makes this melodrama fun.
However, our favorite of late was "The Wine World's Tangled Web," FT Weekend, March 17-18, 2007. The intrigue is deep, and we like it that a wine buccaneer turns out to serve really top wines. "The counterfeiters of old labels have become increasingly skilled." There are a lot of fakes about. Particularly at question were Bordeauxs ostensibly from Thomas Jefferson's collection that William Koch, the American billionaire, bought from the assemblage of Munich's Hardy Rodenstock. Fake or not, Rodenstock's tastings impress Robinson. "It is thanks to Hardy Rodenstock … that I have had some of the most extraordinary tasting experiences of my life. I have no idea whether the bottle of Yquem 1811, the famous year of the comet, served in Munich was genuine, but I can assure you it was one of the most delicious liquids I have ever tasted…."
Jancis Robinson studied philosophy and mathematics at Oxford, worked for a travel magazine, and was made an Officer of the British Empire in 2003. She is married to food writer Nick Lander. There are also some other classic writers who are very readable, but she is the best of the current herd. (7/18/06)
Subtle Cabernets
"The prevailing style of Napa cabernet today emphasizes power, weight and extravagance, but Frog's Leap is one of a small but significant number of cabernet producers that form a kind of alternate Napa universe. They are making wines of balance and restraint that are a direct link to Napa's past, when wines like the Inglenook forged the region's reputation as a source of great cabernet sauvignon wines." See New York Times, August 19, 2008. "You don't hear much about these sorts of wines today. Critics and consumer publications largely ignore them while reserving their highest scores for the sweet and plush set." Eric Asimov claims that the following vineyards are pursuing a more restrained, balance course: Chateau Montelena, Clark-Claudon Vineyards, Clos du Val, Continuum, Corison Winery, Dominus Estate, Dyer, Forman Vineyard, Frog's Leap, Grgich Hills, HdV Vineyards, Heitz Cellar, J. Davies, Joseph Carr, Konnsgaard, Mayacamas Vineyards, M. by Michael Mondavi, Rubicon Estate, Seps Estate, Smith-Madrone, Spottswood Estate, Tom Eddy Wines, Trefethen Family Vineyards, Truchard Vinyards, and White Rock Vineyards. (11/19/08)
J. Richard Harris' Wine Vintage Chart
Most wine charts don't work, especially the ones in major publications which have simplistic 1-10 grading scales. Who would have thought that a charming Canadian oil consultant would have the right stuff, but he does. In fact, we've used Mr. J. Richard Harris' chart for at least 10 years. He's at #820, 717 7th Avenue S.W., Calgary, Alberta, Canada, T2P OZ3. Telephone: 403-269-3132.
Wine at UC Davis
As far as we knew, UC Davis was the school that pretty girls went to in order to become veterinarians, but then they would leave, go to fancier schools, and become much less useful as anthropologists. Only late in life did we learn that this was the centre of learning for California wines, such as they are. We have always been pleased that the UC wine grading system uses a 20 point, rather than 10 point, scale, which very much helps separate the best from the rotgut. For better and worse, as you can see in the following, Davis has had a huge effect on both the California and the global wine business. (See www.bath.ac.uk/~su3ws/wine-faq/ucdavis.html and http://en.wikipedia.org/wiki/University_of_California,_Davis). Curiously enough, UC Davis lists Nobel prize winners and other distinguished scholars on its website, but we don't see Maynard A. Amerine or any of the other wine greats there. (9/21/05)
Albarino
Tucked in the northwest corner of Spain, Galicia is one of the more obscure and underdeveloped parts of Iberia. It is home to one industrial powerhouse, Inditex, owner of the popular Zara brand of casual apparel. The province's Albarino wines, which go down beautifully in hot summer climes, are another growing export.
Albarinos, Spain's best whites, come from Rias Baixas, a cool, damp, Atlantic maritime region of Galicia just north of Portugal's Vinho Verde country. These dry white wines have complex floral, fruity aromas; a minerally, fragrant, delicately acidic taste; and a lingering finish. Flavors on the crisp palate range from mint and citrus to pineapple and peach. Legend has it that Albarino descends from Riesling grapes brought to Spain centuries ago by German monks. Albarinos do resemble dry German Rieslings, but the dry white grape also conjures up the scented, aromatic Condrieu wines of France's Rhone Valley.
These refreshing, firmly acidic wines go beautifully with—surprise, surprise—the shellfish for which Galicia is also famous. The 2001 vintage was stronger than 2002's. The International Wine Cellar (published by this author's brother), consistently gives high ratings to these six producers: Bodegas de Vilarino Cambados, Pazo de Senorans, Adegas Morgadio, Lusco do Mino, Bodegas del Palacio de Fefinanes, Lagar de Cervera. (Editor's Note: Andrew Tanzer contributed this entry.)
Blancs from New Zealand
Our colleague Andrew Tanzer has been working his way through New Zealand sauvignons blancs lately to good effect. Here is his report:
"Summer is upon us: it's time to adjust our wine drinking. New Zealand's pungent, unoaked sauvignon blancs go down beautifully during the hot, sticky months. Outside of France's Loire Valley, New Zealand is producing the finest sauvignon blanc wines in the world these days. Wines from Antipodean regions such as Marlborough and Hawkes Bay may lack the minerality of the best Sancerre and Pouilly-Fume wines; but they have their own character, typically marked by flavors of gooseberry, herbs, tropical and citrus fruits. These vibrant, refreshing, food-friendly wines match well with seafood dishes such as grilled fish and sushi. The bracing acidity cuts nicely through fish oils.

Cloudy Bay, the famous name in New Zealand whites, produces consistently excellent, but overpriced, sauvignon blancs. More affordable, consistent sauvignon blanc vintners include Isabel Estate, Te Mata Estate Woodthorpe, Seresin Estate and Sileni Estate. The 2002 vintage was relatively weak; 2003, on the shelves now, was stronger."
Vergelegen—Banned Beauties
Vergelegen in South Africa has a long and interesting history which is detailed on its website at www.vergelegen.co.za. Andrew Tanzer of Hong Kong discusses the comic turn of events that keeps its bottles out of our hands in the U.S., a restriction that's about as silly as the restrictive laws that allow protectionist states to stem the flow of wines from California, Oregon, and Washington, bolstering local distribution monopolies. And we're also still protecting Americans from Cuban cigars. For a few more details on Vergelegen, see www.wineanorak.com/vergelegen.htm. Here's Mr. Tanzer:
"The South African boycott is over—or so we thought. The U.S. government continues to bar the importation of wines from Vergelegen, since it deems the owner of this splendid Cape winery, mining giant Anglo American, a monopoly. You can purchase Vergelegen wines in Canada, Europe, Japan, Hong Kong—just about anywhere except America. What a pity: Vergelegen is producing some of the finest wines in the Southern Hemisphere.

The range of Vergelegen is quite astonishing. This early 18th-Century Cape estate produces superb Merlots, Cabernet Sauvignons and Bordeaux-style blends; a potent Shiraz; South Africa's best Sauvignon Blanc and exquisite Chardonnays. In other words, in one region Vergelegen is fermenting outstanding examples of varietals from Bordeaux, the Rhone and Loire valleys, and Burgundy. The International Wine Cellar (published by Steve Tanzer, this author's brother) awarded 91 points to the 2002 Sauvignon Blanc Reserve Stellenbosch, a 90 to the 2000 Chardonnay Reserve Stellenbosch, 91 points to the 2000 Cabernet Sauvignon Stellenbosch and 92 to the 2000 Estate Red Wine Stellenbosch (a Bordeaux blend). Steve, who visited Vergelegen, reports that winemaker Andre van Rensburg has a world-class ego—and produces wines that back up his claims."
It's clear that van Rensburg is quite a handful. More on South African wine at www.winewritersxtra.com/FAQS/xtraPages.asp?KC=7&FP=51&TYP=
OVR&PG=arg&CS=10678.

Out of Africa
We have long wanted to get into South African wines, but still have not mastered them, since they are temperamental if sometimes rewarding. A note from Asia the other day sent us out for Goat-Roti 2001, which is a pleasing mix of reds. As importantly, it is a wine with a sense of humor. On the label you will find: "The council of Billy goats convened—bearded and wise elders grumbled. Their position has been challenged by the popularity of Goats do Roam, the exuberant wines created by the youthful and frisky members of this flock…." On this label Fairview Estates is taking a dig at the French wine barons who have gotten more than a little angry at all the spoofing. Its ratings are good, and the price is bearable. For more on Fairview, see www.wineanorak.com/fairview.htm.

A Screw Loose
Frank Prial, wine writer for the New York Times, pens sensible enough stuff about bubbly, but he goes off the deep end when advocating what the wine industry should do next. A year or so ago, he campaigned a bit for the end of corks, enthusiastically endorsing plastic substitutes as a way to keep some freshness in the bottle. Since, we learn, there's been a raft of problems with the plastique falsettos. Now he is looking to put more screwtops on wine bottles, the screwtop mini-trend having taken hold for a small percentage of the wine bottled in America. For more on his thoughts, see "Popping Corks. A Sound Bound for Oblivion?," New York Times, May 14, 2003. Let us be clear here. We hated the plastic and we hate the metal screwtops, and we think that anybody advocating them has popped his or her cork. The feel is all wrong when you are decanting. Part of the joy of every bottle sampled is the feel of the cork, even if it crumbles a bit upon opening. Standardized winemaking—to include too early picking, some additives, the wrong vats, and sundry other new manufacturing practices—is producing wine that lacks a fineness. What's the saying … the good is always the enemy of the best. We will never get a best from a wine that lacks a real cork from the Iberian countries.

Best Red in France
I've tasted a few, but I think that Chateau Margaux, even with its ups and downs, runs away with the medal. About 30 years ago, a distant French uncle who was a Bordeaux wine merchant took me out there, and we tried a bit from the barrels. Later I went to wine country in California: I could have saved myself several stops.

Best Dessert Locale in Tampa
Bern's Steak House is not a restaurant. It's an institution. We were put on to it by a detective friend. Only days later Frank Prial wrote about its wines for the New York Times (April 4, 2001, B2 and B11).

We all agreed that the climax of our evening came in the Harry Waugh Dessert Room, completed in 1985. Located upstairs, there are forty-eight private rooms where you can finally get a touch of quiet, an after-dinner drink, pleasant lighting, perhaps an Italian vineyard mural, and paneled comfort to keep your brandy, cigar, and dessert company. And you can dial up some pleasant music--we chose light jazz.

Founded in 1956 by Gert and Bern Laxer, the restaurant is now headed by son David, and may crank out upwards of a 1,000 meals a night. So have a steak your way plus some of the vegetables from Berns' own farm.

The restaurant reminds you of several eateries in America that combine mass with a touch of class. There are good spirits, and very loyal, motivated help all take pride in the institution. We're reminded of Snuffy's in Scotch Plains, New Jersey and of several other spots where you can have the pleasure of eating too much.

After the dessert room, the second remarkable thing about Bern's is the wine. It's list is now only a couple of hundred pages, though we have heard it once covered two thousand. At any rate, we know of no restaurant with a larger inventory. We enjoyed a very serviceable pick of Ken Collura, head sommelier. This was followed by a tour of the wine cellar with Eric, our waiter. In fact, we wish the wine tour were longer, but things downstairs were much too busy. To start your introduction, look at www.bernssteakhouse.com or call 813-251-2421. Bern's is located at 1208 S. Howard Ave. Tampa, FL 33606. Incidentally, there are a host of other restaurants on South Howard, a few of which the locals will vouch for. And we are told that SideBern's, a nearby sister restaurant, is worth a visit.

Last of the Best Wine Cultivars
Bernard Ginestet, wine merchant and chateau owner, has just passed away of a heart attack, all too early at 65. Of a great wine family, he was more than his business, which was started by his grandfather Fernand in 1899. Novelist, artist, occasional local mayor, and author of books on wines from Margaux and other communes, he brought dash to the trade, proving you really can't cultivate greatness in wine unless you are cultivated. We first had Chateau Margaux on a visit there in 1969, and it still is the best wine we have ever tasted. A recent bottle in San Francisco revived, if not totally recaptured, the memories. See The New York Times, October 10, 2001, p. E10. During a downturn in the wine markets a few years after our visit, Genestet lost his properties but none of his qualité. The wine trade, even with fits of prosperity, has lost some of its essence.

Best Tea in the United States
Most of the teas offered in gourmet shops and fine hotels are neither fresh nor fine. Certainly all the English imports have suffered on the journey to these shores. Every morning we drink Winey Keemun, but the other varieties are standouts as well. Grace Tea Company Ltd., 50 West 17th, New York, New York 10011, TEL: 212-255-2935.

Iced Mate

We are used to hot mate, but we are well instructed by a gentleman from Paraguay that mate may be better cold. For our initial thoughts on mate, see "Sobre El Mate." But then consider Mr. Francesco Christ's beloved "Terrere," the cold variety from his homeland:

Terere is an infusion of yerba mate (in Spanish), similar to mate but prepared with cold water rather than with hot, and in a slightly larger vessel. It is originally from Paraguay and is found also in northeastern Argentina and southern and western Brazil. When hot (mate), the Guarani people call this infusion ka'ay, where ka'a means Herb and y means water. The scientific name of yerba mate is Ilex paraguariensis.

The vast majority of people in Paraguay take their terer with water-infused herbs such as mint "menta-i" or lemongrass. When not prepared with plain cold water, citrus fruit juices are usually used, although this practice varies depending on the region. While mixing fruit juices with terer is common in northeastern Argentina, Brazil and Paraguay, Lime and orange juices are used in Argentina and Paraguay; lime and pineapple juice are more common in Brazil. Terer taken with juice is commonly called "terer ruso" (i.e., Russian Terer) because this practice is more common with Slavic immigrants in the southeast of Paraguay and northeast of Argentina, than with Spanish- and Guaran-speaking Paraguayan people.

In some parts of Argentina, terer is seen as a lesser form of mate, and its drinking hardly ever follows the traditional drinking mate ritual. In Paraguay, by contrast, terer is considered preferable to mate on a hot day.

First invented by the Guarani natives who lived in Paraguay and western Brazil (Mato Grosso do Sul) territory that used to belong to Paraguay before the war of the Triple Alliance Triple, Terer was spread by the dwellers of that region, and for centuries was a social beverage. People usually prepare one jar of natural water and a "guampa" (Spanish) with a "bombilla" (Spanish) which is shared among the group of people. Since Paraguay and Mato Grosso do Sul have a very hot climate, this drink is excellent to refresh the body and can be considered a very low-calorie, non-alcoholic beverage. Additionally, it is an important ritual signifying trust and communion.

Guampas are gourds that can be made from animal horns, usually made from ox horns. Bombillas are metal straws with a filter at the end. (7-10-13)

Most Fun Green Tea Site
We talked about Green Tea in "The Price of Tea in China," and we're much taken with the cleverness and imagination many of the purveyors put into their websites. But the Xianju Rain Forest Green Tea Plantation takes the cake (until we find one that's even better). See www.worldconsortium.com/xianju.htm. It includes quotes on the virtues of tea, everything you always wanted to know about brewing the green, a listing of the components in Xianju that promise to make you healthier than you ever have been in your previous lives, a bunch of tea quotes we intend to borrow, and a mysterious introduction to the World Consortium of Companies in Los Angeles, the orchestrator of this green tea bonanza. Even if Mr. Haines, the impresario, now merely deals in tea, he promises that his organization will practically remake the world in the years to come.

Updates on most of the site date back to 2004, with one change occurring in February 2005. In other words, we are not exactly sure things are hopping at the World Consortium. But then we think you should take it slow in the world of green tea. (6/15/05)

Most Stylish Glass Teapots
The herb garden is brimming with English mint and lemon balm, both of which brew the most refreshing summer teas. The pellucid glass teapots made by Jenaer Glas are a stylish way to keep the green leaves in view as they steep. The award-winning Wagenfeld, designed in 1931 by Bauhaus pioneer Wilhelm Wagenfeld, resembles an oval bubble with an elegantly elongated spout. The Asian-inspired Senso shrinks the spout until it is nearly flush with the body of the teapot. Both are made of thin, transparent glass that looks deceptively fragile. In fact, the tempered glass is tough and heat resistant. (Jenaer is a division of the German company Schott, which manufactures all manner of technologically advanced glass products, from optical components for telescopes to rear view mirrors.) Either teapot would look right at home in a minimalist room by Calvin Klein. We like our Senso on a Moroccan table beneath the red-streaked Maurelii bananas whose leaves are unfurling madly in the early summer monsoons. Contact: www.specialteas.com. Telephone: (888) 365-6983. Or call Roden International at (954) 929-1900 for retailers.

Best Book About Tea
Last week, an unexpected twist led to a delightful conversation with James Norwood Pratt, America's foremost authority on tea. A native of Winston Salem, North Carolina and resident of San Francisco, Pratt is the author of The Tea Lover's Treasury, a classic reference guide for nearly any lover of the leaf. (Currently, that would include the 30 percent of all Americans who drink tea everyday; annual adult per capita consumption is about seven gallons. Such brisk consumption, Pierce Hollingsworth writes in Food Technology, makes tea a $4.75 billion industry that has grown a spritely 125 percent over the last decade.)

Since The Tea Lover's Treasury was first published in 1982, we have consulted it often, dipping into its pages as much for Pratt's engaging tales of the origins of the brew as for his vivid observations of different types of teas. His writing is witty, occasionally poetic, always acute. Here he is on Gyokuro Green Tea: "If you imagine that a pale Green Tea has to be weak and flavorless, Gyokuro will surprise you. It's mouthfilling and rich, with a very complex herbaceous quality.... If the Chinese lean toward flavors somehow reminiscent of root vegetables in Green Tea, the Japanese just as surely prefer theirs to suggest brewed yard grass. It's a cleaner taste, you might say, but a thinner one, sometimes evanescent almost." The book is filled with many irresistible gems of information, such as the German ritual of parachuting in an early consignment of first flush, high grown Darjeeling tea, "a gesture that rather dwarfs the annual French enthusiasm for the Beajolais nouveau."

Inexplicably, this valuable resource appears to be out of print, but a few copies of both the first and second editions can be found at www.abe.com. In June, Pratt's latest endeavor will make its appearance: Tea Room Guide and Digest, a magazine that will embrace the entire world of tea, ranging from history and industry trends to antique teapot collecting, tea room reviews and tea travel tales. With Pratt at the helm, it is likely to be a most pleasurable read. Website: www.tearoomguide.com. Telephone: 800/578-0591.

Sake It to Me
Trends in Japan, 23 May 2006 shows Japanese sake production to up 8% in 2005, with the dollar value up 18% to $48 billion, a record for the 5th year in a row. All the growth is from exports, which are up 50% over the past five years. "The United States is the top importer of Japanese sake, accounting for 31% of the exports." "After the United State, the biggest import markets for Japanese sake are Taiwan and Hong Kong. There is also growing interest in China, particularly in major cities." (6/20/06)

Best Website for High Quality Tea
For exceptional handpicked teas from India, China and points east, lovers of the leaf may wish to investigate www.inpursuitoftea.com. The site not only offers a wealth of information about different types of tea, the regions in which they are grown, and health benefits, but it also has beautiful close-up color photos of the leaves of each individual variety. (And the variety is staggering.) Proprietors Alexander Scott and Sebastian Beckwith journey to Asia several times a year, selecting most teas from small family farms in remote mountain areas; some are winners of regional competions; few, if any, are ordinarily available in this country.

The names of the teas are poetry. It was hard to resist Drum Mountain Cloud & Mist, or Snow Dragon, but at length we settled on two new offerings: Oriental Beauty Charcoal Roast Oolong ($40 for 1/4 lb) and Jade Spring Green Tea ($15 for 1/4 lb). We ordered by phone (though you can order online) on a Wednesday afternoon and had the tea in hand on Monday. Each of the two varieties came vacuum-packed in sleek black envelopes with clear brewing instructions on the back -- important, since the ideal water temperature varies with the type of tea. Oriental Beauty produced a delicate pale gold brew, with hints of cinammon; Jade Spring a lovely fresh aroma. This is a site that will please the tea connoisseur.

Best Purveyor of Tea in New York's Chinatown
Dr. Andrew Weil often extols the antioxidant, cholesterol-lowering properties of green tea. Among the bewildering array of purveyors of tea, we often find ourselves returning to the Ten Ren Tea Company on Mott Street in New York, which sells choice green and black teas grown in Taiwan. Although much has been made of the shop's hospitality and willingness to educate the novice, we find that the staff is usually more brusque than welcoming. On our last visit they were more interested in the woman who was purchasing a counterfull of one-pound packages of tea (paid for with a stack of well-worn $100 bills, we couldn't help but notice), than in our own paltry order of a pound or two of osmanthus oolong.

Still, the loose tea scooped from the large black canisters behind the counter has never failed to please. The first grade osmanthus oolong is among the most costly ($125 per pound), but it produces an exquisitely delicate, pale gold brew with a hint of citrus. The first grade jasmine ($100 per pound) is a lovely tea, fragrant with the scent of the flower. A good opening strategy is to try one-quarter pound lots of two or three teas in different grades and determine which you prefer. Then you can decide if you must have the Ginseng Oolong King's Tea at $144 per pound, or whether the fourth grade version at $48 will do. Be sure to pick up a brewing instruction sheet which provides information about water temperature and steeping times. Ten Ren Tea Company, 75 Mott Street, New York, New York 10013. 212-349-2180. Toll Free: 800-292-2049.

Best Inexpensive Tea House in Washington D.C.
No, they don't read tea leaves here. If they did, platoons of politicians and pundits would throng the aisles. But this tiny chain of serene self-serve tea houses does offer fine teas and tasty Asian-accented foods at low prices in East-West-chic surroundings. Menus vary at the three locations, but one might try a breakfast eye-opener of cilantro scrambled eggs with naan and raita, or a hearty lunch of ochazuke, a "soup" of seasoned brown rice and green tea. Even standard dishes have an Asian twist: a Black pepper Ham and Jarisberg sandwich comes with eggplant chutney, while a rich chocolate torte is accompanied by green tea ice cream. In hot weather, limeade spiked with fresh ginger juice is refreshing. The perfectly brewed teas range from the house favorite--Golden Needle, a "smooth, elegant" black tea--to rare green teas such as the "intensely rich and vegetative" Japanese Gyokuro. We noted, but didn't try, Pu-Erh Camel Breath, described as a "hearty, musty, aged Chinese tea reputed to have digestive properties." Sounds like a brew for the campaign trail. Contact: Teaism, 2009 R Street NW, Washington, D.C. Telephone: 202-667-3827. (There are two other locations.) Website: www.teaism.com.

Best New (Esoteric) Book About Tea
With rare exceptions, most books about tea are really about the scones, the clotted cream and a nostalgic longing for a leisurely afternoon ritual that no longer pertains to modern life, even in England. (James Norwood Pratt's A Tea Lover's Treasury is a notable exception.) This is one reason why discovering The Time of Tea was such a pleasure. First published in Paris, the book is actually a pair of volumes: one of photographs of the tea ritual in Japan, China, Sikkim, France, amongst the Tuaregs in the Sahara, and yes, in England; and the other of short, provocative "thoughts" about the true nature of tea and the places it comes from.

As authors Bruno Suet and Dominique Pasqualini see it, the story of tea in the West is inextricably bound up with colonialism and the exploitation of the East. (The black China teas we drink are said to have been invented by a merchant who smoked rotting leaves to sell to foreigners.) This political interpretation may not go down well with your Earl Grey, but the book can be read simply for its wealth of information about this ancient beverage. For instance, there is the tale of the "legendary Wulong tea, 'Red Robe'," the product of "a few centenarian tea plants" grown in a secret mountain location in China. In 1998 in Fujian province, one kilo was auctioned for $900,000. We always knew we weren't getting the best. To order the book, contact www.inpursuitoftea.com, which also sells superb teas. (See Best of Class #58.)

Most Atmospheric Tea Room in China Town--San Francisco
We fell for Imperial Tea Court the moment we stepped across the threshold. This mellow tea house, adorned with birdcages and polished rosewood tables and chairs, was created less than ten years ago by visiting Chinese artisans, but feels as though it had been in place for a century. As tea-inspired music plays softly in the background, helpful ladies show the visitor how to brew and drink tea in the classic gaiwan, or lidded cup. Dozens of premium teas may be purchased by the ounce or the pound, from rare teas such as Bai Ji Guan (made from white tea leaves which resemble the comb on a rooster's head) to western-style, lavender-infused Earl Grey. Here one can also find an enormous array of elegant Yixing clay teapots, prized for the porosity of the clay from which they are made.

Imperial Tea Court was created by Roy Fong, a Hong Kong native, ordained Daoist priest, and impassioned lover of fine teas. Every year Fong visits small tea gardens in China and Taiwan to personally supervise the production process; carefully nurtured relationships with other growers have made it possible for him to obtain rare teas unavailable elsewhere in the West. His website is exceptional, with a vivid description and photograph of each tea, a map showing its origin, and specific brewing instructions. Click on "Classroom" to learn gong fu and gaiwan tea preparation, or "Tea Tour" for a tantalizing itinerary of a China trip planned for 2002. Imperial Tea Court, 1411 Powell Street, San Francisco, CA 94133. Telephone: (415) 788-6080. Fax: (415) 788-6079. Website: www.imperialtea.com.

Best Cancer-Fighting Tea: Black, Green or ... White?
For centuries, white teas were the most highly prized of all the teas in China. Grown in the misty hills of Fujian province, this elegant brew is made from new leaves, still covered with downy silver hairs, which are plucked before the buds have emerged. Instead of being rolled like black and green teas, the tender leaves are simply fired or steamed. Minimal processing may account for the findings of a 2000 study at the Linus Pauling Institute at Oregon State University in Corvallis: After feeding rats white tea and carcinogens for 8 weeks, researchers noted that rats who drank white tea had fewer pre-cancerous colon lesions. Since white tea has higher amounts of antioxidant polyphenols than other teas, scientists tentatively concluded that such teas may help to inhibit "mutagencity," an early stage in cancer formation — although the benefits may also be tied to caffeine levels. (There appears to be some confusion about caffeine, as the study cites higher levels of caffeine in white tea; most tea experts note that the caffeine level is lower in white tea than in others.)

While the scientific findings may be a bit murky, it is very clear that white teas are the most delicately flavored of all teas. They are best consumed not after a heavy meal, but perhaps during a quiet moment in the early morning or late afternoon. We sampled a variety of white teas from www.inpursuitoftea.com, which specializes in rare teas produced by small farmers dedicated to traditional production methods. Those who are fond of stronger brews will probably be drawn to White Peony, a fuller bodied tea with a pronounced sweet, slightly aromatic flavor. Drum Mountain White Cloud is mellower with fresh, almost grassy undertones. Yinzhen Silver Needle, considered the finest of white teas, consists "solely of early spring-picked buds.... [T]he needle-shaped, white, downy buds turn into shiny green spears when steeped." We found Silver Needle to be the most balanced of the three, yet curiously, the most difficult to describe: It produces a pale golden liquid with a light fragrance and mild sweetness that lingers on the palate.

As a philosopher of tea famously said, "Goodness is for the mouth to describe." Whichever white tea you select, be sure to brew with water heated only to 170 degrees, or until the steam just begins to emerge from the kettle — anything hotter will cook the tea and, undoubtedly, kill off those antioxidants.

Kona Rich Coffee
For tastebuds that have been coddled by too many milky lattes, the flavor of real Kona coffee can be a stunner: rich, full-bodied and slightly acid, it packs a wallop. Virtually every shop that sells coffee beans has a high-priced jar labeled "Kona." The dirty little secret is that many roasters blend a few Kona beans with less expensive varieties and pass it off as the real thing. A University of Hawaii study revealed that while only 2 million pounds of Kona coffee beans are produced annually, retailers sell upwards of 20 million pounds. Chances are that if you've been buying Kona from your corner purveyor, you haven't been drinking the genuine article.

To get pure Kona coffee, grown in the volcanic soil and heavy rainfall on the slopes of Mauna Loa, one must locate the handful of dedicated Big Island growers who painstakingly cultivate, hand pick, sun dry and roast the beans in small quantities. One of the best (we're still sampling) is John Langenstein, a refugee from the harsh winters of upstate New York, who grows coffee on an 8-acre estate and ages his beans anywhere from two months to a year in order to mellow them. Langenstein Farms' coffee has been praised by The New York Times ("From the Volcano, the Rarest Brew" by R.W. Apple), Food and Wine Magazine and The Wine Spectator. We personally like the dark French roast; medium and Vienna roast are also available. Contact: Langenstein Farms, P.O. Box 615, Honaunau, HI. Telephone: 800-621-5365. Fax: 800-328-9891. Website: www.kona-coffee.com.

Most Scientific Expresso
Dr. Ernesto Illy of Trieste, chairman of Illycafe, sells scientific perfection in the form of ultra-controlled expresso coffee. "Every step of the manufacturing process is monitored by computers, and there 114 quality-control checks...." "Quality is a consequence of control, control and more control," according to Dr. Illy. Some do swear by Illy's beans. See "Discovering La Dolce Vita in a Cup," New York Times, October 24, 2001, p. E13.

Three Coffee Houses
We can remember a time when there were few expresso cafes but all were good. Now there are thousands, and only a few have decent coffee. Even fewer perhaps, have an ambience that will gladden the heart. Our favorite West Coast detective David Fecheimer has staked his reputation on three. In New York, for him, it is Via Quadronno. But, of course, it turns out to be a chain—in Tokyo, Coral Gables, and Hong Kong. And it is more than coffee. Via Quadronno 25 East 73d Street off Madison, New York, NY 10021. Telephone: 212-650-9880.

In San Francisco: The Blue Bottle Café looks to be fun but be aware that the hours are short. Blue Bottle Café. 66 Mint, St San Francisco, CA 94103. Telephone: 415-495-3394. You can read about all this in the Examiner.

Pretend capitalists pretending to be rebels can hang out at Ritual Coffee Roasters, which is a nicely uncomfortable place to light up your laptop. The New York Times tried to capture the studied ennui in "Café Capitalism, San Francisco Style," April 4, 2008, p. C4. Ritual Coffee Roasters. 1026 Valencia Street, San Francisco, CA 94110. Telephone: 415-641-1024. (6/18/08)

Belgium: The Best Beer?

We've had an uneasy relationship with the beers of Belgium for years. Sometimes we will strike a great one. And then a disastrous one the next day. The Economist talks about how Belgium turns out the best and, at the same time, "How a small, unremarkable country came to dominate the world of beer making" in "Brewed Force." There's a bit of a muddle here since the biggest in anything is usually not the best. And, in fact, with Anheuser Busch under its roof, InBev is the big boy on the block and the Belgiques have achieved a world dominance, just as at one time they were the kings of uranium, which came out of their king's infamous possession – the Congo. We have tasted the beers of most nations, including the awesomely bad craft beers of the U.S, and we find that we cast our vote for the Germans—their beers are just more interesting than those from Belgium. So Belgium is to be admired for its scope and volume, but not necessarily for its quality.

Geography and water helped Belgium become a beer giant. But lots of other factors helped it. Duties kept out French wines. Temperance movements suppressed the spirits trade. "This lack of alternatives guaranteed brewers a large and thirsty market. In 1900 Belgians drank 200 litres per head, roughly double what Britons and Germans were putting away. Today thirsts have dried up a little: a typical Belgian now quaffs just 84 litres a year." Protectionism, we think, made Belgium beer supreme in the world.

The Economist waxes long and strong about Westvleteren 12. We warn you away from the Duvel even if it is well slaked with alcohol. These days we have been putting away La Chouffe, but then shift to Dutch gins which knowledgeable Belgians secretly pine for. It is terribly ironic, of course, that the Dutch produce the good gin, but that the Belgians house a national gin museum on their own soil. Secretly, we are sure, they would rather be gin kings than beer barons. (3-21-12)

One Hundred and Twenty Dollar Beer

We are not sure this is the best of anything but at least the producers have gall. Schorschbrau Schorsch Bock 43 sells for a whole lot, perhaps because it has such a long name. Georg Tscheuschner scoffs at weak brews. "Schorschbräu Schorschbock 43 is a liver-melting 43 percent alcohol by volume (as potentas whisky). Traditional fermentation can convert only so much sugar to alcohol, and using heat would ruin the carbonation. So the lager is stored at a temperature low enough for the watery parts to freeze, but high enough to keep the alcoholic goodness liquid. A 15-step filtering process reduces 350 litres to a super-concentrated 35 litres -- enough to fill 100 0.33-litre bottles (¤99 each -- try bierpost.com). Tasters say it's "fruity and malty" with "a hot alcohol finish that burns your mouth.

Sadly for Tscheuschner, as Wired went to press, his Schorschbock 43 was beaten by a Scottish beer with an alcohol content of 55 per cent. Its name? The End of History. Though, clearly, the very-strong-beer arms race has only just begun." Wired, August, 2010, p.66. This concoction sells for $120 a bottle. (5-11-11)

Best Beer of the Bahamas
One recent visitor recommended Kalik to us, while another said it is mighty expensive ($12 for a 6-pack), so he sticks to scotch instead. With $30 million of Heineken money and Heineken brewing expertise, it has achieved more than a 50% market share since its founding in 1984. We understand "kalik" is the sound made by cowbells, a key musical element in Nassau's famous Junkanoo festival. (Incidentally, this annual festival is a must-see, our webmaster swears. But its after-midnight starting time means that you may have to make coffee your drink of choice on wild Junkanoo nights during the Christmas season.)

33 Beer
We are not sure from whence we stole the following text, but we can vouch for its conclusions. We have long drunk 33 with our Vietnamese pho and find it mild and pleasant, offsetting the extra spices we throw in our soup. Moreover, we always have wanted to see Danang, a war town, where it was once made. Just accept that this material was cribbed from somebody authoritative: "This Danang-brewed golden lager was produced by France's Brasseries et Glacieres Internationales, until the plant was nationalized after the fall of South Vietnam in 1975. After nationalization, Vietnamese-made beer was excluded from most major export markets other than Japan for years, and the French continued to produce 33 outside Vietnam under worldwide license. The Vietnamese beer became known as 333 (or "ba ba ba"), and the 33 vs. 333 dispute plagued Vietnamese brewing for decades. Heineken's Saigon Brewery Co. now produces "33".

So why was the beer named "33" in the first place? "Without being certain (because who can ever tell what any Frenchman thinks) here are some interesting guesses: Average consumption of beer is about 33 gallons per person per year (based on persons over 18 years of age). The 21st Amendment abolished Prohibition in the USA on 5 December 1933. The French Brewmaster had 33 mistresses. Beer tastes best at 33 degrees. The beer is brewed at 33 degrees. 33rd Degree is the highest level status attained by Freemasons. 33 is a lucky number in the Chinese I-Ching philosophy." Rest assured that 33 has many other important connotations you should know about. "'Ba Moui Ba' is Vietnamese for '33.'" (10/8/08)

Best of Bavaria
We owe this discovery to Herr Braumeister Peter Gardiner, a Scot who is an Associate Member of the Institute of Brewing and a graduate of Heriot-Watt University in Edinburgh (see www.bio.hw.ac.uk/icbd/icbd.htm). Apparently that's one of two places in Europe where you will go to learn how to do beer and ale the right way.

You may remark on Bavaria's beer or singing. But you should pay attention to its 1516 Beer Purity Law—the Reinheitsgebot. It is thought to be the world's oldest consumer protection legislation. Originally it only permitted water, hops, and barley in beer (yeast was later allowed in the mix). Cheaper cereals and additives were strictly verboten. Which is all to say that you need local, enforceable standards if you are to have great products and services. In Bavaria you used to know what you were drinking, and this led the Germans to be the highest per capita beer consumers in the world.

Top Beers, Ales, and All That Stuff
http://www.netcomuk.co.uk/~wshield/alehouse.htm. This site lists the top-100 ales. But you are warned to take only his top 10 very seriously. In any event, we just sampled his top pick, Fullers ESB, with a grilled salmon cooked perfectly in Boston, and we can say it merits your attention. Somehow we are reminded of the U.K.'s CAMRA (campaign for Real Ale), the sceptered isle's most successful consumer movement, which flourished a couple of decades ago. The moral here is that if you are going to get fat, at least drink the good stuff.

El Dorado Rum

You will probably find 12 year old El Dorado in your liquor store and that it just fine. But even smoother is the 15 year old if you can find it. It hails from Guyana. Here is a blog that will give you quite a rundown on the Dorados. (07-23-14)

Super Sake

We read that sake is slipping into the mainstream, such that we may see finer varieties on our menus and in our retailers. Eric Asimov of The Times, for instance, comments on Sakaya in New York's East Village. There is a curious combination of interesting Japanese culture as one works one's way east from Astor Place. A good grocery. For a while, a very fine meat and sushi restaurant which served good sakes and other fine Japanese potions.

"Rick Smith, who owns the shop with his wife, Hiroko Furukawa, once knew as little about sake as most Americans." "That was until what he calls "the proverbial aha moment," a dinner at Jewel Bako, the exquisite sushi restaurant in the East Village, where he first experienced the beauty of good sake in its natural milieu." "He discovered a shop, True Sake, dedicated exclusively to sake. Unfortunately, it was in San Francisco."

"You can find in-depth descriptions of sake terminology on the Web sites of Sakaya, sakayanyc.com, and True Sake, truesake.com, as well as in useful guides like "The Sake Handbook," by John Gauntner, who also has an excellent Web site at sake-world.com"

Sakaya. 324 East 9th Street. New York, NY 10003. 212.505.7253. http://www.sakayanyc.com/. For more illumination about sake, see our sake entry . We would further advise that those interested in sake also investigate some of the rarer Japanese beers and also look into Sh?ch? which is now commonly served at some Japanese restaurants in the U.S.. (08-18-10)

Top Gins and Vodkas
It used to be so simple. There were maybe 2 vodkas to buy and one gin. And we had mostly given up drinking gin anyway, except when we were deep enough into the South to find a fully shaken Ramos Gin Fizz made by somebody who actually knew the ingredients. Raymond Sokolov to the rescue. He is one of the five or six knowledgeable writers at the Wall Street Journal, and he even suffers from a little panache. He's pushing Hendrick's, Tanqueray No. Ten, and Juniper Green Organic, if you are in the gin crowd, and Grey Goose, Olifant, and Jewel of Russia should you be a vodkatarian. See the Wall Street Journal, August 29, 2003, p. W4. He as much as admits that this tasting is an uncertain science. Hendrick's seems to win because of its clear flavor, and Grey Goose for its smooth texture. If you a glutton for vodka punishment, however, go to www.vodka.com, which lists 500 varieties from every conceivable location, according to Sokolov, though we can only find a much shorter list.

Update: Tito's?
Eugene Bem has given us his quick vodka ratings, and you will notice that he even tastes musical strains in his Bison Grass. We doubt him, even if Eric Felton, current writer on cocktails and booze at the Wall Street Journal, claims that we are really splitting ends when we make claims for one vodka over another. He tells us that the occasional slight differences between concoctions results from the character of the water. Probably Bem has the best of the argument for those of us who drink vodka: some taste like they have heaps of poison in them, and the others simply taste clear and cool. Felton is a very amusing writer, but probably does not have a clear palate. Here's Bem's last sampling:

Belvedere – This has been my standby for Vodka martinis. It is made of high-quality polish rye and seems to be distilled quite well which gives it a very clear, crisp and clean, full-bodied texture although somewhat creamy. I like the use of a cork and how it evokes a quality experience.

Absolut – Never liked the vodka straight because it has an antiseptic quality, but it is fine for mixing.

Grey Goose – It is ok, but it is also vaguely medicinal; it is fine for mixing.

Ketel One – Only recently tried in a martini and straight-up. I found it creamy and exceptionally smooth, almost too smooth.

Bison Grass – very interesting flavor profile for it tastes a bit like pinot grigio wine. The author W. Somerset Maugham, who extols Zubrowka's/Bison Grass's virtues, claims that "it smells of freshly mown hay \ and spring flowers, of thyme and lavender and it's so soft on the palate and so comfortable, it's like listening to music by moonlight."

All that said, we have it on the clear authority of our spirits expert Peter Pohly that Tito's Handmade Vodka of Austin, Texas puts all the rest to shame. It seems as if Burt Butler Beveridge II, in San Antonio has put together such a winner that it won the 2001 Double Gold at the San Francisco World Spirit Competition and Spirit Journal gave it, and only it, four stars. Pohly tells us it is distilled 6 times, apparently in small batches in a pot still. We have a smuggler bringing it in from Texas, and will give it a try. We are impressed, by the way, that some tequilas are now coming out of Texas. (5/3/06)

Rye Whiskey Is Back
Rye whiskey suffered a body blow with Prohibition, and it has never recovered, the American whiskey palate having gone somewhat bland. It once enjoyed occasional dominance, particularly in the Northeast.

The Scotch-Irish immigrant distillers had some exposure to using rye in whiskey production, but for their German immigrant neighbors rye had been the primary grain used in the production of Schnapps and Vodka back in northern Europe. They continued this distilling practice, particularly in Pennsylvania and Maryland, where Rye whiskey, with its distinctive hard-edged, grainy palate, remained the dominant whiskey type well into the 20th century.

Rye whiskey was even more adversely [a]ffected by National Prohibition than Bourbon. A generation of consumers weaned on light-bodied and relatively delicate white spirits turned away from the uncompromising, pungent, full-bodied straight Rye whiskies. Production of Rye whiskies had vanished altogether from its Mid-Atlantic homeland by the 1980s. A handful of modern Rye whiskies are currently being made by Bourbon distilleries in Kentucky and Indiana. America's first indigenous whiskey style is today only barely surviving in the marketplace. Its primary use is for blending to give other whiskies more character and backbone, although a small but vocal group of Rye whisky enthusiasts continue to champion." (From Tastings, an online, highly readable publication of the Beverage Tasting Institute. Look specifically for North American Whiskey.)

Incidentally, Tastings recommends an 18-year old Sazerac or Buffalo Trace Rye which we heartily endorse. Both the 6 year and 18 year will give you satisfaction and make you think you are finding your way back to the sources of the Republic. The Buffalo Trace website is a hoot.

Since the 90s, fortunately, there has been a slow, halting resurgence in rye with an outbreak of new brands, a development we expect to strengthen. Dennis McCarthy has captured their names, even if his list misses an entry or two. It's called Dennis' Whiskey Corner. We just had a discussion about rye at a Mardi Gras party, an one New Orleans native held out for Old Overholt, which we must try someday. (3/15/06)

Update: WSJ on Rye
The Wall Street Journal (October 28-29, 2006, p. P11) belatedly discovered that rye is in favor again, and adds some charming detail about its history, though little about the varieties you should be sampling. It favors "Van Winkle Family Reserve" and includes a few others such as Wild Turkey Rye, Old Potrero Straight Rye, and Hirsch 21-Year-Old Single-Barrel Rye." George Washington apparently produced 11,000 gallons of rye at Mount Vernon in the year before his death. Tex Ritter made a song out of it called "Rye Whiskey." (11/29/06)

Update: Times on Rye
Invariably our national media copy one another, winding up writing about the same topics without imagination. So chasing others, the New York Times (November 29, 2006, pp. D1 and D12), very belatedly has done its own "All but Lost, Rye Is Revived as the Next Boutique Find." We are sorry to inform it and the other late-with-too-little publications that rye has been back for several years. As is the custom these days, the Times formed a panel to pick the best ryes (those that it could find), but it's not a list we are pushing. The author is Eric Asimov, who is a reasonably good writer, so he should know better. He got together with Florence Fabricant, David Wondrich (columnist for Esquire), and Lew Bryson of Malt Advocate. The problem is that they're hardly two fisted drinkers or experienced tasters. Their recommendations: Black Maple Hill Single Barrel 18 years, Old Potrero Straight Single Malt, Sazerac Straight 6 years (Best Value), Michter's Straight 10years, Van Winkle Family Reserve 13 years, The Classic Cask Kentucky Straight, Hirsch Selection 21 years, Rittenhouse Single Barrel 21 years, Rittenhouse Straight 100 proof, and Wild Turkey 101 Proof. We say buyer beware. And, eventually, drink enough, so that you can comb out the durable from the new arrivals. Also watch out for the god-awful cocktails that have been now dreamed up to blunt the taste of rye. (1/10/07)

Update: Knockoff Sazerac
We don't know whether we will get the sazarak a try, since it looks to be a gussied up Sazerac. We think the drinks promoters are laying it on a bit thick. It has arak and Kummel liqueur in it, and we do not see any specifications for the rye which is still at the heart of the drink. Robin Lewis, a cocktail consultant, put this thing together for FR.OG, a restaurant in SoHo which, fittingly, has an overly complex name. We will be writing the folks at the Sazerac Company to see what they think of the whole thing. The recipe ran in "Taste of Colonialism," New York Times, July 1, 2007. (10/3/07)

Slow Gin
We're in the early stages of planning a celebration for Fall 2006. Cole Porter is going to play a part. And martinis are on the docket. We have not advanced much yet on the food. But there's some hope as to what we do about the gin (although we know we will

have a vodka alternative for those who want our Gibsons instead). BarMedia has a mildly outdated listing of premium gins but it is far from authoritative. We have settled on Magellan, which is imported by Crillon. There's some worthwhile commentary on RateItAll, including some reader comments that indicate that the importer is already tinkering with the brand, so stock up. "A French gin, named after the explorer. Triple distilled to 44% alc. by vol., a natural sky blue colour from the iris root, made with 11 ingredients: Juniper Berries, Cloves, Nutmeg, Cradamom, Grains of Paradise, Licorice, Cinnamon, Coriander, Orange Peel, Cassia and Iris." The bottle, with floral decoration and all, is unique and adds to the allure. We should warn you that some fetishists are annoyed at the modifications to the formula and are switching out to Plymouth and sundry other old standbys.
Though Magellan is our current favorite, we consider the dispute as to which is the supreme gin to be far from settled. Apparently gin originated in Holland, and we have met passionate advocates for some of their bottlings. Jim Clarke has done a nice little essay about them called "Dutch Gin: The Traditional and the Modern." One fanatic associated with the Harvard Business Review has a jenever (Dutch gin) permanently sitting on ice. We like to think there's nothing else in his refrigerator. At some point we will trundle off to the National Gin Museum in Hasselt, Belgium (aka Musée national du genièvre) with the hope of getting at the truth in gin. (3/22/06)
Best American Absinthe
But it's made in France. Produced abroad, it beats anti-absinthe laws through a loophole that permits it to sell over the Internet. It is Ted Breaux, an environmental chemist from Louisiana, that has gotten all sorts of attention for working methodically at Combier to provide close facsimiles of absinthes from back when. His handiwork can be found at Absinthe Online, though there are other online absinthe options we know little about. We had a taste of Breaux absinthe at a Mardi Gras party, and it made it worth going out on a dark night when the tempting home fire was burning brightly. Breaux is getting all sorts of press in all sorts of places, but we most recommend a very educational piece by Jack Turner called "Green Gold" that just ran in The New Yorker, March 13, 2006, pp.38-44:
"Near the entrance stood an immense plastic tub of wormwood, absinthe's distinctive and contentious constituent, which, since the late nineteenth century, was held to cause insanity." "The invention of absinthe is traditionally credited to Dr. Pierre Ordinaire, a French Huguenot who fled France for the Val-de-Travers…in the Swiss Jura." He sold a tonic made of wormwood, fennel, and green anise—the central ingredients today. "David Nathan-Maister, a British-based absinthe historian and collector who sells bottles to a tiny community of enthusiasts…" These collector items can run into the thousands.
"The current revival of interest can be dated to 1994, when Radomil Hill, a seventy-five-year-old Czech, began to market a drink called Hill's Absinth Liquer."
Questions about the poisonous aspects of absinthe center around thujone, which comprises about 60 percent of wormwood oil. But tests by Breaux reveal that pre-ban absinthes and even his own have hardly any of the toxic thujone. In reality, the regulations that ban or control absinthe distribution are based on a false premise.
The Internet is replete with interesting articles about absinthe including Wikipedia, Absinthe History, Wired Magazine, etc. (4/5/06)
Update: The Lore of Absinthe
Barnaby Conrad III provides good anecdotes, and average wisdom, about absinthe in "The Absinthe-Minded Professor," Forbes Life, October 2006, pp.88-90. But it's at the very end where he gives us some value in his "Absinthe Online." There he gives numerous absinthe sites, showing you where you can purchase your varietal. The Virtual Absinthe Museum can be found at www.oxygenee.com. In passing, he mentions the interesting Ted Breux whose five absinthes can be found at www.vintageabsinthe.com. Spanish offerings are found at www.spiritscorner.com. Other French, Austrian, and Swiss brands can be had at www.absintheonline.com or www.alandia.de. Conrad says online ordering is illegal, but that nobody is watching. We have been led to believe, however, that there is some hole in the regulations in respect to online individual imports. (2/14/07)
Weapons-Grade Whiskey
On February 27, the Times of London wrote about a whiskey so powerful that it could knock your socks off. And that's what happened to the Times. Although this news item was one of the day's top stories, the concoction was so powerful that it knocked the Times Online computers for a loop, and you will find an error message when you try to dial into the story. In fact, official at the Times and elsewhere in the Murdoch empire have still not been able to find the story. It had a great headline: "Try the 92 per cent weapons-grade whisky that will take your breath away. Literally." Fortunately we have been able to recapture David Lister's masterpiece elsewhere:
A single drop of the ancient drink of 'usquebaugh-baul' was described by the travel writer Martin Martin in 1695 as powerful enough to affect "all members of the body." He added: "Two spoonfuls of this last liquor is a sufficient dose; if any man should exceed this, it would presently stop his breath, and endanger his life."

Twelve barrels of the world's most alcoholic whisky, or enough to wipe out a medium-size army, will be produced when the Bruichladdich distillery revives the ancient tradition of quadruple-distilling today. With an alcohol content of 92 per cent, the drink may not be the most delicate single malt ever produced but it is by far and away the world's strongest. Malt whisky usually has an alcohol content of between 40 per cent and 63.5 per cent."
Jim McEwan, Bruichladdich's master distiller, said that the quadruple-distilled whisky would be very similar to the spirit sampled by Martin on Islay in 1695, which he later described in A Description of the Western Islands of Scotland, published in 1703. Most whisky is distilled just twice.

He said: "It will be very floral, but most importantly it will take your breath away." "Bruichladdich has a reputation among Scotland's distilleries for being one of the more eccentric and outspoken. After the American drinks maker Jim Beam halted production in 1994, the distillery was bought for £6.5 million in 2000 by a group led by Mr Reynier. It is seeking to establish itself as one of a small number of privately run distilleries."
We have tried to be in touch with Bruichladdich about their quadruple, but the distillers have been singularly unresponsive. We presume they have been drinking their own brew, which is equivalent to believing one's own propaganda. We hope both the Bruich people and the staff at the Times will soon be resuscitated. But newspapermen no longer hold their drink very well: they mostly like to talk about it. See "The Whiskey with 92% Alcohol," which even has an Islay map in case you choose to rush off to the distillery. (4/26/06)
Rum at Its Best
We will be discussing rum in much greater detail, since summer is upon us, and we expect you to put a bit down to ward off the dog days of August and the hurricanes that will soon follow. In the years that followed Castro, Bacardi offshore became the juggernaut of the rum racket, and even the few other brands that dot the liquor store shelves are not the pick of the litter. One rum friend has always told us that Barbancourt, out of Haiti, is the rum to drink. An Englishman vouches for Zacapa. You will find it and several other choice rums on the lists supplied by Forbes or by slightly downmarket Cigar Afficianado and others. Like every other heavy alcohol, rum gets right if it comes from a house that stirs in the correct ingredients and allows it to get a little age and concentration. But more about that later. (6/14/06)
Old-Fashioned Manhattans
Dr. Don Beinfang is keeping an eye out for us and advises that his cocktail research proves that you have to get the ingredients just right:
I have been working hard (very hard and with diligence) on the cocktail question and have made an observation about Manhattans. It turns out the sweet vermouth makes a big difference. Surprisingly there is a cheaper brand that makes a better cocktail—it is called Capri. The fancier brands of sweet vermouth add a bitter taste that spoils the drink. The makers of Capri know this and proudly advertise on the label that it makes a better Manhattan; they are right!
Nothing fancy about the formula, but as they say, "The devil is in the details." Whisky (I like Makers Mark), 4 parts; sweet vermouth (as I mentioned I
like Capri brand), 1 part; two cherries (one for my wife), always served straight up, though the formula is of course mixed over ice. One will not find it easy to locate Capri brand. My source has been D & L Liquors in Waltham, Mass.
While I am at it, I might as well tell you that I make the best Old-Fashioned on the planet. The secret to an Old -Fashioned is: (1) simple syrup—never a package of sugar crystals; and (2) bottled soda water—never carbonated from a tap. The rest of the fruits and bourbon are less important, though high-quality and fresh are always a plus.
I have the original recipe for a Ward 8 written by the guy who made the drink up
at Loch-Ober's, but it is of historic interest only since it isn't a very good
drink after all.
No, the good doctor is not a mixologist. But then, that is something he can look forward to in the next life. For the history of the Ward 8, which is probably more than you want to know about it go here and also see the Wall Street Journal's "This Cocktail Gets Our Vote." (11/15/06)
Michel Couvreur—The Best Single Single
We have probably sampled 40 to 50 single malts over the years, and have many favorites. But Michel Couvreur's Single Single stands out above all. Just the other night we were sipping a 1969. Sure it is a scotch, but it might as well be a brandy or a burgundy. His outpourings are so special that ladies who are repelled by scotches will nicely sing his praises. How appropriate that Courvreur is not in Scotland but is, in fact, in Burgundy. We attach here an essay of his doing that will nicely take you through the seminal ideas beyond a malt of quality. Michel Couvreur Whiskies. Place du Monument 21200 Bouze-lès-Beaune. Burundy, Cote D'Or France Phone France = 0033 + (0)380.26.01.46 Fax France = 0033 + (0)380.26.02.70 Email: courvreur.michel@worldonline.fr. (2/13/08)
Mojito Libre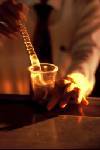 St. Clair Newbern of Fort Worth, inveterate traveler and keen observer, swears that the Cubans get it right. The Mojito, that is. We notice that most of the mojitos offered at bars tend to the mediocre, and we expect we will be adding more notes here on how to get the drink right. But, for now, you can enjoy his observations below:
"The photo is of the muddling of the mint and the sugar, to release the oils from the mint to flavor the sugar.... I noticed that the best Mojitos seemed be produced by extra care being taken in this first of what is a pretty simple process after that of just adding liquids.... The bar tender would muddle a bit usually with a stick with a round end, smell it to see if the right amount of oil had infused the sugar and, when satisfied add the rum and soda.
Made correctly, they are made one at a time and take at least a minute." (3/2/08)
Martini Onions Canadian
A fellow in good standing and a smilin'chum, who chases back martinis with some regularity and is ever in search of greater perfection, swears by Sable and Rosenfeld's Vermouth 'Spiked' Tipsy Onions. We have even had them without a martini, and they do summon up memories of onions past. Onion headquarters is in Toronto, so Guy Lombardo is not the only pleasure to have come out of the North. But you might put his record on the Victrola ("The Sweetest Music This Side of Heaven") when you are partaking. Canada: Sable & Rosenfeld 131 Avenue Road, Suite 200 Toronto, Ontario M5R 2H7, Tel: 416-929-4214, fax: 416-929-6727, e-mail: info@sableandrosenfeld.com. United States: Contact: Mary O'Neill, tel: 843-815-6278, fax: 843-815-2473, e-mail: mary@sableandrosenfeld.com. (4/30/08)
Sake
We've been drinking sake for 40 years, and know nothing about it. In our dotage, we will begin to learn. A good place to begin is Nipponia. "The techniques used to make sake are unique in the world. Rice is milled to a fine white grain and steamed, and then two simultaneous processes are made to occur—the rice is broken down into sugar through the action of koji microorganisms, and at the same time the sugar is fermented into alcohol through the action of a natural yeast." "The Japanese brewers used cold pasteurization to kill harmful bacteria, following a technique just like the one developed independently by the bacteriologist Louis Pasteur (1822-1895). What Western scientists found especially striking was that this method had been in use in Japan for more than 300 years before Pasteur." "Sake has the highest alcohol content. You might argue that whisky, brandy, Japanese shochu and Chinese maotai have a far higher alcohol content, but technically you would be wrong! It is true that the alcohol by volume in these liquors is two or three times higher than sake, but that is because the alcohol content has been artificially concentrated through distillation. Before the distillation process, whisky mash has an alcohol content of only 6%, the fruit mash for brandy measures 10%, and the base for maotai, about 5%. Sake mash has an alcohol content of up to 22%, by far the highest of any naturally fermented beverage." "The second reason why sake is distinct from other alcohols of the world is its wily use of three major types of microorganisms found in the natural environment: fungi, bacteria and yeast. Every other popular alcohol, whether beer, whisky, brandy, vodka, gin, tequila or rum, uses only one type of microorganism—yeast—in the alcohol making process. Sake brewers use three: koji spores to make the koji mold, lactic acid bacteria to stabilize the mash, and yeast to ferment the mash into alcohol." Each region of Japan has its own distinctive sake, and it is incumbent on the beginner to investigate which produces a variety closest to his taste. (10/22/08)