Aperativi & Antipasti
Christmas in Italy unfolds with an unmarked bottle of frascati fresh from the pine-coned hills of Rome, and a haircut from a barbiere di Sicilia named Gianpiero, and a smiling man playing music on waterglasses in the round afternoon shadows of the Pantheon.
At this time of year, Rome feels not only eternal, but maternal, clasping you to its breast in every shop and caffé. And while there are people about, there are no throngs; things are calmer; unhurried.
When you step into Trattoria Tritone on the via dei Maroniti, you're met by the wide eyes of many fish, looking out from a glass case in the middle of the front room.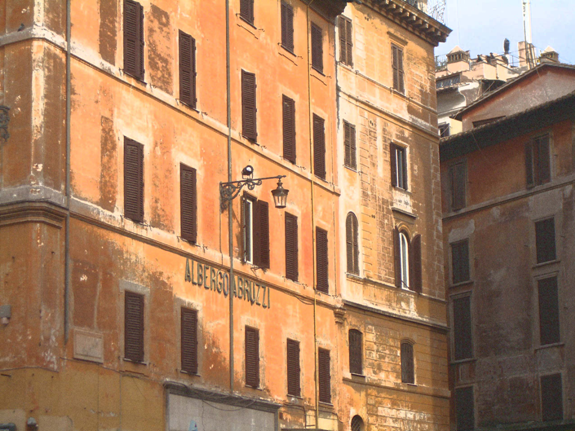 Buongiorno e certo, signore e signori, you must have the specialties – yes, like the impossibly tiny octopus the size of eraser tips; that marry marvelously with that frascati, which the waiter keeps pouring, a man who knows how to please his customers.
There's also the sunset at the Largo Argentina, a square of sunken ruins, where the light goes pale rose over the centuries-smooth marble of the buildings and monuments, and the sky comes alive with great wheeling flights of noisy birds, clouds of thousands, ink black on pink. Poetry.
On the way to more eating, for Rome at the holidays is, aside from people-watching, about eating with abandon, you stop at the Fontana di Trevi, where great gods and the ghosts of Anita Ekberg and Marcello Mastroianni and other lovers now long forgotten still hold sway; a fountain fed since earliest memory by ancient aqueducts.
You toss a coin and a wish into the luminous green water, and realize comfortingly that you're one of millions that have done this before, when Rome first rose, then fell, then rose again, and are part of a stream of millions more who will stand here next year and generations from now.
For the polarized or otherwise well-insulated, though the temperature is many degrees milder than New York in late December, a gelato just steps away around the corner at the justly fabled San Crispino is in order. A place that's nothing to look at but everything incredible to taste in the way of ice creams – especially the classic pistachio, and their novel pear-and-cinnamon seemingly plucked from a tree and, with a bit of Crispinian alchemy, arrives cold and creamy, and compellingly, into our eager mouths.
Just above the Trevi Fountain is a library-like enoteca, vineria Chianti (via del Lavatore 82) whose walls are lined floor to ceiling not with books but with bottles of wine. We take a long wooden table for 12 in one of the "reading" rooms, a Fellini-esque gathering that includes: the matriarch, La Nonna Chiarina, all 87 incandescent years of her. And my predecessor who has, with his wife and children, joined us on the trip: Fabrizio, in his youth a child of Rome who played on the sidewalks and inside the Vatican; and who loves to say, when introducing me, "this is my wife's husband." And my wife Adriana aka The Barefoot Contessa, and her sons Marco and Nicola, beau-fils to me, their beau-pere; and their wives, and our 1st and only grandchild, Giulia, all of 7 months making her Roman debut.
We know from the young woman who sent us here, that the antipasti, especially the salumi, and carpaccio of wild boar, is essential to order, as are the lasagnette of zucchini flowers and other fresh and excellent pastas everyone winds up having; capped later with digestivo from Abbruzzo, great label, and a splash of grappa on the house. Since it's the holidays, all routines and resistance have, quite rightly, been left aside.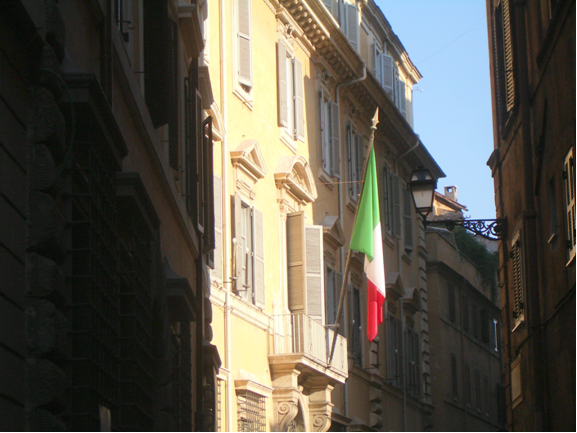 Due giorni
now before the Buon Natale, the morning unfolds – blissfully without newspapers – over excellent cappuccino, but bolente (hot vs. the usual way it comes, lukewarm unless you say bolente per piacere) at Caffé Accademia (via del Tritone 54). Seeing a motorcyclist step from the curb into the bar and receive a caffé ristretto and a warm cornetto that the waitress fills by hand with fresh whipped cream inspires the matriarch among us to order one herself. I'll have what he's having.
There's all the expected and unexpected wandering about and window shopping of course, punctuated by espressi. The stores brim with truly beautiful clothes and shoes and furniture; with so much fineness; and here and there you succumb, must succumb, to a splurge.
We assemble ourselves, full strength, for a lunch, which – with so much sun and mild air – will today be al fresco. We're joined by the ultimo-Roman Fabio, who lives (we're certain cinematically) in Cinecittá; and who leads us like a herd of cats toward Campo di Fiori for a close encounter with every part of the pig.
We go by way of Piazza Navona where a carousel spins and a Christmas fair is on, nothing chic, but colorful and festive. The Pantheon too proves its always awe-inspiring self, the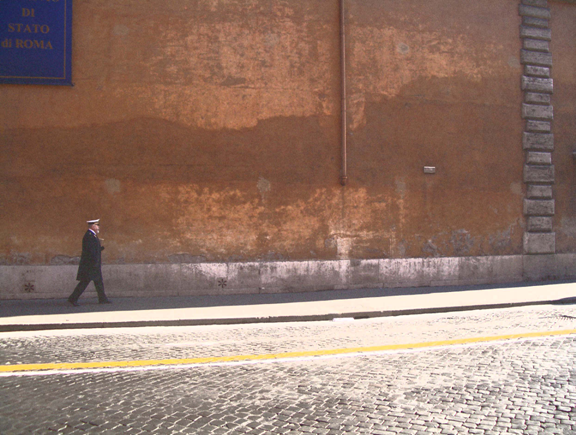 magnitude of it making you marvel each time – at both the greatness of man's stature and his smallness in the scheme and scale of things. Clouds appear as you peer up through the oculus, and I imagine it must be remarkable to behold a great beam of white falling not just when the sun strikes mystically through the dust-moted air inside, but also when it snows.
Our destination is Antica Norceria Viola, where porchetta and cinghiale, the ubiquitous and ferocious wild boars, are sliced into sausages and in our case sandwiches (if you bring your bread and speak kindly to the man behind the counter, he may oblige by combining your bread with his meat and wrapping it all up to take outside). All in the space the size of a cable car. We find some bottles of Chianti and acqua minerale and a place in the Campo by the fountain and eat our sandwiches in bliss between large sips of wine. And vice versa.
After lunch, espresso is essential. And we head nearby to the most astonishing coffee bar and coffee in Rome: Café Eustachio. No cappuccino, no decaf, just espresso straight up; with the most perfect crema ever seen. Chased with a cold glass of water, Neopolitan style, to enhance the taste (and it does). The coffee is roasted right there in the back; the aroma intoxicates.
Later, we gather outside the little-known but open to the public biblioteca Casanatense (via S. Ignazio 52), where thanks to our mercurial Roman friend Stefano, who joins us, we're treated to a private tour of the 17th century library created by the Dominican Cardinal Girolamo Casanate; holding in a magnificent room, his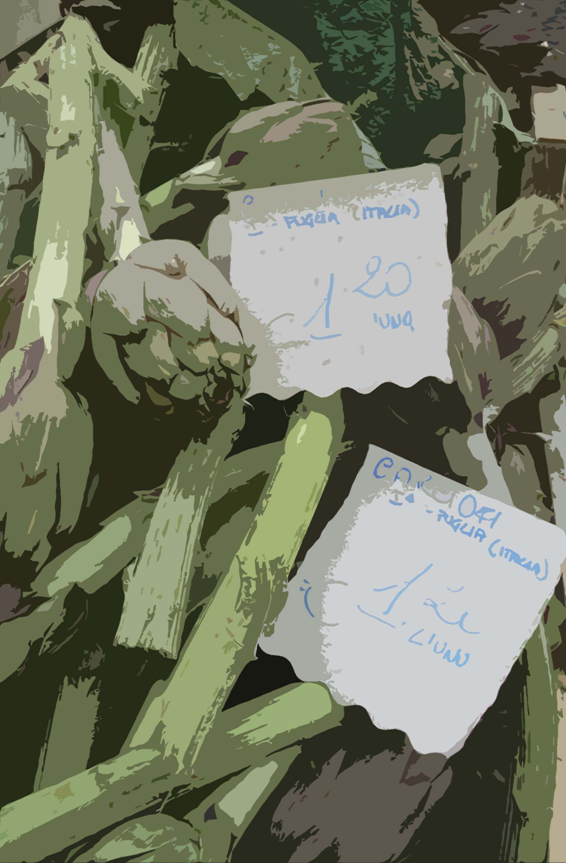 original collection of the most rare manuscripts, many dating back hundreds of years. His 25,000 and now some 400,000 more; from rare manuscripts and incunabula to Papal edicts and unpublished libretti by Paganini.
The walls speak volumes of history and heresy. Heresy as the Dominicans were the Church's Inquisitors, and still have an Office of the Inquisition, and office hours; who burned all the books they deemed too heretical. Books marked with one cross: forbidden. With two crosses: doubly evil; and with three crosses, to be burned, but for one copy in each case kept here for the eyes of the Cardinal and his confreres. The director allows us to touch some of the ancient manuscript pages, and connect by hand to another world.
After the biblioteca, chocolate. At Rome's 200-year old Confetteria Moriondo & Gariglio, via di Marino 21, using recipes handed down unchanged from the family's line of fathers and sons; that taste like no others. The store is in a ferment of activity as customers pick up their Christmas orders. There are 80 different flavors of bon bons alone, made daily by the young ladies in their mauve aprons and starched white bonnets, like nuns of an ancient Order of Cacao.
This is but a sweetener for our visit nearby, in two halves: first to the Chiesa di Gesu, the superdome of prayer for the Jesuits; where St. Ignatius Loyola lies, inside a solid gold coffin between soaring pillars of silver and lapis lazuli. Across from him is an equally over-the-top gold coffin holding the bones of St. Xavier; a coffin that glows in the light of the white tapers.
The second half of the experience is the working seminary next door where the rooms St. Ignatius lived in are open to quiet visits. He was a man just 4-1/2 feet tall; whose bronze bodiless head, set at his actual height, sits inside a spartan room, as it was then. Including his worn leather shoes and black robe, both under glass. Rather large feet for such a small man, we think. And in a very long, and vaulted adjoining room: scenes of the great saints' lives and adventures painted larger than life. And employing all kinds of trompe d'oeil effects, so the figures, like the cherubs, appear to extend limbs out from the surface. Or how you stand at one end looking up at a pair of putti floating on the ceiling who are looking straight at you – then go to the other end of the room, behind them, and find they are, impossibly, still looking straight at you. On the floor is a symbolic eye, that you stand on to view the side paintings in perfect perspective. When you step down to view them head on you find they are completely distorted. Ecco.
All this was done after St. I's time; he probably wouldn't have approved of the excess, but it does have a memorable effect on the imagination.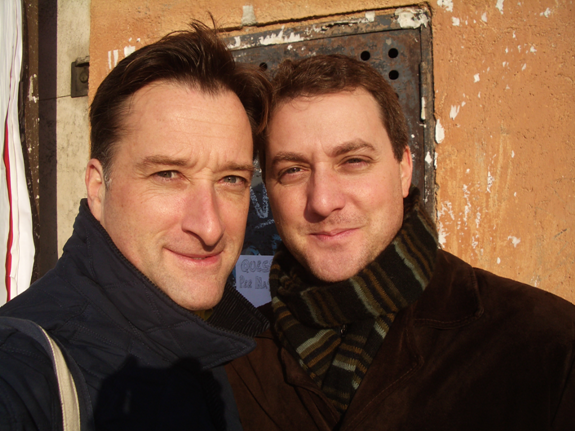 Christmas is nearly here, and this morning it's cappuccino and a cornetto con crema at the Café Feltrinelli, a hive of bookbuyers. Before nosing around the Ghetto, and looking there and elsewhere for smart new clothes at some recommended spots, one estetica, via Arenula 51, and the other, the best and excellently priced for sweaters, Di Castro at Piazza Benedetto Cairoli, 18.
[Left: Me, left, and my molto Italiano stepson Marco]
Then my stepson and I take a winding walk along the Tiber, flowing peacefully and greenly in the sun. The great find is an exquisitely stylish store at Via Prefetti, 10, de Clerq & De Clerq, where I have gone to buy a special gift for my wife: whimsical slippers, from a magazine clipping I saved for three years. It's a pleasure just taking in the people, especially the soigné natives at the Spanish Steps, many a la mode, and many sporting some bright orange accent, hat or scarf or sweater.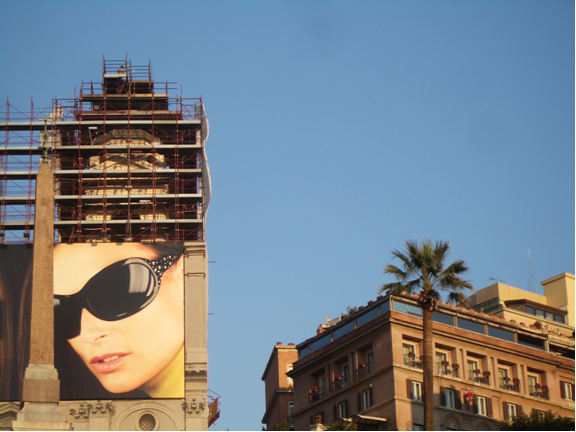 Lunch is at the Osteria Mugatta, recommended by Gambero Rosso, an indispensable guide and guaranteed stamp of good food. A Fritto misto of seafood and a crisp, full-bodied Sardinian white. This is the street where the fantastic and fantastical Fellini and Giulietta Masina hung their hats, and where Gregory Peck and Audrey H had a Roman holiday on a bed instead of a vespa.
The best way to stretch our legs afterwards is walking the length of the Corso, Rome's 7th Avenue, and via Condotti, it's Fifth Avenue, up to the Piazza del Popolo. Listening to the street musicians on the way, some playing Christmas songs, old Italian chestnuts that put you in a lovely holiday mood. Likewise the roasted chestnuts served in paper cones you nibble as you walk.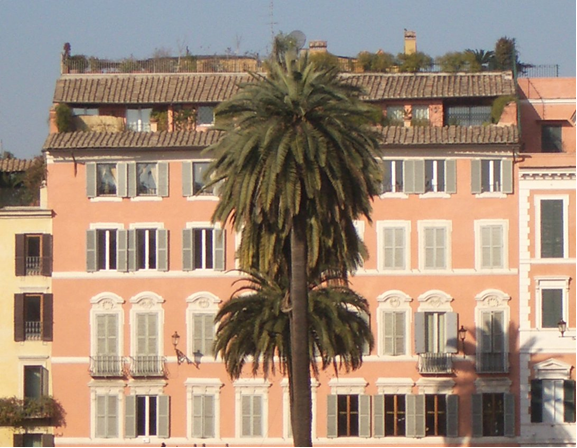 Taking an espresso at the famous Bar Canova in the Popolo before meandering back to the hotel, which in our case is a coin toss from the Trevi Fountain; with quiet, comfortable rooms and a good and thoughtful staff, Hotel delle Nazione (via Poli, 7).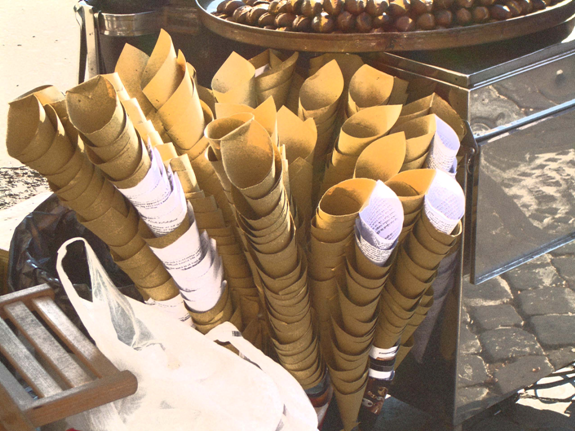 Primi Piatti
The next courses come with Christmas Eve, and La Vigilia, the feast of many fishes, at least twelve – one for each apostle. At home in New York with my Italian family we go a few fish better, but fewer than the 34 guests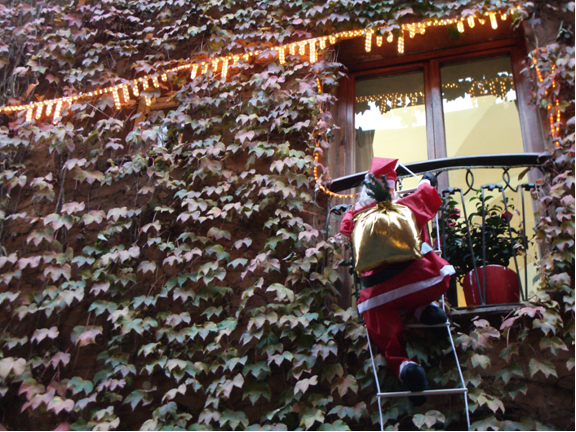 now converging: our families and a flock of Roman relatives who have invited us to their restaurant, their rosticceria, near the Olympic Village, for The Occasion.
It's a sprawling affair of eating and laughter and sentimental tears and singing and remembering. Alla famiglia. From prosecco and bruschetta to start, to pannettone with chocolate sauce and café ristretto and ice cold grappa to finish. Including, in between, several remarkably large lobsters brought live by Fabrizio (a jet-setting chef) on his flight from New York, tucked without a word in the plane's overhead compartment; to cook here with everything and everyone else. After many iridescent hours, we leave the restaurant to waves and calls of tanti augurri! and Buon Natale! for now past midnight it's Christmas in Italy.

Secondi
The bells of the church by the hotel ring jubilantly, exuberantly at the stroke of ten, mixed with the music of fresh rain falling on the cobblestones.
Three of us, my wife, her mother and I are a solo trio for Christmas Day lunch, everyone else being off in various pairings doing different things till dinner. We a taxi to via della Scrofa, 104, to the epicenter of fettucine alfredo, the restaurant of the same name, Alfredo's, its creator. We're surrounded there by famous faces of movie and stage and sports fame the world over who ate Alfredo's signature dish here. Not least Erroll Flynn, circa 1950; we look at them and each other as we savor our crispy carciofi alla Giudia, milky bufala mozzarella – a kind I have been spoiled forever by thanks to a previous visit to Rome; gamberi and calamari, and the fabled fettucine, whipped up tableside with great drama; followed by an ethereal tiramisu Jackson Pollock would have made if he was a baker instead of a painter.
Some highly refined Italians turn their noses up at tiramisu but done well it's worth their disapproval.
Christmas Day dinner calls for a special place, and one ready for 17 revelers, our dozen swelling with the addition of Fabrizio's Roman cousins and friends. So it's Santo Padre (via Collina 18),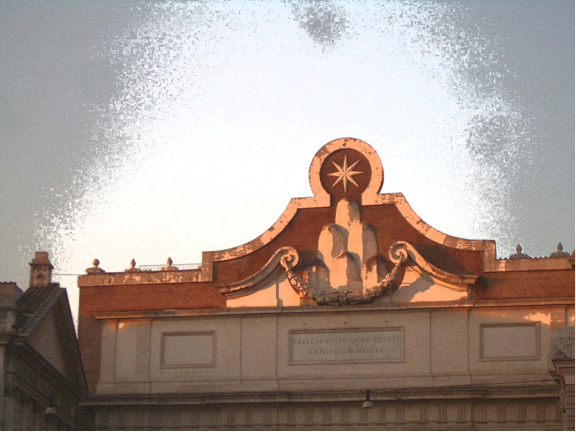 where a Roman friend we've invited has eaten since childhood. The restaurant is presided over by Bruno, a horse-racing fanatic whose restaurant has jockeys' silks and autographed portraits of the greats hanging everywhere; a passion on which we are told he has, and quite happily, lost packets of money.
We feel as though we're at a good friend's – and great cook's – home, being fed so cozily and buonissimally on abundant antipasti of mozzarella and sun dried tomatoes and mashed anchovy in marscarpone and prosciutto, polpetti and other delicacies. Then primi piatti: pastas with spinaci and carciofi, and oxtail and vongole. Then secondi: maialino, baby pig, with crisp and succulent skin; torrents of delicious Dolcetto d'Alba and later Malvesia and beyond that digestivo and grappa. Paging Babette….
The next day, Boxing Day in England, but the Feast of Saint Stefano here, we wind up being blessed by the Pope as we happen to walk under his window at the stroke of noon to his shutters opening and Benedict emerging at the angelus in all his whiteness and holiness. Honoring Santo Stefano, the first Catholic martyr, and all the assembled, faithful and otherwise.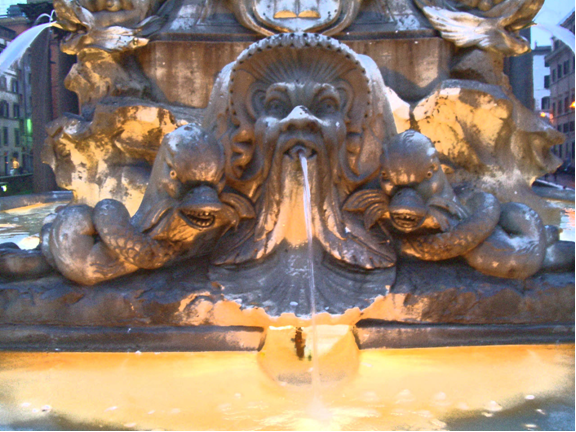 Dolci & Digestivi
For the last night in Roma, we head to the now trendy but once working class Testaccio neighborhood, and you can picture the Romans as they were then on their front steps and through open windows. After dinner at ne arte ne parte (via Lucca della Robbia 15), where the antipasti is a whole meal in itself, we take a long, moon-lit walk first up the Aventine Hill then up the Palatine. The first is like Cap d'Antibe, where great wealth and great houses hide behind walls and all is still and somewhat empty. Midway, we look down on the Roman Forum and its mélange of temples of different eras, torn down and erected anew by successive kings and emperors: Aurelius, Antonius, Septimus, and others. Until the late 1800s it was a field for cows to graze in, until it was excavated and all was revealed.
The second Hill is punctuated by early A.D. churches, and a graceful public park filled with orange trees and a postcard view of the dome of St. Peter's. We wind up at Piazza Venezia, above where Michelangelo stood and laid out the design. Below, flights of white doves float as if giving some sign of peace or good fortune, buona fortuna.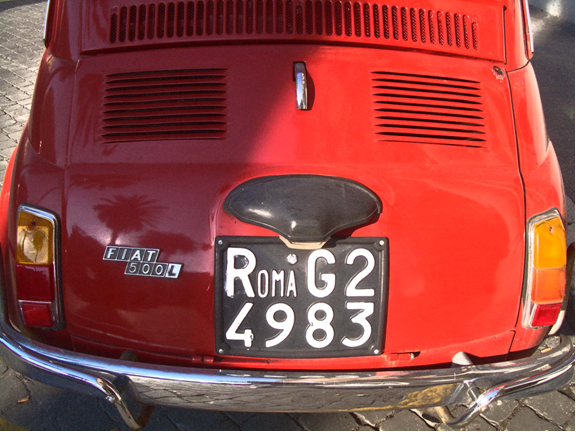 And the last day, a good luncheon in Rome before flying across the country to Bari, and heading by large car, a Monovolumino, though we'd prefer a Cinquecento, down Italy's boot to the calf, to Puglia, on the Adriatic, and the White City of Ostuni, our next stop, and our mis-en-scene for New Year's.
This last pranzo in Rome, these last tastes till we return, are of the sea: at Porto di Ripetta (via di Ripetta 250, a moment from the Piazza del Popolo) run by Antonio Zaccaria, a delightful man (who happens, we soon discover, to be from Puglia, just a few kilometers from the ancient olive mill will be staying at that very night) and his wife. We leave the menu in his hands and eat beautifully.
It was a grand way to spend and savor Christmas: Una buona festa. Buonissima.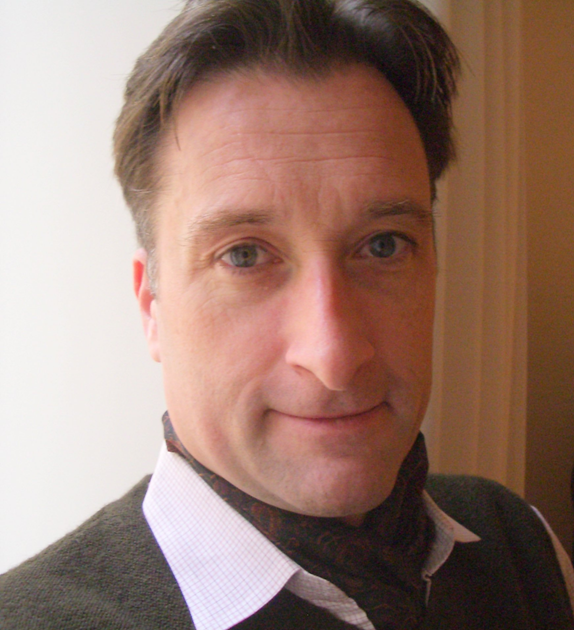 . . . .
A few other places worth experiencing round the Christmas holidays, or any time you're on holiday in Rome:
For superb coffee, Tazza D'Oro, via degli Orfani, 84
For classic gelato, Giolitti, via Ufficio del Vicario, 40
[Right: Il Scrittore Colino a Roma]
For mozzarella (di bufala) lovers, a stylish little mozzarella bar, Obika, at piazza di Firenze
A small & chic Osteria Enoteca, al Bric, via del Pellegrino, 51
A vogue ristorante enoteca & jazz bar, Cocodrillo, via Giulia, 13; also a lovely street off the Tiber for strolling down, lined with large pots of fruiting orange trees
For engaging and slightly eclectic reading, Italy Out of Hand by Barbara Hodgson, and City Secrets: Rome
The best map to tuck in your pocket is Streetwise Rome.