Oaxaca Spice: A Conversation with Susana Trilling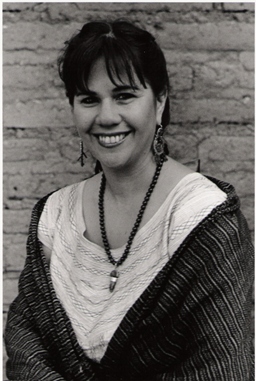 Under the sky blue dome that crowns her spacious "temple of cooking," Susana Trilling is explaining the mysteries of mole. Dressed in an embroidered huipil, her dark hair braided with maroon ribbons, she holds up several types of wrinkly dried chiles: "Oaxaca is the land of seven moles. Everyone makes it differently, but the ingredient that all moles have in common are chiles. The mole [which means "mixture"] is cooked in one pot, the meat in another. You never want to taste one ingredient over another."
Seven other students and I are lounging at a long, handhewn table, sipping chilled Coronas, eating buttery, black skinned aguacates criollos we picked up in the market earlier in the day. I take notes, but steal an occasional glance at the Sierra Madres from the window of the school at Rancho Aurora where we have gathered for a five-day cooking class. If culinary heaven exists, at least for this moment I've found it here.
The traditional cuisine of Oaxaca has roots that go deep into Mexico's colonial and pre-Hispanic past. There is no livelier guide to its twists and turns than cookbook author and PBS television host, Susana Trilling. She has spent the last 17 years in the region's kitchens, coaxing authentic recipes for moles and other gastronomic delights from a wide circle of stellar home cooks. A former caterer and restaurant chef, she now runs Seasons of My Heart, a cooking school at an organic farm just outside town.
Born in Philadelphia, Trilling first tasted homemade flour tortillas, tamales and frijoles at a small Tex-Mex café her grandmother ran at the Santa Rosa Hospital in San Antonio. After cooking at restaurants from Alaska to Australia, she became chef at Bon Temps Rouler in New York. Then she came to Mexico and met Eric Ulrich, an organic vegetable farmer and now father of her two sons. She fell in love with the ancient culture of Oaxaca—a passion which she shared in her first cookbook and PBS series, Seasons of My Heart. A second book on the foods of the Isthmus of Tehuantepec is in the works.
Trilling's generosity and good cheer have won devoted admirers all over Oaxaca. Wandering with her through the city's bustling Mercado de Abastos, we were besieged by vendors crying, "Susana! Susana!" as they embraced and exchanged family gossip. Her friendships led us to the mountains where we spent an afternoon with a mystical wild mushroom hunter and to the home of the four cheery Hernandez sisters where we made sopa de guias de calabaza (summer squash vine and flower soup) and black beans with niditos (literally "bird beaks," actually tiny handmade dumplings) over an open fire. She once tossed out our schedule and whisked us off to a raucous fiesta celebrating the baptism of a friend's grandson, making us feel less like students than old friends at a free-wheeling house party.
Recently, we talked with Susana by email about the cooking of Oaxaca and the way cinnamon is used in its signature dishes.
Q. How would you describe the cooking of Oaxaca?
A. The Oaxacan kitchen is a magical place where foods from Mexico and other parts of the world have converged to produce a unique style of cooking. It is a mixture of pre-Hispanic foods prepared and eaten by indigenous groups—such as armadillo and turkey, or atole, a gruel made of ground corn—and the Mestizo cuisine that emerged a few generations after the Spanish Conquest. Mestizo cuisine has ingredients like almonds, allspice, cinnamon, raisins, prunes, sesame seeds, all foods that were transported to Mexico from the Old World, India and other parts of Asia.
After the Spanish Conquest, there was also a big Moorish influence, which is apparent in the Isthmus of Tehuantepec as well as Oaxaca city foods. When Maximilian became Emperor, his cooks brought French culinary traditions—cream sauces, etc.—that influenced the cuisine of Mexico as well as Oaxaca.
Q. Could you give us an example of a dish that reflects these currents?
A. Estofado de pollo, Spanish chicken stew with capers and green olives, is a signature dish of the region. It's prepared many different ways. Sometimes it's red, sometimes it's green, depending on the type of chiles used, how ripe the tomatoes are and the proportion of tomatillos used. But in general, the sauce is made of Old World ingredients such as almonds, capers and olives, Asian spices such as cinnamon, cloves and black peppercorns, and indigenous chiles, tomatoes and tomatillos. Traditionally all the ingredients are ground on a metate, a three-legged grinding stone used since pre-Hispanic times.
Q. How did Asian spices such as cinnamon come to Mexico?
A. There is some debate as to whether these spices are pre-Hispanic or came after the Conquest. One theory is that a Chinese junk was wrecked on Mexico's west coast, and that cinnamon appeared early on in chocolate drinks. Another is that spices came later with the Spaniards. For three centuries there was a regular Manila to Acapulco shipping route, with Spanish galleons carrying cargo from Asian ports to Mexico. Other ships crossed the Atlantic from Spain. There was a great cross-cultural transfer of foodstuffs. Spices like cinnamon, ginger, cumin, caraway, saffron, cloves and black pepper reached the interior of Mexico by pack train. And Mexico sent the tomato, cacao and chiles in both directions.
Q. How is an ingredient like cinnamon used in Oaxacan cooking?
A. Cinnamon adds a subtle sweetness, roundness or what I call "bass" tones to the harmony of flavors that are characteristic of the Oaxacan moles. In many sauces, it is one of a trio of spices that include allspice and cloves. In mole coloradito, cinnamon is combined with spices, chiles anchos and guajillos, and tomato, raisins, almonds, sesame and chocolate to make a rich, brick red sauce that goes over chicken or enchiladas. The original nahuatl word is molli, which means mixture. In a mole, no one ingredient should ever dominate. Cinnamon is part of a whole.
Small amounts of cinnamon are also used in sauces and fillings like picadillo [shredded meat flavored with chiles, spices, and nuts for use in tacos and chiles rellenos]. Chile pastes are enhanced by its sweetness. It is also used as the predominant or sometimes only spice in calabaza en dulce [pumpkin squash in syrup] or mangos en dulce. It is also combined with piloncillo [dark brown sugar made of extracted sugar cane juice] or with sugar cane and allspice in ponche, a warm fruity drink served during Christmas.
Q. Isn't cinnamon also a key ingredient of Mexican chocolate?
A. Yes. In the New World, cacao was originally flavored with indigenous ingredients such as pear flowers and chiles. The Spanish were the first to combine chocolate with cinnamon and cane sugar. Traditional Mexican chocolate also includes ground almonds. Here in Oaxaca, you can have it ground the way you like it, with different types of cacao beans, and cinnamon, sugar and almonds to your taste, at mills like Molinos del Sol, Mayordomo, Soledad or Guelaguetza.
When we make our own chocolate, we use three different kinds of beans: lavado (washed), fermentado (fermented in a pit for five days at 120 degrees) and benficiado (washed and fermented for months). It is bittersweet, with a grainy texture, and very fragrant with cinnamon. This is the chocolate that is used in Oaxacan moles and desserts. It also makes wonderful hot chocolate frothed with milk.
Q. Did cinnamon find its way into other indigenous drinks?
A. Cinnamon was added as a subtle flavor to atole, which is a gruel or hot drink made with maize or dried corn. Atole de trigo is the corn drink with toasted wheat berries and cinnamon ground in. I imagine that when the Spaniards started growing wheat for the convents and monasteries, they combined it with the native (pure corn) atole blanco almost right away, to enhance the flavor because pure atole blanco would probably not be to their liking.
Cinnamon is also one of the sweet, aromatic ingredients added to ceremonial cacao drinks like chocolate atole or bupu from the Zapotecs in the Isthmus of Tehuantepec. Chocolate atole is plain atole blanco with a foamy topping made from cacao criollo, cinnamon, wheat berries, rice, maize and a calcified cacao called pataxtle. Bupu is another concoction made with cacao, cinnamon, piloncillo, fermented and fresh flowers, maize and special seeds. This is made into an aromatic paste that is whipped into a silky foam that is served on top of atole blanco.
Q. What type of cinnamon do Oaxacan cooks use?
A. Cooks here use true cinnamon from Sri Lanka, which we call canela. It is better suited to our style of cooking because it is delicately flavored and adds a subtle touch to moles and other dishes in which no single spice predominates. The cassia does not impart the same flavor burst that canela does.
Q. How do you buy your cinnamon?
A. I buy it in stick form in the Mercado de Abastos, from Eliseo Hernandez who also sells the most wonderful dried chiles. I like working with the delgado or thin sticks, but the thicker ones are fine too.
Q. How do you grind it?
A. It depends on what I'm cooking. For major sauces and moles, I usually grind it in a molino or mill. Canela is so crumbly that it becomes a powder with little bits of cinnamon bark still in it.
For some desserts, I grind it in a blender. In many syrupy dishes, it is used broken into bits and scattered throughout the dish. In calabaza en dulce, you get pieces clinging to the calabaza. When you chew them up, there are little bursts of sweetness and flavor that punctuate the smoothness of the squash. Or you can put the pieces aside on your plate, since the flavor of the canela has already permeated the dish.
For information on her cooking school or to order her cookbook, go to
www.seasonsofmyheart.com
. The 13-episode PBS series, "Seasons of My Heart," is available from
WMHT
, or by calling 1-800-950-9648.
To see Susana Trilling's recipe for Estofado de Pollo, a vibrant Spanish chicken stew flavored with cinnamon, chiles and almonds, and other recipes featuring cinnamon, please click here.
[top]
___________________________________________________